And then there were four … Per league that is …
Each league can now focus on just two more games in search of a conference champion and automatic bid to the NCAA tournament. That said nobody is putting the cart before the horse and all of the coaches are only focused on one game — the semi-final round. It's all about Saturday!
"We're just worried about playing a very good Castleton team on Saturday at 6 p.m.," said New England College coach Tom Carroll. "We can't look beyond that one at all. They are a good team that's playing well right now so we know we will be in a hard fought battle come Saturday."
Over on the NESCAC side Amherst coach Jack Arena sees about the same thing with everything revolving around a single game elimination this weekend.
"Absolutely we are excited to be playing at Bowdoin in the semi-finals," said Arena. "It's one game that we need to worry about and with a couple of breaks, a big save or good bounce of the puck every team in it at this point has a shot. We had a really tight game at Wesleyan so we have some confidence in playing on the road against good teams and we have some older players who have been in the playoffs before so hopefully we can carry the momentum into Saturday afternoon."
Bowdoin and Norwich as the host teams come in as the favorites but aren't resting on their laurels just yet. This may be the most competitive post-season in many years and, based on the regular season results, no team is likely to take any opponent lightly whether on home ice or not.
"Of course we would have liked to be playing at Norwich this weekend," stated USM coach Jeff Beaney. "Norwich is going pretty well right now and they are at home but I would not be surprised to see any combination in the finals — even a Babson Castleton final."
The only guaranteed way into the NCAA tournament is to win your conference, so the stakes are high for everyone and so are the motivations to succeed for just 120 or so more minutes of hockey.
It's March and there are only four teams left playing in each conference. Let's take a look at the match-ups and my predictions for the outcomes.
ECAC East
#6 Babson @ #1 Norwich
The Cadets are really comfortable in Northfield having posted a 14-1 overall record on home ice. That record includes a 4-1 win over Babson in mid-January where the shot totals for both teams were low and the special teams weren't a big factor. The Cadets are 9-1 in their last ten games and have outscored their opponents by a 42-17 margin.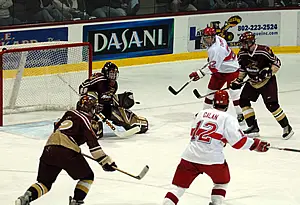 Babson is 6-3-1 in their last ten games where they have outscored their opponents by a 34-26 margin. Included in the last ten games were three overtime games that included a win, a loss and a tie — most importantly the overtime win came in last week's quarterfinal match-up with Skidmore where the Beavers won 5-4.
Nobody is counting Babson out. Amherst Coach Jack Arena is very impressed by the Babson squad based on what he saw earlier in the season. "They have some scary players when they get it going, commented Arena. They can play and have some talent up front that can compete with Norwich — absolutely. The key will be the goaltending."
As it usually is in playoff hockey, the goaltenders will have a big say in the outcome. Freshman David Thompson has had an outstanding rookie season while sophomore Chance Gieni has been injured throughout the season. Sophomore Skylar Nipps has been the go-to-guy for Coach Jamie Rice and will need to play big on Saturday for the Beavers to pull the upset.
I think this is a tight game in terms of the score and while Babson has played in a couple of 5-4 games recently, I think this time the Cadets hold the upper hand and move-on to the championship game on Sunday.
#5 Castleton @ #2 New England College
Hard to believe at this point in the season but this the Spartans first game on neutral ice since they didn't play in any mid-season tournaments this year. It probably won't feel like neutral ice as the fan base is likely to travel cross-state for they hope turns into a match-up of Vermont schools in the title game.
Castleton is 7-2-1 in their last ten games including two overtime games in the past two weeks. This team really knows how to play it tight as they showed last week winning on the road at Southern Maine.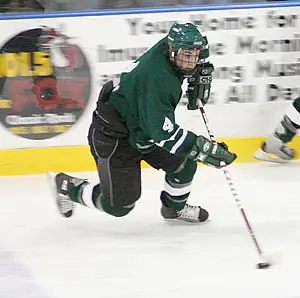 "It's really about not making mistakes at this point and playing our game consistently each and every shift," said Castleton coach Alex Todd. "When we lost at USM earlier in the year we made too many mistakes and they capitalized on them. If we can control the mistakes and not allow teams to take advantage on the scoreboard we'll be there at the end."
New England comes into this game on a roll having gone 7-3-0 over their last ten games but including a current win streak at six games that they would like to continue.
"The guys are playing pretty good right now," commented Carroll. "While we saw Castleton and won up there the second game of the season, it was so long ago that I don't think our team puts anything to that result. We are a different team as I am sure they are so we don't take too much away from the regular season result."
The Pilgrims do have one distinct advantage in having several players that have been through the playoffs all the way to the NCAA Frozen Four. Something that Carroll hopes his younger players can learn and prosper from.
"We have a number of guys that played on that team that went to the semi-finals of the NCAAs in 2005," Carroll explained. "So the leadership and preparation to share with our young guys will be valuable at this point. But even our younger guys have been in junior playoff games and prep championship games so it's just a matter of keeping very focused and relaxed so we can play our game. We have lightened up the practices to make them more fun and and keep everyone loose and rested. We will need to be ready to play against a strong Castleton team on Saturday.
This one seems like the battle of a team that has "never-been-there-before" but believes it can win vs. the team that has been there before and has won. I am pretty sure this game goes to overtime — yes it is that close — and I like the Pilgrims offensive weapons to be the difference maker by a 4-3 score.
Sunday — #2 NEC @ #1 Norwich
If my prognostications are correct 1 vs. 2 will be the match-up on Sunday for the league title. The regular season match-up went to the Cadets in overtime by a 4-3 score. You know what, enough with the rhetoric, I think that's what's going to happen in this one too as these teams always have great battles based on the familiarity with each other and rivalry that has grown.
NESCAC
#5 Amherst @ #1 Bowdoin
Amherst might feel a little better if this game were played somewhere other than Brunswick where the Polar Bears are a perfect 10-0-0 this season on home ice. Then again, the regular season match-up at Amherst saw Bowdoin hang a 5-1 loss on the Lord Jeffs coming down to the final games of the season so Amherst will need to change some things up for this game.
One of the changes was seen last week with Head Coach Arena turning to sophomore AJ Scola in net who delivered his second shutout in just four starts this season and eliminating Wesleyan on the road. Scola recorded 33 saves in picking up the win including 14 in the third period where the Lord Jeffs were outshot by a margin of 14-5.
"We needed a change, something different," said Arena. "We weren't going too well in our last games having gone 1-5 so we needed to change some things and get back to some things we did well at the beginning of the season. It certainly helped that we had already beaten Wesleyan twice before this season headed into the playoff game — that gave us some confidence. We'll need to carry that up to Maine as they are a very good club and we will need to play our best in order to beat them in their building. No doubt the arena will be packed and very loud but I think that can help both teams in terms of the energy level and excitement about playing."
For Bowdoin, home ice is a very good thing as coach Terry Meagher's team has thrived in its own building. Over the past two games the Polar Bears have scored fifteen goals while surrendering only four. They are very balanced with a total of fifteen players having scored three or more goals this season. While the top two scorers on the team are freshmen defenseman Mike Corbelle, and forwards Colin MacCormick and Ryan Blossom), look for the seniors to lead this team in their final appearances at Dayton Arena. Tim McVaugh, Greg McConnell and Captain Brian Ciborowski have all been to the championship game in the past two seasons having come out on the short end of the score. A little home cooking on Saturday will jump start the Polar Bears into Sunday with a 4-2 win against the gritty Lord Jeffs.
#3 Colby @ #2 Middlebury
Not that the first game isn't a great match-up but this game has it all and if it matches the intensity of the game played back in mid-January, it will be come a playoff classic. In January, Colby came back from a 3-1 deficit to win in overtime by a 4-3 score. Middlebury outshot the White Mules by a 48-30 margin but saw the victory slip through their grasp.
Colby is 7-3-0 over their past ten games and brings a potent offensive line-up to bear on the defending conference champions. Goalie Ben Grandjean has been under-rated in terms of his backing Colby to some big wins so this one may come down to special teams although neither team takes a lot of penalties.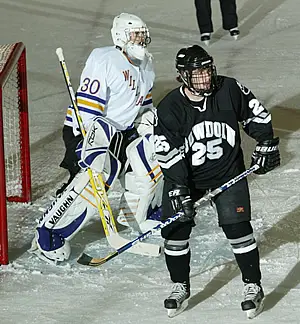 "Colby has some truly scary talent," commented Wesleyan coach Chris Potter on the match-up. "Fritch, Osborne, Reber, Kelley — they are all dangerous so Middlebury isn't going to want to make too many mistakes. The smaller ice surface could help Colby too as Middlebury is really good in the neutral zone and creates a lot of offense there. With less room to move, Colby could force some turnovers to create some offense of their own."
For Middlebury, this scenario is a familiar one. Two years ago the Panthers lost both games in Maine in mid-January and followed that road trip with a home loss to Williams before righting the ship on their way to a conference and national championship. This year the Maine trip ended up in back-to-back losses and the team took awhile to overcome injuries and inconsistent effort to play better over the second half of the season.
The Panthers are 7-1-2 over their last ten games and have started scoring goals which were hard to come by earlier in the season. Junior captain Mickey Gilchrist again leads the offense and sophomore goalie Doug Raeder has recaptured the form that he displayed in last year's championship run.
"This is the team you hoped wouldn't wake up," said Potter. "They have a lot of talent and have really started playing well when it has counted down the stretch. You can never count them out until somebody actually beats them in this tournament."
I think Potter is right about that one and despite playing in Maine, I think we see a Middlebury vs. Bowdoin championship game on Sunday with the Panthers winning by a 3-2 score.
Sunday — #2 Middlebury @ #1 Bowdoin
The third time is the charm? So hope the faithful in Brunswick who have seen their team fall to Middlebury the past two years in the title game since the inception of the championship seven years ago. This is a classic match-up between two great programs, two outstanding coaches and two great schools. Nothing gets left on the ice here and yes, I believe the Polar Bears can beat the Panthers.
In the old ECAC playoff days, Bowdoin beat Middlebury on their way to the ECAC title in 1993 by a 2-1 score behind the solid goaltending of senior Darren Hersh from Hershey, Pa. The past two years in the NESCAC tournament have also seen low-scoring, well-played games that ended up in Middlebury's favor. I think the score is 3-2 and the home team keeps their winning streak intact on their way to the NCAAs.
All-Conference Teams — Columnist Picks
Without question there has been some great hockey played in both leagues and all of the programs have had opportunities to celebrate success on the ice. The all-conference teams will be announced later this week at the Final Four tournaments respectively — here are my picks based on some terrific play and some outstanding performances.
ECAC East — First Team
Mark Carragher, F, Sr., Southern Maine
Rick Cleaver, F, Jr., Norwich
Brandon Heck, F, So., Castleton
Joe Huchko, D, Sr., Castleton
Trevor Turner, D, Fr., NEC
David Thompson, G, Fr., Norwich
ECAC East — Second Team
Chris Sparkes, F, Sr. , Southern Maine
Brad Baldelli, F , So., Babson
Nikita Kashirsky, F, So., Norwich
Travis Martell, D, Jr., Castleton
Brett Smith, D, Sr., St. Anselm
David Beckles, G, Sr., Southern Maine
ECAC East — All-Rookie Team
Shane Farrell, F, Fr., Babson
Mark Ehl, F, Fr., NEC
Steve Culbertson, F, Fr., Castleton
Matt Czerkowicz, F, Fr., Skidmore
Casey Fazekas, D, Fr., Babson
Trevor Turner, D, Fr., NEC
DJ Delbuono, G, Fr., Skidmore
Player of the Year — Mark Carragher, USM
Rookies of the Year — Mark Ehl, NEC; DJ Delbuono, Skidmore
Coaches of the Year — Alex Todd, Castleton; Neil Sinclair, Skidmore
NESCAC — First Team
Greg Osborne, F, Sr., Colby
Will Bennett, F, Sr., Wesleyan
Mickey Gilchrist, F, Jr., Middlebury
John Halverson, D, Sr., Trinity
Arthur Fritch, D, Jr., Colby
Mike Palladino, G, So., Wesleyan
NESCAC — Second Team
Rob Campbell, F , Jr., Conn College
Joel Covelli, F, So., Amherst
Josh Reber, F, Jr., Colby
Tom Maldonado, D, Jr., Middlebury
Joe Rothwell, D, Jr., Colby
Greg Parker, G, Fr., Conn College
NESCAC — All-Rookie Team
David Layne, F, Fr., Wesleyan
Ryan Howarth, F, Fr., Conn College
Colin MacCormick, F, Fr., Bowdoin
Mike Corbelle, D, Fr., Bowdoin
Richard Hollstein, D, Fr., Trinity
Greg Parker, G, Fr., Conn College
Player of the Year — Greg Osborne, Colby
Rookies of the Year — David Layne, Wesleyan; Ryan Howarth, Conn College
Coach of the Year — Terry Meagher, Bowdoin
Hard to believe that this season is almost over. USCHO will continue its outstanding coverage right through the NCAA tournament so look for more from our team as the selections are made and the match-ups released on the way to Superior.
Thanks to all who read this column on a regular basis and even those coaches who read it when their superstitions tell them not to. Many thanks to the SIDs, coaches, assistant coaches and players that have supplied information for the weekly column — your support is much appreciated.
It should be a great finish to what already has been a historic season. There still a lot of action left out there!
Drop the Puck!