Dartmouth College senior forward Gillian Apps (Unionville, Ont.) has been named the ECAC Hockey League's Player of the Year, it was announced earlier this evening (March 2) at the league's annual banquet. Apps and several other student-athletes were honored at the event, which marks the start of the women's championship weekend.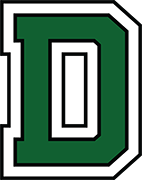 Joining Apps as a first-team selection was sophomore teammate Carli Clemis (Taber, Alb.), who also earned Goaltender of the Year honors. Joining Apps on offense is Harvard senior forward Julie Chu (Fairfield, Conn.) and St. Lawrence junior forward Sabrina Harbec (St. Hubert, Que.). On defense, Harvard junior Caitlin Cahow (Vinalhaven, Maine), and St. Lawrence senior Annie Guay (Rouyn-Noranda, Que.) were first-team honorees. Apps, Chu and Guay were unanimous selections to the first team
The Rookie of the Year award was given to Dartmouth forward Sarah Parsons (Dover, Mass.), while the Big Green's Mark Hudak was named Coach of the Year. Academic honors went to Colgate's Tara French (Truro, N.S.), who was named the league's Student-Athlete of the Year.
Earning team honors was Yale, which won the Turfer Athletic Trophy. Sponsored by Turfer Athletic, the Official Outerwear Company of the ECACHL, the award goes to the team that best represents the ideas Turfer Athletic and the ECAC Hockey League: sportsmanship, commitment, tenacity and innovation.
Apps was among the league's leading scorers with 23 goals and 11 assists in conference games. She tied for the league lead in game-winning goals with seven, while six of her goals came on the power play. She also had a short-handed tally. Apps, a Patty Kazmaier Award finalist, has 43 total points on the year, and has been averaging 1.48 points per game, which is ranked 10th nationally. Apps is the second Dartmouth athlete to be named the league's Player of the Year. Gillian is also a member of the Canadian National Team and is Olympic Gold Medalist, having helped Canada earn top honors at last year's Winter Games in Italy.
Clemis had one of the top goals against averages (1.43) and save percentages (.934) in league play this year, as she helped Dartmouth hold league opponents to just 1.27 goals per game. Clemis backed the Big Green to 16 of its league wins this season, and she had a 16-1-1 record, which included three shutouts. Her winning percentage of .917 was the best in the league. Overall, Carli has a 1.55 goals against average and a .925 save percentage, both of which are ranked ninth nationally.
Parsons earned the league's top rookie honor after posting 43 points in league games on 13 goals and 40 assists. She was second in league scoring and was the top freshman producer. In fact her 43 points were 20 more than the next freshman in the league. Overall, through 29 games, Dartmouth's leading scorer has 48 points with 13 goals and 35 assists. She s averaging 1.66 points per game, which ranks sixth nationally. Parsons is also member of the U.S. National Team and is an Olympic Medalist.
Hudak earned his first-ever Coach of the Year honor after guiding the Big Green to the ECACHL regular-season title with its record of 20-1-1. It was Dartmouth's second-ever 20-win league season and third regular-season crown. Offensively, the team is ranked second nationally with an average of 4.39 goals per game, while holding opponents to a stingy 1.55 goals per game (fifth nationally).
The inaugural Student-Athlete of the Year Award was given to French, who is a Molecular Biology major at Colgate. The senior defender has played in 135 career games, scoring 12 goals and chipping in 60 assists for 72 points. French, who has completed her Pre-Medical requirements, is a two-time AWHCA National Scholar-Athlete of the Year and has made the ECAC All-Academic Team three times. Her senior honors research project uses a combination of biochemistry and molecular biology to investigate how the movement of a particular protein between the nucleus and cytoplasm of cells influences the rate at which those cells divide.
2007 ECAC Women' Hockey League Women's Award Winners
INDIVIDUAL & TEAM AWARDS
Player of the Year — Gillian Apps, Dartmouth
Rookie of the Year — Sarah Parsons, Dartmouth
Goaltender of the Year — Carli Clemis, Dartmouth
Student-Athlete of the Year — Tara French, Colgate
Turfer Athletic Trophy — Yale University
Coach of the Year — Mark Hudak, Dartmouth
FIRST TEAM ALL-LEAGUE
G – Carli Clemis, Dartmouth
D – Caitlin Cahow, Harvard
D – Annie Guay, St. Lawrence*
F – Julie Chu, Harvard*
F – Sabrina Harbec, St. Lawrence
F – Gillian Apps, Dartmouth*
SECOND TEAM ALL-LEAGUE
G – Brittany Martin, Harvard
D – Helen Resor, Yale
D – Laura Watt, Princeton
F – Sarah Parsons, Dartmouth
F – Sarah Vaillancourt, Harvard
F – Sam Hunt, Colgate
THIRD-TEAM ALL-LEAGUE
G – Ashley Mayr, Rensselaer
D – Kerri Wallace, St. Lawrence
D – Tara French, Colgate
F – Chelsea Grills, St. Lawrence
F – Kim Pearce, Princeton
F – Hayley McMeekin, Quinnipiac
ALL-ROOKIE TEAM
G – Christina Kessler, Harvard*
D – Carlee Eusepi, Clarkson
D – Britni Smith, St. Lawrence
F – Sarah Parsons, Dartmouth*
F – Katie Stewart, Colgate
F – Genevieve Lavoie, Clarkson
* – unanimous selection