It seems all too often in athletics, the solid day-in-and-day-out play of an individual player can go unrecognized. Never more is that true than when a team loses. It's easy to forget second place as the champion celebrates victory.
So in Sunday's Women's Hockey East Championship game, it was a pleasant surprise to see that trend bucked.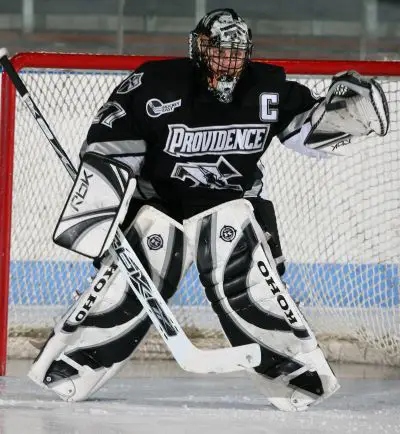 While top-seeded New Hampshire skated around its home ice with the championship trophy, the second straight title for the Wildcats, it was Jana Bugden, the goaltender for the runner-up Providence Friars, who received the top individual accolade of the tournament – Most Valuable Player.
Bugden's 34 saves in Sunday's title game, coupled with 33 stops in Saturday's semifinal upset of Boston College, was more than enough to turn the heads of the voters in giving Bugden the honors.
Not surprisingly, when asked after the game, the senior netminder from Corner Brook, Newfoundland, said she'd much rather be carrying home the championship trophy and the automatic berth to next week's NCAA tournament. Instead, Bugden's five-year career at Providence, which included a medical redshirt after a shoulder injury her junior year, ended on Sunday and her award becomes nothing more than a bittersweets memento.
Still, those around Bugden were quick to tell the story of a player whose career should not or cannot be summed up in a weekend of games.
"She's our hardest working player, not just on the ice but off the ice," said Providence head coach Bob Deraney, who rode Bugden to two league crowns in her freshman and sophomore seasons — she posted shutouts in both of those championship games. "When you have a captain who is the hardest working player in the weight room, that makes your job a lot easier as a head coach."
It was no surprise that if the Wildcats were to solve Bugden on Sunday, they'd do so with quality playmaking. She surrendered just two goals in the loss, the first coming after a major flurry in front left her out of position for UNH's Kacey Bellamy to bury the puck in the first period, and the second on a great individual effort and perfect shot from the stick of Lindsey Caleo midway through the second.
Aside from those two goals, Bugden was seemingly unsolvable. Deraney said he felt allowing two goals would give his club a chance to win, but also knew that a stingy New Hampshire defense simply doesn't allow goals, giving up just 1.44 goals per game on the season.
In the end, Bugden, who stands a sizeable 5-foot-9 in the Providence cage, will still go down in the annuls of both Providence hockey and Hockey East. In addition to guiding her team to two Hockey East titles and garnering all-tournament accolades as a sophomore, Sunday Bugden became the first player to capture the Women's Hockey East tournament MVP honors as a member of a losing team.
If you ask Deraney, though, championships aside, the player he is going to have to replace in his net is a heck of a lot more than just a goaltender.
"She's a professional in the way she goes about her business," said Deraney. "I've always said that if you have a goaltender you're going to be in the game. If she was in the net, we were going to be in the game down the stretch and more likely than not you were going to come out on the right side of the scoreboard.
"[Freshman goaltender] Danielle Ciarletta is going to have some big shoes to fill, and that's the biggest compliment you can pay a goaltender."