When considering this year's Hobey Baker nominees, don't forget about Ted Cook.
It isn't surprising that this Niagara sophomore has been all but forgotten in the pre-Hobey hype parade, despite the fact that Cook led the nation in goals (32), the first time in CHA history that a player has done so. People have been forgetting about Cook — and his uber-competitive scoring prowess — much to their detriment ever since his junior days for the Omaha Lancers.
"Ted is one of those throwback players," Omaha coach Mike Hastings said. "He's got a sixth sense about scoring and it's not something you can work on. The emotion that comes out of him when he scores a goal is so genuine that it encompasses a total love for the sport of hockey. He's one of the toughest competitors to ever play here. And his maturation occurred when he finally understood what it took to prepare to play the game he loves so much."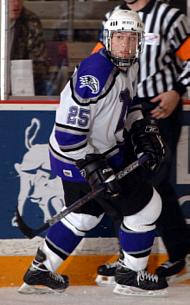 "That year in Omaha under Coach Hastings really had me ready for the college game," Cook said. "I grew up outside of Messina (N.Y.), and was always a big college hockey fan. Clarkson was my team. Guys like Willie Mitchell. Playing Division I hockey had been a goal of mine since high school."
Despite a solid career in the OPJHL, with Bancroft, and a 40-plus point season in Omaha, Niagara was the only program to make Cook a solid offer. Cook's skating style, upright with short, choppy steps, can initially leave an impression that he lacks classic Division I speed, but the more one observes him, it becomes apparent that he possesses an economy of movement that belies profound hockey intelligence. Unlike some players who overskate the play, Cook knows where to be on the ice and he wastes no energy in getting there.
"It's funny," Cook said. "As the game got faster when I entered college, I was able to get into the open spots for goals. I've learned there are different ways to skate to pucks. I was always good at getting those real greasy goals, the battles in front of the net kind. I'm not Sean Bentivoglio (Cook's linemate) fast, but I'm not slow and that seems to surprise people."
Cook's goal numbers tell a complete story. Assists are perhaps the most gratuitously awarded statistic in the college game, but there are no gimmes when it comes to lighting the lamp, especially with the competitive schedule Niagara plays and the overall improvement in CHA play. Cook tallied a staggering 21 power-play goals, five game-winning goals, and down the stretch, he tallied in 12 of Niagara's last 13 games.
"We coaches say it all the time. At this level you need great goaltending and great special-teams play if you are going to win with the way the game is called," Niagara coach Dave Burkholder said. "In terms of pure goal-scoring, there has never been a better player than Ted Cook at our program."
Burkholder should know. He's been at Niagara since Day One of the Purple Eagles' foundation.
"We've had a lot of different guys come up big in key situations this year," he said. "We knew Ted would be a top contributor. But I don't think anyone could have anticipated him leading the nation in goals. That is a singularly great achievement."
"It was a lot of Les (Reaney), a lot of Benty (Bentivoglio), and a lot of luck, "Cook said, attributing his success on the power play to his two linemates. Niagara can throw a number of different looks on the man advantage, but where Cook has become particularly deadly is in the box-on-one. "Our guys work it hard to get the extra look. Chris Moran and Pat Oliveto, on the point, have been getting it done all year as well."
That last statement is typical of Cook's proclivity to share the praise for his success with his teammates. In describing his fellow Purple Eagles, Cook speaks almost as if he were coaching the team.
"We're going to need to play better to win the CHA," Cook said. "Right now, the hottest two teams are Wayne State and Alabama Huntsville. Nobody sneaks up on Bemidji and Robert Morris has owned us this year, so it's anybody's tournament."
It was an early season matchup against St. Lawrence, and Ted Cook — a kid from the North Country — sneaked out of the locker room and soaked in the atmosphere in the church-like setting of historic Appleton Arena. He spotted his head coach walking down the corridor.
"Burkie," Cook chirped up. "Any chance the morning skate is optional?"
Cook, the goal-scorer, strongly dislikes game-day skates, believing they sap him of the mental and physical reservoir he draws from during the intense competition of the game.
"Not today, Cookie," Burkholder said. "We need to work on that power play."
Later that evening, Niagara defeated St. Lawrence, 4-3, with Cook tallying twice on the man advantage. He hasn't stopped scoring since.