It has become a rite of spring in the D-III hockey world when the Middlebury Panthers advance to the Frozen Four and a shot at winning another ice hockey national championship. This year the spring indicators took awhile to come to the forefront and while this team seems to be a late bloomer, they are peaking at the right time.
"Yeah, somehow we managed to get back again," commented Middlebury coach Bill Beaney. "We really came united as a team and began to play the way we as coaches and as the players knew we could play."
The Panthers are 8-0-1 in their last nine games and the turning point in their season maybe found in the week that followed the loss at Norwich.
"We gave the team two days off from practice after the Norwich game and figured they would come out flying on Wednesday," Beaney explained. "When we got on the ice we saw that we weren't on top of our game so we sent them off. We didn't practice on Thursday. That was the weekend where we beat UMass-Boston and tied Babson. We decided we needed to change the environment — we still coached but needed to let the players find themselves and just really have fun with what was left of the season. I think that we were caught up in the perceived pressure of what was expected — basically, they just decided to play for each other."
In the past nine games the Panthers have been dominant, outscoring their opponents by a 48-16 margin. During the past five games, Middlebury has returned to the form that has seen it win the past three consecutive national championships.
"We realized that in the past five games, any one of them could have been our last for the season," said Beaney. "We played well against Williams and then turned it up a bit in Maine against Colby and Bowdoin. We caught Fredonia a little flat and we were at the top of our game. Then against a very strong UMass-Dartmouth team we weren't on our A game, largely due to their talent and skill, but still found a way to get it done — that was a very good sign."
Backing the Panthers during the stretch has been the goaltending tandem of junior Ross Cherry and sophomore Doug Raeder. Both goaltenders have virtually identical numbers (.901/.902 save percentages and 2.23/2.24 goals against averages respectively) and have been used based on match-ups in the all-important playoff and early round NCAA tournament games.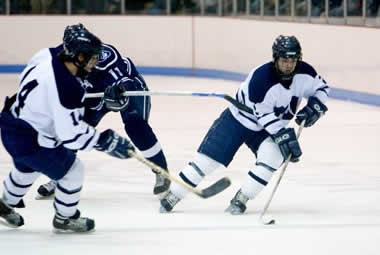 "Everybody is in great spirits and both goaltenders are playing well," noted Beaney. "Last weekend was definitely a match-up thing with Ross (Cherry) and I am not sure what we will do this weekend but we'll make that decision soon. Manhattanville is a very skilled team with some older kids who have a lot of junior experience so this environment isn't going to intimidate them. We can't give them a lot of good looks at the goal regardless of who is in the net."
Key to the Panthers will be a lot of guys that have been there before including Mickey Gilchrist (18-15-33), Tom Maldonado (3-23-26), John Sales (8-15-23), Brent Shirreffs (9-8-17) and Eric LaFreniere (4-7-11).
"The nice thing about this run is that our best guys have come forward. They know the situation and have stepped up," stated Beaney. "Add in a Justin Gaines who has played well and the leadership John Sales has brought to this team and we have a team right now that is collectively better than the individual talent levels combined."
The sap is running in Vermont — a traditional rite of spring for the sugar houses producing maple syrup. The Panthers are off to Superior for the Frozen Four — another rite of spring in Vermont.
Middlebury Factoids
• Middlebury has won last three national Championships and 8 of the last 12
• Middlebury's women's team also has a streak of three straight national titles and is participating in the women's Frozen Four this weekend
• Saturday's win over UMD was Beaney's 400th career win at Middlebury in his twentieth year behind the bench