If Minnesota-Duluth senior forward Jessica Koizumi feels some urgency to bring home the biggest prize this weekend from Lake Placid, who could blame her?
Koizumi has already had a minor personal triumph, defying the predictions of trainers and coaches when she hobbled back onto the ice just three games after tearing the meniscus in her right knee in an early December game against Ohio State. An MRI revealed it was only 75 percent torn, eliminating the need for surgery, but whether she'd return to the ice her senior year was still up in the air.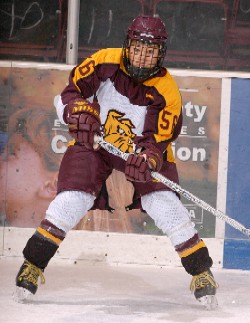 Her return has been triumphant. Last Friday she scored the tying and winning goals in Minnesota-Duluth's upset victory over No. 2 Mercyhurst, on its own ice, to lift her 23-10-4 team to the national semifinals Friday at 8 p.m. EST against No. 6 Boston College.
The 3-2 victory snapped Mercyhurst's 24-game unbeaten streak and sent the Lakers, rated first in the country for much of the season, to their third straight NCAA quarterfinal loss.
"When I tore my knee it was devastating," Koizumi said. "My teammates kept saying keep believing … it may not be that bad."
And as it turns out they were right.
A custom made brace helped get her back on the ice although she wasn't ready for senior night ceremony and had to wear street clothes. She also couldn't play against Wisconsin. "That was real emotional for me," she said.
When she finally played again, she wasn't all that confident.
"But it soon got to the point where I could do things," she said. "Everyone was amazed at so quick a recovery."
Several things accounted for it, not the least of which is the great shape Koizumi is in.
"I have very strong legs," she said. "I can squat 300."
She also took her rehabbing very seriously and was constantly working at getting back on the ice.
"She was extremely fit," said UMD coach Shannon Miller, who is back in the Frozen Four for the first time since leading the Bulldogs to their third straight NCAA title in 2003. "All the other muscles around her knee were strong. And she has no extra body fat. We wouldn't let her play against Wisconsin even though she wanted to, but we had to consider the bigger picture. Now I'd say she's 100 percent."
When she first returned, Koizumi said she was most frustrated because she was on the third line, after being used to the first line. Now she's on the second line, or she could find herself back on the first.
She also feared the status of an outsider but she wasn't gone that long and the team was there for her. "You just don't know what to expect," she said.
As apparently Mercyhurst didn't in the quarterfinal.
"That was a huge upset," said Koizumi. She said in the final minutes, when her team was down a goal, she looked at the clock and thought, "this could be the end of my college career."
The tying goal came with 1:44 left on her own rebound after she had hit the puck in the air. "I got my own rebound and saw a little space and put it in," she said.
The winning goal came on a power play shot. "The tying goal definitely boosted me up," said Koizumi. "We went from not believing to thinking we can do anything. We came out in the overtime with the attitude that we had nothing to lose. They were the two seed, we were eight. They had 1600 fans in the stands. We had 12. Everything was going against us."
Except the game.
Minnesota-Duluth, which has been wracked with injuries all season, is in pretty good shape for the weekends with 11 forward, six defensemen and three goalies.
"We kept getting injuries but that made us stronger because other people had to step up and that has made us deeper," said Koizumi. Her own injury helped motivate her to finish the season strongly.
"Every minute I'm out there, I appreciate," she said.