It's hard to believe the season is almost over. It seems like just yesterday I was writing up my season preview, which had Middlebury as the No. 1 team in the country. The time sure has flown by and what an amazing ride it has been. In the end; however, my top two teams to start the season are two of the final four teams playing hockey.
My pre-season rankings had Middlebury as No. 1 and Plattsburgh right behind them. Of course, no one, except those die-hard Cardinal fans, would have guessed that the Cardinals would be entering the final weekend with a record of 25-0-2, slaying every opponent in their path. Likewise, who would have guessed that a team who was 10-15-0 last season would still be alive? It's been that type of year in Division III hockey; parity is becoming the name of the game. The question now is will we end up with a rematch of last year's title game? Or will the upsets keep on coming?
Amherst @ Plattsburgh
Back in October, it would have been no surprise to see Plattsburgh back in the semi-finals, but if anyone says that they picked the Lord Jeffs to be here, they're lying.
After a 3-4-0 start, Amherst transformed into an almost unbeatable force. They have since gone 17-1-3 and are coming off road wins against Middlebury and RIT. Those road wins have helped prepare the Lord Jeffs for this weekend.
"Sometimes being on the road really takes the pressure off," said Amherst coach Jim Plumer. He also says that his team is entering the weekend with a "nothing to lose" mentality. "I think we've probably felt that way for a couple of weeks. We're much looser and excited than we were at this point last week."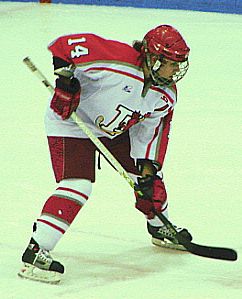 While their run has been impressive, the "almost unbeatable force" meets their toughest test Friday night as they face the "unbeatable force", the 25-0-2 Cardinals. The Lord Jeffs suffered a 5-1 loss to the Cardinals back in December and Plumer left the rink very impressed with the Plattsburgh squad.
"They're a great team. I can't think of a team that has more depth and talented players in my years in Division III hockey," said Plumer, who is completing his fourth season as coach of the Lord Jeffs. "Anyone of their kids can capitalize on a mistake."
Plumer expects the Cardinals to come out firing. "I think they're going to be really excited to play. I expect them to come at us with all the talent and heart that they have."
Plattsburgh's potent offense is led by Danielle Blanchard, who Plumer says is by far the best player his team has faced this season. Blanchard leads the Cardinals with 47 points and has routinely produced when her team has needed a goal. But the Cardinals offense is more than just Blanchard, and because of that Plumer is looking to his defense to win the game.
"We pride ourselves on playing strong defense," said Plumer. The main component of that stingy defense is freshman goaltender Krystyn Elek. Elek is 15-4-3 on the season and has stopped 142 of the last 148 shots she has faced during the playoffs. "She means a lot to the team. The kid is very competitive."
Plattsburgh is without a doubt the heavy favorite this weekend, even Plumer will admit to that. However, this is the playoffs, and as Amherst has proven several times, anything can happen. Cinderella has made it to the dance, but will the glass slipper fit when it's over?
Wisconsin-Stevens Point vs. Middlebury
Talk about a tale of two teams. The Pointers come into the NCAA semifinals playing their best hockey of the year, winning five in a row including wins over Wisconsin-River Falls, Wisconsin-Superior, and Gustavus Adolphus. Meanwhile, the Panthers enter the weekend struggling a bit, having lost two of their last four games. Those two losses were at the hands of fellow semifinalists Plattsburgh and Amherst. Both teams were NCAA semifinalists last season; however, they did not face each other during the final weekend of the season.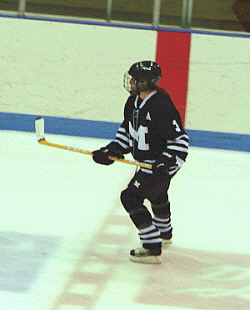 The Pointers' season has been unpredictable to say the least. They have a combined six wins over Gustavus Adolphus, Wis.-Superior, and Wis.-River Falls, yet they have losses to Wis.-Eau Claire and Lake Forest. The rest of their losses came against the three previously mentioned teams. They are riding their longest winning streak of the season into this weekend and have allowed more than two goals in a game just seven times this season.
The heart and soul of this Pointer team is their defense. Led by goaltender Amy Statz, they have held opponents to just 49 goals on the season. However, unless the Pointers plan to keep Middlebury off of the scoreboard, they will have to score more than a goal of their own. To do so, their offense will have to pick up where they left off last weekend.
Sophomore's Nicole Grossmann and Michelle Sosnowski have contributed the bulk of the Pointer offense this season, combining for 28 goals and 22 assists. In the NCAA Quarterfinal against Gustavus Adolphus, the two picked up a goal and two assists to spark the Pointers to a 4-1 win. It will be interesting to see how they fare against Middlebury's equally top-notch defense.
That stingy defense is led by Shannon Tarrant. The senior defenseman has been the leader of the nation's third best defense. Of course, she has had help from goaltenders Lani Wright and Angie Todd, whose numbers ranked right up there with the best in the country.
Oh, and they can score too. They have six players with at least 10 goals and 10 players with double-digit points. The top three point producers are NESCAC Player of the Year Abby Kurtz-Phelan, Annmarie Cellino, and Shannon Sylvester. Together they have totaled 102 points including 13 game-winning goals.
The one concern for Middlebury heading into the weekend is not how they have been playing, but the lack of goals going in the net. If you throw out the empty-net goal against Manhattanville, they have scored three goals on their last 104 shots. If the Panthers plan on playing in the late game Saturday night, they will have to have better production than that.
This game is going to be a defensive battle to the end. It would not be a surprise to see this turn into a 1-0 overtime thriller. I can't wait, drop the puck!