Chelsea Grills could tell long before last Saturday's game that it would be a special one for St. Lawrence women's hockey.
"I looked around the locker room and everyone was in a zone," she said.
Especially her.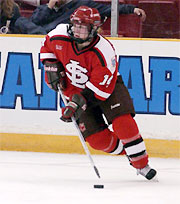 Grills, who redshirted last season with injuries to both legs, had four points in the No. 5 Saints' lopsided 6-2 victory over No. 4 New Hampshire in Durham. It was a return to the form that earned her ECAC Rookie of the Year honors in 2004.
She scored the game's biggest goal with three seconds left in the first period with her shift winding down, when she blocked a shot from the point and took it the distance, giving the Saints a comfortable 3-1 lead headed into the intermission.
Grills wasn't done, assisting on each of the Saints' final three goals.
"I have two great linemates," Grills said of Carson Duggan and Sabrina Harbec, both of whom scored goals against UNH.
"We moved the puck – tic-tac-toe," she said describing the crisp efficiency with which the Saints executed their offense.
Grills knew how important it was to get on board first. A week earlier the Saints had lost 7-3 to Dartmouth in the ECACHL championship game.
"This was the reverse of what happened there," said St. Lawrence coach Paul Flanagan. "There we dug a hole for ourselves and couldn't get out similar to what happened to New Hampshire against us. We got off to a good start."
Grills has been on a mission to be a leader for her team – especially since last year she could only cheer for them.
"I don't want this team to lose so I have to give 110 percent all the time," she said.
Flanagan says Grills is one of those quiet leaders who gets the respect of her teammates by her actions, not her words.
"She's matured a lot in her approach to leadership by setting an example," he said. "She's a great playmaker who complements the others."
Grills said after she came back in the fall, it took her a few games to adjust but eventually she got consistent. "This year it all paid off," she said. "All I wanted to do is play hockey."
Grills is third in scoring on the team behind Harbec (67 points) and Duggan (41 points) with 40 points in at least 10 fewer games than the other two. For the season, St. Lawrence has scored 160 goals, among the nation's leaders.
The Saints (29-7-3) will play No. 1 Wisconsin (34-1-4), the NCAA defending champs, 5 p.m. EST in Friday's first NCAA semifinal. Grills said the team welcomes the challenge of facing Wisconsin. "Underdog? We went into UNH as the underdogs," she said. That win has given the Saints confidence. "We can't go there scared. We just have to play our game," she said.
After they beat the Wildcats, Grills said when she stepped on the bus to go back to campus, "I got a different feeling than before. Everyone's confident at the same time."
Flanagan agreed the confidence level is high on his team. So is the experience. With the exception of the freshmen, they've been here before.
In 2004 and 2005, they lost to Harvard in the semifinals. Last season, after edging Minnesota-Duluth in the NCAA quarterfinals, the Saints lost 1-0 to Wisconsin in the semifinal game, which Flanagan said was a great contest.
This season, however, there is a new wrinkle.
Chelsea Grills is back.