Back in mid-December, North Dakota was mired near the bottom of the WCHA. When their team fell out of the national polls, many Fighting Sioux fans were ready to abandon all hope of it making the NCAA tournament.
As is often the case, when a hockey team is performing worse than expected, fingers point toward the goalie. UND goalie Philippe Lamoureux admits that he was part of the problem.
"I really felt that I was doing a disservice to this team with sub-par performances in my play," he said.
Fortunately, he was prepared to do something about it.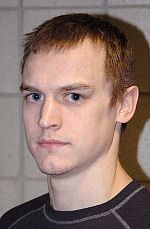 "I took it upon myself to come out with better performances in the second half," he explained. "I really wanted to make a statement that I was going to be one of the guys who turned the ship around for us.
"When you're accountable for what you do on the ice and you get a collective group to get started in the right direction, you're going to have team success."
As it turned out, Lamoureux was right, and reports of UND's demise were greatly exaggerated. The Sioux finished third in their league, are now potentially a second seed in the NCAA tournament and will return to the WCHA Final Five in St. Paul this week in good position to defend the tournament championship they won last season.
"It's about playing your best hockey at the right time of year," Lamoureux said. "It's a little bit of pressure off when we know that we'll be making the national tournament. But we want to go down to St. Paul and we want to win two games. That's our focus."
So just how did the Sioux pull their season out the dumpster and position themselves for a run at an eighth national title? UND coach Dave Hakstol says Lamoureux, 22, a junior and a Grand Forks native, is one of the players responsible for the team's remarkable comeback during the second half of the season.
"The guys have played well in front of him, but Phil's certainly battled hard for his teammates," Hakstol said. "When you get good, solid goaltending, that tends to filter through the rest of your team confidence-wise."
Sioux forward Ryan Duncan, a leading candidate for the Hobey Baker Memorial Award, put it like this: "In my opinion, Phil's been the MVP of our second half. He's been the biggest reason why we've turned our season around. He's just been phenomenal."
Lamoureux downplays his role in UND's second-half revival. "It was a small thing for me to elevate my play," he said. "In the grand scheme of things, it was in the hope that the team would have success."
After playing off and on for two seasons in the shadow of former UND goalie Jordan Parise, Lamoureux is getting the opportunity he sought. He has 20 consecutive starts since Christmas, the most of any Sioux goalie in 33 years. During that stretch, he's compiled a 14-2-4 record, a .928 save percentage and a 1.98 goals against average.
He's not complaining about the playing time, nor is he concerned about burning out.
"This is the position I want to be in," Lamoureux said. "This is something I relish. Fatigue is definitely not a factor. You need to take some time off for rest early in the week, but as far as game time goes, I'm 100 percent and ready to play."
Before coming to UND, the 5-8, 156-pound Lamoureux spent three seasons with the Lincoln (Neb.) Stars of the USHL. He was the 2004 USHL goalie of the year in a season that Lincoln won the league championship.
After Parise turned pro after last season, Lamoureux became UND's No. 1 goalie. He welcomed the opportunity for more playing time and the chance to prove himself. Unfortunately, nothing went as planned early on. When Maine swept UND at home Oct. 20-21, two of its top forwards — Jonathan Toews and T.J. Oshie — suffered injuries that would hamper their performance until the second half of the season.
The Monday after losing to Maine, Lamoureux suffered a high ankle sprain in practice.
"It was weird," he recalled. "I just turned awkwardly in my butterfly and my ankle popped. It was just a freak accident. I tried to stand up and it was like pushing on nothing."
Freshman Anthony Grieco stepped in and went 3-0-1 for UND. Then the Sioux went to Alaska Anchorage Nov. 17-18 and were swept by the Seawolves 6-2 and 4-2. Lamoureux went back into action at home against Colorado College Nov. 24-25, a series UND split. But the ankle continued to bother him.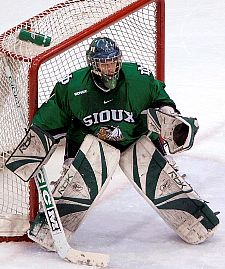 "There was still pain whenever I'd go down," Lamoureux said. "It wasn't excruciating pain, but I knew it was there and it might have been something in the back of my mind. I just had to learn to play with it."
That, however, was easier said than done. With Lamoureux in goal, UND was swept at home Dec. 8-9 by Wisconsin and then by Michigan Tech Dec. 15-16. Going into the holiday break, Lamoureux was 4-8 with a .886 save percentage and a 3.11 goals-against average. Goaltending was weakness of the team, but lack of scoring was also a problem.
"It was a combination of a lot of things," Lamoureux said. "Guys were putting a lot of excess pressure on themselves to play well. It wasn't so much that the effort wasn't there. It was a tough time for the team to really find itself."
The most important gift the Sioux goalie and his teammates got for Christmas was time — time to heal, time to think and time to relax.
"I went to the outdoor rinks with my brothers just to have fun playing hockey again," he said. "That was really rejuvenating for me. And physically, it was good to get away from playing goal and keep the stress off my ankle. I had almost a week and a half off from playing goal. It was a good time for me to get refreshed and excited about playing again."
The Sioux began the second half of the season at the Ledyard National Bank Classic Dec. 29-30 at Dartmouth. Playing without Toews and defensemen Taylor Chorney and Brian Lee, who were in Sweden for the World Junior Championships, the Sioux beat Dartmouth and St. Lawrence to win the tournament. They've been on a roll ever since.
After going 7-10-1 the first half of the season, UND went 14-2-4 the second half. With Toews and Oshie healthy again, the scoring improved. But the biggest difference has been on the defensive side, where the Sioux are giving up one fewer goal per game than they did in the first half of the season. And Lamoureux is one of the key reasons for the improvement.
"When he's playing as exceptional as he is now, it allows us to make a mistake and still have confidence that he's going to come up with a big save for us," said sophomore defenseman Joe Finley." It gives you an opportunity to step up in the play more. We're not afraid to give up an odd-man rush when he's shutting the door like that."
UND's success has provided the team with a much-needed morale boost for the postseason.
"It wasn't very fun the first half," Lamoureux said. "The second half has been a blast. The bottom line is that winning fixes everything. When we started winning, it just makes it that much more fun to come to the rink and that much more fun to play."
And perhaps nobody on the team is having more fun than Lamoureux.
"This is definitely the situation I want to be in, being the starting goalie for the Fighting Sioux," he said. "Being a hometown kid, I just want to make sure I represent the team and the program the best I can. It's all about tradition here and I just want to be a part of it."