Frustrated with his three goaltenders at the midpoint of the season, Air Force coach Frank Serratore turned to his practice netminder, senior Ben Worker.
Worker, a walk-on, had played a total of seven minutes his first three seasons at the Air Force Academy.
"He didn't have legal gear," said Serratore. "I had to get permission to get a fourth set of goalie pads."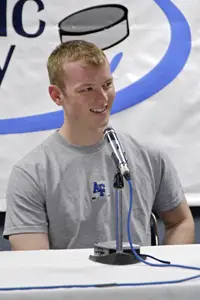 Worker made the most of his chance, giving up just four goals in his first three starts, leading the Falcons to two wins and a tie. In all, he's had three shutouts this season and boasts a 2.25 GAA.
Friday afternoon, in Rochester, N.Y. he got the 5-4 win in overtime over top-seeded Sacred Heart to help his team advance to the Atlantic Hockey championship game.
"I got a chance and the first five or six games I was on a high and just kept going with it," said Worker. "After that I hit a couple bumps and had a couple more chances and managed to make it through to the playoffs."
Serratore turned back to his other goaltenders for a spell, but eventually settled on Worker, who has started 13 of the last 16 games for the Falcons.
Just like this season, Worker struggled for a period Friday, allowing three goals in the third period.
"I felt terrible to let my teammates down in the third period," Worker said. "It was heart-breaking. But I knew that my teammates were never going to quit and neither was I."
"This is very typical of the people we have," Serratore said. "Most kids would have quit a long time ago. He practiced for three and a half years."
"For me, it's just hard work paying off," said Worker. "I'm just so happy to be associated with these guys. "
"You never quit," said Serratore. "You persevere, and the opportunity for great things to happen is there."