Editor's note: this article includes a quote from Michigan State head coach Rick Comley which was interpreted to imply that the CHA and Atlantic Hockey champions should appear in a play-in game for the NCAA field. Comley's intent was rather to suggest that due to the league's five-team membership, the CHA champion should appear in a play-in, but not necessarily against the Atlantic Hockey champion. USCHO.com apologizes for the error.
With the 2007 NCAA tournament field set, reactions to the brackets were varied, with many coaches already knowing they were in well in advance, and some having an inkling as to who and where they might play.
Michigan State head coach Rick Comley, whose Spartans were in limbo until the last day of play, was pleased to be selected, and understandably less concerned about exactly where Michigan State ended up in the brackets.
"The excitement is just being a part of the field," said Comley. "Everyone gets upset or uptight about where they are going, but my approach has always been that you want to be one of the 16 and then wherever you go, be ready to play."
Handicapping the field, Comley threw his support behind the two teams that dominated the polls and the PairWise Rankings for most of the season.
"This is a wide-open tournament, but anyone who doesn't think that Notre Dame and Minnesota are the favorites hasn't watched college hockey this year," he said.
"I do think that there are a lot of teams capable of getting hot and playing at the right level at the right time. There are clear favorites, but the field is wide-open because there are so many good goaltenders and goals will come at a premium."
The Spartans, who have been up and down this season, take on Boston University in the first round.
"BU showed me, like we showed people too, that they might struggle to score goals, but they definitely can score goals, especially if they score early," said Comley. "I think scoring early will be a key to the game."
And of course, Comley knows his counterpart on the BU bench well. Comley coached Northern Michigan in the classic 1991 NCAA championship game, an 8-7 triple-overtime marathon that ended with NMU hoisting the national title.
"I've also faced [BU coach] Jack Parker in the GLI and the NCAAs. Jack is a really good friend and he has done a tremendous job over the years. We spent four or five years on the committee together and there are a lot of ties between us."
On the process itself and the resulting selections, Comley had a few opinions.
"As late as 11 p.m. [Saturday] night, we were headed to Denver, but apparently the committee changed its mind and went strictly with the numbers. Sometimes I think that subjectivity should come into play, but when we see things play out we aren't always going to be happy. If subjectivity was allowed, Denver and Wisconsin would probably be in the field. But do I think they deserve to be? No.
"What I would like to see is a play-in game. The CHA should not have an automatic bid under any circumstance whatsoever. They should have a play-in opportunity."
St. Lawrence head coach Joe Marsh, whose Saints were likewise on the bubble despite winning the ECACHL regular-season title, didn't need to wait until the brackets came out to position his squad among its competition.
"All year long we've been taking the underdog mentality," said Marsh Saturday. "You better believe we're taking that attitude now, because we certainly are. There's no doubt that we're going to be the underdog going into the NCAA tournament."
Hockey East dominated the field with five bids, which Boston College coach Jerry York thought well of.
"To have five entries in this horserace when there's only 16 available spots is great," said York. "It speaks volumes for our league, I think. Now it's time for us to get some banners in our league. The WCHA has had them for the last [five] years."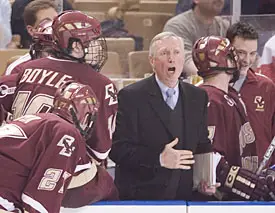 The Eagles will play this weekend in Manchester, N.H., another boon for BC, which takes on SLU in the first round.
"Manchester is good for our team in terms of parents and fans. It's easy and accessible, so that's a real plus for us.
"We'll have to do a lot of research on them [the Saints]" York said. "We haven't played them this year. I've watched them on tape. They won their regular-season championship and we'll do some background research on that.
"Joe Marsh is a longtime veteran coach at St. Lawrence and I'm sure that he'll have a well-prepared opponent for us."
The Eagles seem to be peaking at the right time, as well.
"It's been an interesting year for us," said York. "There was a period in January when we lost three straight games. At that time we were a real bubble team for the NCAAs. We just kind of tried to get better and better. From that low period, we've really come on strong. We never really got a streak going until recently. "
As usual, the selection committee worked to avoid intraconference matchups in the first round, but also as usual, the regional finals were another matter. BC could face New Hampshire in the regional final, the fourth meeting between the teams in less than a month.
"It's almost unavoidable," said York. "When you look at North Dakota and Minnesota, it's the same thing. They just played the championship game and they're going to be in the same region. If it was just two or three teams, it would be easy to spot you. But the success of our league is bringing so many entries in. Being a high number-two seed probably sent us to Manchester and BU to Grand Rapids . We were both two seeds but they probably sent the higher seed closer."
Air Force earned its first-ever NCAA bid with its victory in the Atlantic Hockey championship game, putting Frank Serratore's squad near to home in the West Regional in Denver. With Denver and Colorado College also on the wrong side of the bubble, the Falcons will be the state of Colorado's lone representative in the field of 16.
"We're elated to be at home. We think it's great for us and our fans," said Serratore. "CC and Denver have been to a pile of these, but this is our first. There's a thousand or so people that have been here through four-win seasons. They've seen the good times and the bad times and now they can drive up to the Pepsi Arena and see us play.
"I think there will be a huge walk-up. It's a monster field with powerhouse teams and a home town Cinderella.
"There are no negatives for us," he added. "It's at altitude … and I like that it's Saturday-Sunday, which gives us an extra day to prepare.
"It's amazing for the whole thing to come together the way it has. The one year that Denver and CC slip together — the one year the regional is here, for us to have the opportunity to play this game with Minnesota in Denver, it's like it's been scripted."
Another contender didn't get such a convenient location. Though the Midwest Regional is nearby in Grand Rapids, Mich., Michigan is headed out to Denver to take on North Dakota in the first round.
"I think it's ironic we're playing North Dakota again," Michigan head coach Red Berenson said. "That will be an interesting matchup. Obviously we're going into their territory … whether it's in North Dakota or not, we're going into WCHA territory.
"Everyone is talking about Minnesota and North Dakota being the teams — I don't think they even know we're in the tournament," Berenson said. "You know there is going to be an underlying current that needs to come out of our locker room and show up in that game Saturday. Hopefully we can do something."
And while many teams watched ESPN2's selection show Sunday afternoon, reporters turning up at Boston University's Agganis Arena were surprised to learn that the Terriers had decided to spurn it altogether. Minutes before the telecast was scheduled to begin, the players were immersed in a no-pucks practice on the heels of Friday's embarrassing loss to Boston College.
Terrier coach Jack Parker spoke only briefly before heading out to the ice to join his team.
"We don't care who we're playing, and we don't care where we're going," Parker said. "We'll find out afterwards, and I'll tell our team. We're not going to make any comments about who we're playing because that's not our problem. Our toughest opponent is ourselves. The only thing I'm concerned about is trying to get us ready to play another hockey game — unlike the one we played the other night.
"We don't need to make any comments about, 'Gee, what do you think of Michigan State? What do you think about Michigan?' Because there won't be any comments about that. My only problem is my team. Nobody can beat us like we can beat us. That's our major problem."
One team on the wrong side of the picks Sunday was Wisconsin, which will not have the chance to defend its national championship. Head coach Mike Eaves expected as much, but was unhappy with a result that saw just three WCHA teams get in.
"It was disappointing. We knew it was a slim chance, but still to see the teams on the wall was disappointing," said Eaves.
"It sure would be interesting to talk to someone on the committee. Because how does the WCHA only get three teams in there? To me, that's the biggest question that I have. You get past our own disappointment, and I look at our league and how strong our league is."
Jim Connelly, Todd D. Milewski, Scott Weighart, Jayson Moy, Sean Caruthers, Chris Lerch, Bob Miller and Scott Brown contributed to this report. Thanks also to TheWolverine.com.