North Dakota defenseman Taylor Chorney seems destined to follow in his father's footsteps.
Marc Chorney, a former All-American defenseman who suited up for the Fighting Sioux from 1977-1981, played for a national championship in 1979 and won one in 1980. Taylor, a 6-0, 191-pound sophomore from Hastings, Minn., played in the Frozen Four last season for UND and will this weekend be playing in the NCAA West Regional in Denver for a shot at a second straight appearance.
The father has some advice for the son: "The biggest thing I try to get across is how difficult it is to get in position to compete for a national championship," he said. "Now the Sioux have a chance to win two games and get to another national championship. He shouldn't expect it to happen every year, so I tell him that he should take advantage of it while he can."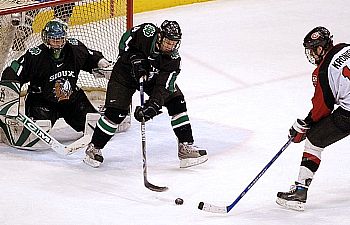 No matter how the weekend turns out, it's been a remarkable season for the younger Chorney, who was named to the All-WCHA second team and the WCHA Final Five all-tournament team last week. A return trip to the Frozen Four with a chance for UND's eighth national title and the opportunity to duplicate his father's accomplishment seems almost fitting.
"Taylor's had a tremendous season very quietly," said UND goalie Philippe Lamoureux. "Our front line gets a lot of the press clippings and attention, but really, Taylor and his partner, Brian Lee, have had very strong years and certainly lead the way for us on defense. He's definitely a leader for us on the ice."
Chorney had a solid freshman season with three goals and 15 assists. He followed that up with an even better second year. With eight goals and 21 assists, he not only became one of the WCHA's top-scoring defenseman, he also developed a reputation for tough, physical play and solid, error-free defense.
"Last year, I just wanted to establish myself as a guy who could play in the league and just make myself comfortable, not try to do too much and limit my mistakes," Chorney said. "More than anything, I just feel a little more confident with the puck this year. My coaches have given me confidence, too. They allow me to do some things out there that maybe last year they wouldn't allow me to do."
Another milestone in Chorney's hockey career this season was being named captain of the U.S. team that won a bronze medal at the World Junior Championship in Sweden. Just as UND struggled during the first half of the season, so, too, did the U.S. team during the initial stages of the international tournament.
"The experience of the World Junior tournament was a great one for him," said Sioux coach Dave Hakstol. "The U.S. team had to really come together and battle back. He was obviously at the heart of that as team captain.
"Certainly he's a better player coming back, but I don't think that's the only factor in his development," Hakstol said. "He's really been on a really good pace developmentally. He's had a great year for us right from the drop of the puck."
Although Chorney was somewhat surprised at being named captain of the U.S. team, the leadership role was one with which he became familiar while playing for Shattuck-St. Mary's in Faribault, Minn.
"I think I owe a lot of that to the way I was brought up," he said. "That's to do the things a leader would do and play a certain way. I always try to play hard and play with a lot of passion. That kind of stuff rubs off on a lot of guys."
When Chorney returned from Sweden, he rejoined a Sioux team that had already begun to turn its season around. UND went 7-10-1 before Christmas and is 15-3-4 since then. However, he downplays his part in the team's improvement.
"A lot of guys have been stepping up for us in the second half," he noted. "Everybody's taken their game to another level."
As second-round draft choice of the NHL's Edmonton Oilers, Chorney's play over the past year has some thinking that this season might be his last at UND. But his father, who played for the Pittsburgh Penguins and the Los Angeles Kings, believes his son shouldn't be in any hurry to jump to the NHL.
"The excitement of pro hockey wears off quickly when you know it's a business," Marc Chorney said. "Once you turn pro, you can't go back to your college days. It's hard to tell that to a young person when the opportunity is right there in front of him and it's his dream to play in the NHL.
"Among those I know who played college and pro hockey, it's unanimous that the longer you can stay in school, grow up and mature, the better player you'll be when you turn pro," Marc said. "I tell that to everybody, not just my son."
After four years at UND, Marc graduated with a business degree. Today, he owns a company that manufactures hardwood flooring for semi trailers and operates three plants in the U.S. and one in Canada. He and his wife Lynn know what they'd like their son to do, although they haven't discussed it with him yet.
"As parents, our preference is for him to go back to school," Marc said. "The big reason for him to go to Shattuck and to North Dakota was to get a good education. It's ultimately his decision, but I'm hopeful that he feels the same way I do."
While Taylor Chorney concentrates on preparing for UND's upcoming game with Michigan, he makes it clear that when the season is done, he'll give serious consideration to his father's advice.
"I pretty much owe everything in my hockey career to my dad," he said. "He's one of my best friends, and he's always helped me out.