It is a good time to be a Spartan — or a former Spartan.
Back in January, when Michigan State's chances of making the Frozen Four looked remote, former Spartan goaltender and Hobey Baker winner Ryan Miller made his NHL All-Star debut as the starting goaltender for the Eastern Conference. Miller is a an enormous favorite in Buffalo, where the locals remind everyone why the word "fan" is derived from "fanatic."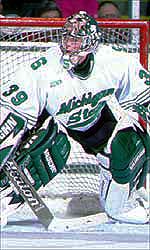 I caught up with Miller a few days after the All-Star Game, just after the Sabres dropped a rare 3-2 decision to the Blue Jackets in Columbus. The game atmosphere was electric and there was no doubt that Nationwide Arena was packed in part because Miller was in town.
Many Buffalo fans also made the five-hour trip. The Sabres led by one going into the third, so Miller was as happy as you might expect to talk to any press following the loss, but he was a complete professional in spite of his obvious frustration.
He was as I remembered him from Michigan State, but more so: intense, serious, intelligent. He still looks so young — Miller is 26 — that I had to remind myself that his last season in the CCHA was 2001-02, his junior year at MSU.
Miller is, apparently, a favorite among Buffalo's younger and female fan base; he's tall, dark, handsome, young, single, rich … and plays for the Sabres. It's a natural. At least, that's what my Western New York friends' 14-year-old daughters think.
Our conversation in January began with the All-Star Game and ended with chicken wings, the local Buffalo culinary masterpiece that Miller doesn't like, proving that no one is perfect.
---
Paula C. Weston: You started for the Eastern team in this year's NHL All-Star game. What was that like?
Ryan Miller: I still don't know where to place it. I was so excited to be a part of it, play with a lot of my heroes. I got to skate against Joe Sakic, who's one of my all-time favorite forwards, and Nicklas Lidstrom. Martin Brodeur is probably one of my favorite goalies. He and Curtis Joseph rank right up there for me as the top two guys I've always looked up to.
I got to sit next to Brodeur and really just pick his brain a little bit, talk to him about some stuff, come away with some perspective about why he's a champion. It's all in his approach, his ability to just lock it in when he needs to. It's pretty amazing. He can be light and calm, and a nice person, and when it's time to go play hockey he turns the focus on.
Weston: What are the fans in Buffalo like?
Miller: The fans, obviously, are what got me in to be a starter. I think that if it wasn't how crazy it's been in Buffalo, I'd like to think that I had a good chance of making it, but our fast start and our season so far has put me in a great position.
They're pretty diehard. They love their sports and the town. It's a topic everywhere. Politics might rank second there. People that get fired up about politics that I've met, they always seem to be talking about sports.
Weston: What kinds of adjustments did you have to make going from the college game to the pros?
Miller: Not getting so hyped up for games. I'm an intense person as it is. I just need to play hockey. In college, it was a football-kind of mentality, where you just get hyped for a big weekend. Then you kind of let things go and have some fun being a student, and then you hype up for a weekend.
Here it's so many games and situations that you just have to remain [calm] — in my case, I like to think that in my approach, I remain pretty level and consistent so that guys know what they're getting from me, night in and night out. Play a certain way, and we should be able to communicate and talk and control our zone most times.
Weston: How did Michigan State and college hockey prepare you for your role as a professional player?
Miller: We kind of had a lot of hype around us in my sophomore year. Coming through and winning the Hobey Baker and getting some expectations thrown at me in the next year — just that season and a half, I'm going to call it because halfway through the year, people started paying attention to us, and then my entire junior year, we were expected to do well — just that hype, when you have to deliver, night in and night out.
And the ability to learn to play with a group of guys and not worry about what's going on around you. Because that's really what it comes down to here. We've built a strong team here and it feels a lot like college sometimes, the camaraderie. I've been with a lot of these guys longer than I have been with my college boys. It's my fifth year pro, and I was only in college for three.
We have fun, and try to have a good time, and live our lives by hanging out and having good times when we can, but we're traveling a lot, we're playing hockey a lot [and] it just helps to have a good group of guys and attitudes. So, college really helped me do that.
Weston: Has college hockey influenced professional hockey at all, in your opinion?
Miller: College had the hook-and-holding situation, and there were more systems in college than were being used in the OHL. Kids are just a shade bit older on average in the college ranks. They're going to play a different brand of hockey. It doesn't mean that they're any less skilled.
I think the systems that they learn there … are essential here, because you see guys coming up who are 18, 19, and can shoot the lights out with their skills, but they get lost on the ice, they're getting beat on their assignments — but they're not going to be able to play hockey on this level. That's why you see college kids holding up the ranks. They can play a responsible brand of hockey. They're not going to be a liability out there, but the skill level has gone up as well.
Weston: Your hair is pretty long. What's up with that?
Miller: It's just more me.
Weston: Have you been to the Anchor Bar?
Miller: Yes, but I don't like wings too much. I think you should include that. It's me.