North Dakota vs. Boston College
Thursday, 7 p.m. CT, Scottrade Center, St. Louis
On Thursday, the 7 p.m. semifinal at the Scottrade Center features two teams who are indisputably the hottest in the nation. In that contest Boston College, winner of 12 straight, faces off against North Dakota, loser of just two of its last 21 games.
BC and UND have trod similar paths to get to the Gateway to the West. Halfway through the season, neither knew that it would even get a chance to vie for the NCAA championship. North Dakota lost four straight games heading into the holiday break in December, while Boston College had been up and down in the first half before losing three in a row against Hockey East competition in mid-January to dip back toward .500.
Both, though, righted the ship in dramatic fashion. Although BC lost the Beanpot final to archrival Boston University, that proved to be just a blip in a second-half surge that saw the Eagles win nine of 12 games by at least three goals apiece — including both contests at the Northeast Regional.
UND, meanwhile, lost only an ultimately-meaningless matchup against Denver in February before falling to Minnesota in the WCHA championship game — a loss the Fighting Sioux avenged by topping those same Gophers in the West Regional final to advance to the Frozen Four for the third straight year.
Boston College Eagles
Record: 28-11-1, 18-8-1 Hockey East (second)
Seed: No. 5 overall, No. 2 Northeast
Road to Frozen Four: Beat St. Lawrence 4-1, beat Miami 4-0
2006 NCAA tournament: Lost in NCAA championship
Boston College rolls into the Frozen Four semifinal with a 12-game winning streak that actually understates how dominant the Eagles have been. In the month of March they outscored their opponents, 37-9, with all but two of those games against teams in the NCAA tournament.
It's a stark contrast to the BC team that entered that dynamic stretch having put together no previous streak longer than three games, and that only happening twice.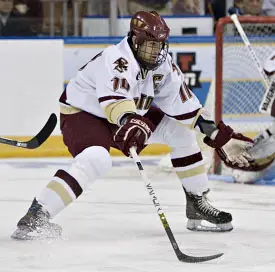 "We were really struggling, but I thought our team was a better team than that because we returned so many players from last year," BC coach Jerry York says, referring to the Eagle's trip to last year's national championship game. "There was always that hope, that, 'I know we're a good team.' We just kept on working and grinding.
"There was no magical formula. We just seemed to catch fire right after our Beanpot tournament."
While there was no magical formula, the difference in the team's results have been striking. Most notable has been BC's performance on special teams. Over the last 15 games, the Eagles' power play has converted 31.3 percent of its opportunities, while the penalty killers have succeeded at a 93.6 percent rate.
"We struggled [on special teams] up until the middle of January," York says. "But now our PK and PP seem to be so much better."
So, too, is BC's goaltending. Cory Schneider earned First-Team All-America honors last year, but this season fell victim to inconsistent play and failed to make either first or second team All-Hockey East. He's recovered in impressive fashion, however, posting a .964 save percentage in March.
"During the course of the year, he wanted to be just perfect," York says. "He was concerned about shutouts and save percentage and he wasn't quite playing as well as he did last year. Then he just kind of settled down and just started to win games.
"That was his major focus and with that his save percentage went way up and his goals against average went right down."
Heading into the Hockey East playoffs, York made a daring move that now looks like a stroke of genius. When two defensemen went down with injuries, he shifted the league's top scorer, Brian Boyle, back to the blue line.
"He's gone back to defense and he's very amenable to the role," York says. "[Brian] said, 'Hey coach, I'll help in any way that I can.'
"When he got back there, our offense improved because he could break pucks out better. He added a lot of stability to our defense. Of course, defense helps offense."
That offense has been triggered by senior Joe Rooney and three sophomores: Brock Bradford, Nathan Gerbe and Benn Ferriero.
"Our sophomore class has been very, very instrumental in our success this year and certainly those are exciting players," York says. "[But] you have to forget who are freshmen, who are sophomores and who are seniors. You just want good players.
"Joey Rooney, the first couple of years, was a factor on our teams, but now as a senior he's one of our best players game in and game out. I love to see that improvement going through the four years."
As has been the case so often in recent years, Boston College's path to a potential national championship goes through the Fighting Sioux.
"We've played North Dakota so many times now," York says. "It's a quick, high-tempo game, physical and with a lot of skill involved. It's just a great way to play hockey. We look forward to the challenge."
North Dakota Fighting Sioux
Record: 24-13-5, 13-10-5 WCHA (third)
Seed: No. 10 overall, No. 3 West
Road to Frozen Four: Beat Michigan 8-5, beat Minnesota 3-2 (ot)
2006 NCAA tournament: Lost in national semifinal
The night of Dec. 16, 2006, is one that North Dakota coach Dave Hakstol would prefer to forget.
Michigan Tech had just swept UND at home for the first time since 1987. And for the first time ever, UND had been swept by MTU and Alaska-Anchorage in the same season. The Sioux were also in a 1-7-0 losing slump.
Now, Hakstol's postgame comments from that night appear prophetic: "What we did tonight was not enough, but there's a lot of fight left in this dog. We will not let this last five weeks define what our season's all about. That much I know."
After a long team meeting, the players and coaches went their separate ways for the Christmas break.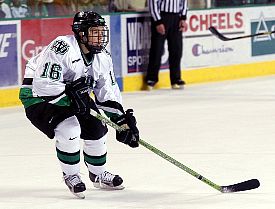 "Obviously, at that point in time, we weren't getting the job done," Hakstol recalled. "You can talk about bounces, you can talk about injuries — whatever you want. We weren't getting the job done. We needed a little more from everyone: coaching staff, players, everyone involved."
The turnaround began when UND traveled to Hanover, N.H., for the Ledyard National Bank Classic on Dec. 29-30. The Sioux defeated Dartmouth 4-1 and St. Lawrence 4-2 to win the tournament. It was there that Philippe Lamoureux returned to form in goal and sophomore forward Ryan Duncan firmly established himself as UND's go-to goal scorer.
"Seasons aren't turned around by meetings or anything else like that," Hakstol said. "They're turned around by guys doing the right thing, by guys caring, by guys committing themselves to being all in when it comes to the success of the team.
While some consider the turning point of UND's season its road sweep of Minnesota on Jan. 26-27, Hakstol doesn't see it that way. He believes it started with the win over Dartmouth at the tournament in New Hampshire.
"That tournament gave us a chance to breathe a little bit," he said. "From there, the guys have done exactly what they needed to do. That's take things one day at a time and one game at a time. Our approach has not changed whatsoever throughout."
Out of adversity came a better team.
"You go through tough times. You go through good times, and you learn from all of them," Hakstol said. "Things like that are a testament to what kind of team you really are."'
And how much better the Fighting Sioux are, with a third straight trip to the Frozen Four, where they have a date with Boston College in the second national semifinal Thursday evening.
Said junior forward Kyle Radke, "Three-for-three sounds pretty good, but we haven't won anything the past two years. Hopefully, the third time will be the charm. It's a tremendous event and we know what to expect now. We're not going to be caught up in the moment. We're going to go down there and take care of business this year. We've got the team that can do it if we play like we can."
This will also be the third straight year UND has encountered BC in the NCAA tournament, winning in the regionals in 2004-05 before losing to the Eagles in the Frozen Four last year.
Said junior forward Rylan Kaip on last season's loss, "We made a lot of mistakes that game, mistakes that aren't really in our character. That time of year, it's going to cost you. We have to be mentally sharp and ready to play this time."
"Mentally sharp" is an apropos description for this season's UND squad, which took nothing for granted on the way to St. Louis.
"We've had to work a little harder to earn a spot in the Frozen Four," said WCHA Player of the Year Duncan. "Last year, there was a feeling of satisfaction for getting to this point. This year, now that a lot of guys have been in this situation before, we're not satisfied. We don't want our season to end on Thursday.
"There's a history between these two teams that you can call a rivalry. We seem to meet each other at crucial times of the season. It's going to come down to a big game on Thursday. It's definitely fun to play a great team like Boston College."
And what value will the Sioux's experience on this stage provide?
"Part of the benefit of experience is that you don't have to talk about things a whole bunch. Our older guys know what they're in for," said Hakstol. "When it comes to winning a hockey game, it's going to be determined at the drop of the puck on Thursday night. But every little thing counts, and hopefully in our preparation, we can fall back on our experiences from the last year or two."
Hakstol had plenty of compliments for his charges, but his Hobey Baker "Hat Trick" finalist could play the most important role Thursday.
"He just brings that steady calm to the ice," said Hakstol of Duncan. "His competitiveness is so even-keeled. He's an inspired a competitor as any of them. He just brings a level of calmness to every game. It's a unique combination of competitiveness and calmness."