Maine vs. Michigan State
Thursday, 3 p.m. CT, Scottrade Center, St. Louis
One year ago, Michigan State and Maine battled in the NCAA tournament, but the stakes are a touch higher for Thursday's rematch.
Last season, the matchup came in the East Regional final, when Maine built a three-goal lead before holding off the Spartans to advance to the Frozen Four. This time around, the first national semifinal in St. Louis sees the Spartans and the Black Bears face off for the right to play in the NCAA championship game Saturday.
Several key contributors from last year's contest are gone, but two who returned will start in net for each side. Ben Bishop — who overcame a late-season injury to help take Maine through the East Regional — and MSU's Jeff Lerg will be the opposing goaltenders when the teams take the ice.
Each team bucked the odds to get this far, as both were No. 3 regional seeds in a season that saw no No. 1 seeds reach the Frozen Four, the first time that has happened.
Maine's route to St. Louis required the Black Bears to topple WCHA member St. Cloud State and then fellow Hockey East-ers Massachusetts in the regional final — the latter win coming after UMass had beaten Maine four straight times to end the regular season and in the HEA playoffs.
Michigan State, meanwhile, took out Boston University from Hockey East and then CCHA regular-season and tournament champion Notre Dame to get here. The Spartans permitted just one goal in each contest to reach their first Frozen Four since 2001.
Michigan State Spartans
Record: 24-13-3, 15-10-3 CCHA (fourth)
Seed: No. 9 overall, No. 3 Midwest
Road to Frozen Four: Beat Boston University 5-1, beat Notre Dame 2-1
2006 NCAA tournament: Lost in East Regional final
As the Spartans fielded questions after their 2-1 win over the highly-favored Fighting Irish of Notre Dame to advance from the Midwest Regional to the Frozen Four, sophomore goaltender Jeff Lerg said that the key to Michigan State's survival was how the 2005-06 season ended.
"We learned how to lose last year against Maine," said Lerg. "Thought about it every day over the summer. I knew the feeling going into this game, and I don't want to be feeling that every other day this summer again, so hopefully we'll get another chance at them this year, and see what happens."
Last year, MSU was the only CCHA team to advance beyond one game in the NCAA tournament, and that heartbreaking 5-4 loss to Maine was punctuated by the never-say-die effort of junior Drew Miller, who netted a goal with just five seconds left, 32 seconds after Greg Moore's empty-netter looked to be the insurance marker, not the game winner.
One year later, Lerg and the Spartans will get that rematch, this time as the first team to represent the CCHA in the Frozen Four since 2003. In many ways, Michigan State is the unlikeliest team to emerge from a conference that hasn't made any post-season noise in four years. MSU finished fourth in the league and lost players who were key to last year's modest postseason success, including Miller, who opted to go pro after his junior season.
"We really had a good team last year, and if David Booth hadn't gotten hurt against Fairbanks, honest to God, I think we would have been in the Frozen Four and could have won it," said head coach Rick Comley. "He played, but he was hurt. Then we lost those good seniors. Then when Drew decided to leave, that really hurt us. So you're going, okay, as a coach, I just want to progress, get better.
"We knew that we had good seniors, good kids, but our talent was in that middle group, sophomore and juniors. This would not have been an expectation, so it's obviously a reward for a lot of hard work."
No one worked harder this season for MSU than Lerg, who logged more time in net (2345:06) than any other goaltender in the country save two, Notre Dame's Hobey Baker finalist David Brown and Boston College's Cory Schneider. Lerg's other numbers are solid but not stunning; his 2.46 goals-against average and .911 save percentage put him fourth among goaltenders in the Frozen Four field, but what he lacks in stats and stature, he makes up for in accountability.
"He's very honest," said Comley. "He's as honest a kid as I've ever, ever been around over all those years. He is what he is. He doesn't deserve to be a Hobey finalist right now; his numbers aren't there. But in a big game — I'm telling you what — you just watch him, and you just know. He doesn't discredit anybody; he comes. This is his team. If you watch these guys as he prepares to play, they just rally and focus right around him."
Lerg — who stands 5-6, battles asthma daily, and turns 21 next Monday — faced two of the top 'tenders in the nation in Grand Rapids but took it all in stride, allowing just two goals in two contests, stopping 46 shots, and earning MOP for the regional.
"I said all along that they [Brown and BU's John Curry] deserved all the recognition," said Lerg. "They've been one-two in the country all year, but I knew again that when I'm on my game, I can be as good as anyone in the country. If I play my game and keep things simple, if I make all the saves I'm supposed to plus two or three big ones, we'll get the win."
He's not boasting. In four NCAA tournament games in two seasons, Lerg has compiled a 1.50 goals-against average and .949 save percentage.
"For him," said Comley, "with his asthma and breathing and stuff, everything is a challenge for him. He just doesn't get fazed."
While Lerg is a key component to MSU's strong postseason showing, he's not the only reason the Spartans are playing in St. Louis. The Spartans have scoring power in players like Lerg's classmate, Tim Kennedy (17-23–40), who leads all MSU players in offense, has nine power-play goals on the season, and had the game-winner against Notre Dame. And as for game winners, you can't do better than Lerg's cousin, junior Bryan (23-13–36), who leads the nation in game winning tallies (eight). Four other Spartans have double-digit goals, and it's safe to say that this team scores by committee.
The Spartan defense gives up 2.48 goals per game, and Michigan State's penalty kill (.870) was a perfect 11-for-11 in Grand Rapids.
But MSU's real secret weapon — according to Kennedy, at least — is Comley, now in his fifth year in East Lansing and making his first bid for a national championship since he won one with Northern Michigan in 1991.
"Well, you know Coach," said Kennedy in Grand Rapids, "I mean, he's been around for a long time. He's been coaching back [since] before I was born.
"He knows how to win. That's plain and simple. We get the job done because of him. He works us hard all week. He skates us a lot. He deserves all the credit."
Said Comley of the damning praise, "Remember that guy that used to be on the power play?"
And that's the real reason the Spartans are in St. Louis this week. They're well-coached. They're poised. They're relaxed. They like each other. And no one thought they would be playing in April.
Maine Black Bears
Record: 23-14-2, 14-12-1 Hockey East (fifth)
Seed: No. 11 overall, No. 3 East
Road to Frozen Four: Beat St. Cloud State 4-1, beat Massachusetts 3-1
2006 NCAA tournament: Lost in national semifinal
The Maine Black Bears certainly didn't enter the NCAA tournament in ideal fashion. They lost four of their last six regular-season games, defeating only Merrimack, Hockey East's last-place team.
They then lost both league quarterfinal games to Massachusetts, prompting many long faces after the second loss. Surely that would be the death knell for Maine's season.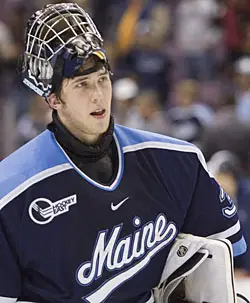 "We were a little nervous for sure," Maine coach Tim Whitehead said. "We started realizing [later] that we were in a reasonably good situation, but we knew we could get knocked out. We had to wait to find out if we were in. So, it was a little nerve-wracking.
"But, at the same time, we had one thing in mind. [If we got] another chance we wanted to make the most of it."
Given that second chance, Maine made the most of it indeed in the East Regional, knocking off St. Cloud State and then the same UMass team that had beaten Maine four straight.
The biggest difference has been in goal. Until Ben Bishop suffered a groin injury on Feb. 3, he had started in 41 straight games. His replacement, walk-on David Wilson, performed better than anticipated, but Bishop's return in the regional was a huge boost.
The first goal he allowed was an admittedly soft one, but he allowed only one other puck past him in the two games, stopping 68 shots.
"He was pushed to the edge and I'm thrilled that he survived it," Whitehead said. "He's sore, but he's a happy man."
He may also be a busy man in St. Louis, a stone's throw from his hometown of Des Peres.
"It puts a little more weight on his shoulders," Whitehead said. "On the positive side, he's going home, [but] yeah, he's going to have his hands full."
The turnaround in the East regional was, of course, more than just Bishop riding to the rescue. The team defense, which has had its ups and downs, rose to the occasion led by blueliner Mike Lundin, a Second Team All-Hockey East selection. Lundin earned a berth on the all-tournament team along with offensive defenseman Bret Tyler, Bishop and forward Michel Léveillé.
"The big thing for us is playing defense as a team," Whitehead said. "That's when we are at our best. And getting sharp goaltending always helps, of course.
"This time of year it [gets] more challenging. We better keep that puck out of the net. We tried to tighten up defensively at all three positions heading into the NCAA tournament."
Maine has been a potent offensive force for most of the season, led by a power play that converts at a 25.7 percent rate, tops in the country. Léveillé, a First-Team All-Hockey East selection, joins with second-teamer Josh Soares and league Rookie of the Year Teddy Purcell to form a juggernaut unit.
"You always need to score goals to win, which we've been able to do," Whitehead said before adding, "Not always, but for the most part."
Maine certainly won't have to worry about the layoff between the East Regional and Frozen Four semifinal games. Been there, done that.
"We handled the last one well, whether intentionally or by accident, so that should hopefully give our players the confidence they need to play well," Whitehead said. "Certainly there's a concern that you want to be game-sharp heading into that drop of the puck but at the same time it gives guys a chance to heal so there's a positive.
"So we're not overly worried about it. We are very aware of it so we'll make the adjustments that we think we need to make."