Though Boston College, riding a 13-game winning streak, is easily the hottest team in college hockey, things haven't always been that smooth this season for the Eagles. At the midway point, not only were things not going well on the ice, the team's makeup and unity was extremely tested when head coach Jerry York stripped both Brian Boyle and Joe Rooney of their captaincy.
The issue had nothing to do with on-ice performance. Instead it had to do with the fact both players weren't attending class on a regular basis. York considered the truancy to be a poor sign of leadership. So for at least a month, the pair would need to show marked improvement in the classroom before they would be considered leaders on the ice.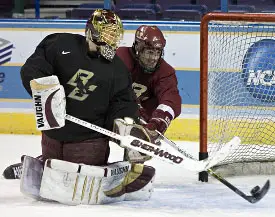 "There are hockey decisions and then there are life-learning decision," said York. "This was strictly and academic issue on class attendance. And I just think that's a life skill. If you put a lot [of effort] into hockey, you'll be very good. And if you put a lot into academics you'll be very good. Joe and Brian were fourth-year seniors and they let things slide academically."
York sat his two captains down with their parents and broke the news when the players returned from the holiday break in January. At the time, the team was hardly in the place it is today. The Eagles were 9-6-1 and blew a two-goal lead losing, 3-2, to Northeastern in their first game back after break. BC was a club that needed a boost and the distraction created by Boyle and Rooney's off-ice issues wasn't helpful.
"You're always taught to keep an even keel emotionally," said Boyle. "The way we were playing as a team and with that going on, it was a little hard on us emotionally. We tried not to let it affect out game because that would put the team down even more."
After that NU loss, though, BC dropped three straight in mid January and was in a tailspin heading into the Beanpot. Having seen the improvement in both Boyle and Rooney's academic performances, though, York returned the captain's letters before BC's Beanpot opener against Harvard.
From there, as they say, the rest is history. BC's only blemish between there and the national title game was a 2-1 overtime loss to BU in the Beanpot title game.
Though York did everything to downplay the link between returning the captain letters and his team's on-ice performance, it's difficult to ignore the ironic timing and BC's turnaround.
"It was nice to get it [the captain's letter] back," said Rooney, "but the guys still looked up to us when we didn't have [the captain's letters] on our sweaters. We got through it and we kept moving on."
Sixty is Enough
It was pointed out by Dave Fischer from the NCAA's media relations staff that the two coaches in this year's national title game — BC's York and Michigan State bench boss Rick Comley — were involved in the two longest championship games of all time. York, coaching Bowling Green, won the national title in 1984 in a quadruple-overtime game that lasted 97 minutes, 11 seconds against Minnesota-Duluth. Comley led Northern Michigan to the championship in an 8-7 triple-overtime win over Boston University in 1991.
When Fischer pointed that fact out to York during Friday's press conference, the veteran head coach shook his head.
"I don't think Rick and I want [Saturday's] game to go anywhere past overtime," smiled York.
York, in fact, is far too accustomed to championship game overtime than he'd like. In addition to 1984, York has coached two other OT title games: losing in 1998 to Michigan and winning against North Dakota in 2001.
Quotable
"When I was [playing] at BC, everyone lived 10 or 15 miles from the campus. If we had a player from Worcester (about 50 miles west of Boston) we'd think they were a foreigner." York, when asked about the geographic makeup of his team that now includes players from New York, Illinois, Michigan, Minnesota, Maine, New Jersey and Alberta and Ontario, Canada.