So, you're playing for a national championship for the first time in 20 years, and the eyes of the college hockey world are on you, and you're the first team from your league to make it this far since 1998. What are you going to do?
If you're the Michigan State Spartans, you're going to laugh.
There was an awful lot of fun going on Friday during and after MSU's practice. The Spartans were playful and were very, very loose — coaches as well as players.
Head coach Rick Comley opened the post-practice press conference with this quip: "Well, I'm working on a five-star sudoku. It's taking me a while. It's probably going to take me until six o'clock tomorrow night."
The goofiness was also contagious among captain Chris Lawrence, top scorer Tim Kennedy and junior Jeff Dunne. Some examples:
• "It's an act." — Lawrence's deadpan about what Jeff Lerg goes through to play with asthma.
• "He's actually the young guy tomorrow night." — Lawrence on Comley's coaching longevity, and his age relative to BC head coach Jerry York.
• "Make sure you write that down." Comley in response, to the reporter who asked about Comley's coaching longevity.
• "That's a fine, by the way. I'm involved with the American Lung Association and you can donate five dollars to that." — Comley's response when a reporter's cell phone went off during Q&A.
• "If I can keep my fingers crossed about anything, it would be to get through the first five minutes. Honest to God." — Comley on playing BC in the title game.
In practice, when freshman goaltender Bobby Jarosz stoned Chris Mueller in a drill — the same Chris Mueller who had the unassisted goal that began MSU's comeback against Maine yesterday — Mueller yelled something that can't be repeated here, then skated back to line up with the other shooters and promptly fell on his backside, all four limbs in the air, turtle-like.
Instead of looking like a player in an NHL rink under the glaring spotlights of the national media, Mueller looked like a kid on a pond in West Seneca, N.Y., basking in what little sunlight a Buffalo winter provides.
"We're enjoying it," said Comley. "I think it's very important to enjoy it today, and tonight we'll start to watch videos and prepare, but today there's lots of activities going on, and we're thrilled to be in the championship game. We know the challenge that lays before us, but gosh, what a great opportunity, and we're going to give it everything we have."
Nuts to You
Even when discussing something completely serious — Jeff Lerg's asthma and allergy to nuts — there was no avoiding the mirth.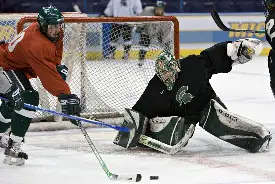 Lawrence told the story of a pre-game meal in Albany last season, when Lerg was served a salad that contained nuts. "The coach didn't know about it. He came over to our table and somebody said to him, 'Did you hear about Jeff?' He said, 'If you guys are kidding with me, I swear, none of you are going to play.'"
Kennedy, Lerg's road roommate for two seasons, was sincerely serious about Lerg — at first. "I marvel at everything that kid does, on and off the ice. He's just an exceptional kid, he does everything 100 percent, and he's a complete athlete."
Then the subject of nuts came up again. "He's allergic to nuts, any kind of nuts," said Kennedy, whose composure broke the moment he uttered the phrase. "You know, walnuts, right?" he asked between giggles.
"Last year, Steve Mnich's mom made him a cake, and there were walnuts in there we'll say, and Jeff took one bite and his throat closed up, and he had to get this shot. He can't give it to himself, because he doesn't like needles too much, so every time he has to have one, he has to look the other way, and I just stick it in his leg."
The thought of Kennedy giving Lerg a shot made even the press corps laugh.
No Pressure
It's been nine years since a CCHA team has contended for a national title, and the last time a team from this league has made a trip to the Frozen Four was in 2003. While the Spartans are certainly playing for the pride of the Green and White, they are aware of how their presence impacts their league.
"I mean, the WCHA's been on a great run," said Comley. "Like I've told you, we have four teams in our league, that I thought are legitimate teams that can be playing in this game, but everything's got to go right at the right time. There's just no guarantees.
"I had a lot of calls from coaches [saying] let's not only get a team there, [but] let's get a team in the championship game and do our best to win one.
"In recruiting, obviously, that's an element that's out there all the time. Unfortunately, it happens, so we're glad we have a team in the championship game."
This is the fifth time that a team from the state of Michigan has played a team from Massachusetts for the NCAA championship. The score: Michigan 5, Massachusetts 0.
A Hard Act to Follow
Comley, in his fifth season at MSU, is still the new guy on the block, and it's hard to please the Spartan faithful.
"We had a pep rally, locally here yesterday, and the [MSU] president introduced me as a new member of the Spartan family," said Comley. "I've been there five years. Five years is pretty good, but that just tells you the kind of culture the Big Ten schools are in. It takes a while.
"That's the last question I had in East Lansing before I left: How does it feel to be good enough now? Today it feels good. Ask me tomorrow."
Comley succeeded Ron Mason as the Spartan skipper when Mason left coaching after 23 years to become the school's athletic director. At first, Comley considered leaving Northern Michigan — where he had built the hockey program from scratch — for MSU to aid Mason in the front office. But Mason had other ideas.
"I actually was going to Michigan State as an administrator," said Comley. "When we met a couple times when he was considering giving up coaching and become the AD, his comfort zone was a certain person at another school in the Midwest that he would have liked to have gone with him [to coach], and then he talked to me. I had agreed basically to go as his associate.
"About a month later, once I already decided to do that, he calls and said, 'What about coaching?' I said, 'Well, hold it here.' He said, 'You can do whatever you want, but I want you to come and coach.'"
It was the second time that Comley took a position recently vacated by Mason. In 1973, Comley took over at Lake Superior State, when Mason left for MSU.
Matching the Eagles
While difference in style between eastern and western teams has become increasingly negligible in recent years, the Spartans are keenly aware of the differences between the ways in which BC and MSU play.
The prevailing wisdom in the MSU camp is that Michigan State has to think about Michigan State.
"Number one, we can't try to play BC's game," said Comley. "We just have to go out and be who we are. Now, what that does and how it impacts the game, we'll see. But if we try to get outside what our comfort zone is, we can be in a lot of trouble.
"We're not as quick as they are, and I think they score better than we do, but that doesn't mean that they're better than we are, overall as a team. We just have to be very, very careful to maximize what's become our style of play."
Lawrence said that the Spartans know that to be competitive, they have to play the body. "We've known all year that when we play physical, we're at our best; the more we hit, the better we play, it seems like. Coach always says that when we're hitting and blocking shots, he can tell we're into the game.
"On the other hand, North Dakota's a big, physical team, and BC got … close to 50 shots on them. But we can't look at that either. We have to come out and play physical. That's been our focus for the past two months."
The Best for Last
Lawrence isn't the kind of high-profile captain who got a lot of ink this season. The senior from Havertown, Pa., had just one goal and six assists this season, and more often faced the press post-game to explain a loss. Unlike many other senior captains who have faced the press in the Frozen Four, Lawrence's departure doesn't guarantee him a ticket to professional hockey.
Through the NCAA tournament, the articulate forward has handled his role as captain with grace and ease. Today, one day before playing what may be the last game of the highest level of hockey he'll ever play, Lawrence tried to put the impending end in perspective.
"We skate tomorrow morning, but it's kind of more of a pre-game skate type of thing, so today was the official last practice, so it was pretty cool. Guys were giving me some grief about it. It's hard to imagine, because it's been part of my life for 20-some years now, playing hockey and stuff, so it's kind of weird that today was my last practice probably ever with an organized team.
"But it is what it is. I'm glad there was an official last practice. I was happy as can be to be out there. Like Coach said, this is the best time of year to be practicing, going out for a national championship game. You want to be practicing today, so it's a pretty cool feeling."
He also took a parting shot at junior forward Zak McClellan.
"I was in a weird situation last night. I had just turned 25, and I was playing against a guy who is a whole year older than me in college hockey, which doesn't happen too often. I always get grief about my age.
"I don't get as much as Zak because compared to Zak — Zak looks like he's about 40, but when I shave, I can cut down a few years off my age."
Loose.