Two days after Ron Mason's last game as head coach at Michigan State in 2002, the incoming athletic director chose a protege as his successor. But the road to a national championship has not been without criticism for Rick Comley in those five years.
Comley left a program he had founded 26 years before at Northern Michigan to take on a squad poised to compete for a national championship. Ryan Miller had just completed his junior year between the pipes, adding eight shutouts after a sophomore Hobey Baker campaign. Immediate success was expected.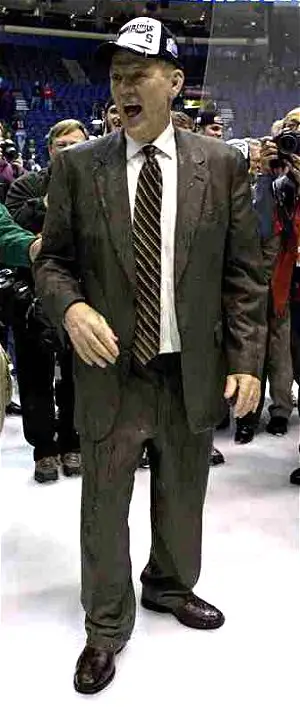 But that rosy scenario would change in August of that year.
"If we hadn't lost Ryan Miller late, we would have if not won a national championship, played for a national championship," Comley said.
Michigan State went 23-14-2 in Comley's first season, but lost in the CCHA quarterfinals to the Wildcats he had left. The Spartans missed the NCAA tournament for the first time in 10 seasons.
"In a program like ours, I think the timetable is one year," Comley explained. "And if you don't do it in one year then no one is happy. But I inherited a really good program."
Despite Comley's five straight winning seasons in East Lansing — and two NCAA appearances before this championship — Mason's replacement has been faced with constant criticism. And a perpetual "Fire Comley" thread on the USCHO.com Fan Forum.
Comley's 714th win as a head coach — fifth best all-time and third only to Boston College's Jerry York and Boston Univerity's Jack Parker among active coaches — allows him to join a select group. He's just the third, besides York (Boston College and Bowling Green) and Ned Harkness (Rensselaer and Cornell) to win a Division I NCAA title at two different schools.
"Of course I'm proud. … If you say there's nothing personal, you're not telling the truth," Comley said.
Comley still brings a joy to the arena, one that seems to be contagious to his players. The Spartans' bench boss still loves his job and wants to keep going.
"I want to keep doing this for five or six more seasons," he said. "I love what I do."
With this milestone accomplished — and after joining York and Parker among active coaches with 700 wins — there's one that still looms large: his boss and mentor's mark of 924 career victories.
"I'm never going to get to that club, the 900 club. There's only one person in that club, and I think he's the best to ever coach college hockey," Comley said. "To be able to do now what he's done in this same program means a lot to me, so I thank him very much."
If Spartan fans — perhaps forgiving after their first title in 21 seasons — and Mason can convince Comley to stretch his remaining career to seven or eight years, he just might make it.