Justin Abdelkader was no different than a lot of young hockey players-to-be.
"Growing up, you're always playing street hockey and you're always like, 'I scored the game winner for the national championship,'" he said.
It's the stuff of dreams. Saturday night, that dream and reality met in crunch time to deliver Abdelkader and Michigan State a national championship.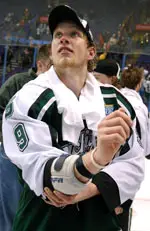 Abdelkader snapped a tie with 18.9 seconds remaining, earning him the Frozen Four Most Outstanding Player award and, after an empty-net goal, getting his team a 3-1 victory over Boston College in the NCAA title game.
It has been a up-and-down ride this season for Abdelkader, a sophomore from Muskegon, Mich., who said his childhood dreams also wandered through playing for the Spartans.
It ended with a stunning victory — Abdelkader's goal was the latest regulation tiebreaking goal in championship-game history — and with the Spartans celebrating their first national title in Abdelkader's lifetime.
"You're always thinking as a kid of scoring that game-winning goal when it's tied with under a minute left," Abdelkader said. "I was just in the right place at the right time and I was fortunate. It's just awesome."
The goal was the completion of a second-half resurgence by the 20-year-old, who scored only five times in the first half of the season.
He was selected to be a physical presence for the American team at the World Junior Championship in December and January, and when he returned from that trip his game had changed.
"Sometimes the World Juniors is a good experience for kids and sometimes it's not," Spartans coach Rick Comley said. "In Justin's case, I think he spent the first half of the year thinking he was going to double his point total from last year (22).
"And I think he went over there and played a different role, and after Christmas I think he came back very comfortable in that role. He's a force on the ice. He's physical, he skates well. I'm not sure he'll ever get 70 points or 80 points, that type of thing, but he'll play in the National Hockey League."
Abdelkader was even able to draw a parallel between the United States-Canada semifinal in Sweden, which the Americans lost in a shootout before recovering to win the bronze medal.
He called that Canada game one of the most intense he had ever played in, and that translated to Saturday's game against BC.
"It's such a tight game with Canada and the emotions were high," Abdelkader said. "Playing those type of games, when you come to this point you have experience and you know how to control your emotions in these kind of games."
The biggest of Abdelkader's 15 goals this season came just seconds after he hit the right post with a wrist shot on a 3-on-1 rush.
"When he hit the post, you're thinking, 'Oh, no. Don't tell me we hit the post with a couple minutes to go and they're going to come back and win it and we're going to lose 2-1 or some darn thing,'" Comley said. "But before I knew it, the puck was back in front and Justin put it in."
"Luckily," Abdelkader said, "it wasn't a bounce that lost us the game."
He made sure of that, with Tim Kennedy making a great pass out from behind the net for Abdelkader to fire past Eagles goaltender Cory Schneider from close range.
It was his third game-winner of the season, but his first goal in nine games and only his second career goal in 15 postseason games.
"Tim made an unbelievable play," Abdelkader said. "He's so shifty down low, and he can cut back and find you in the slot. I just knew when Timmy had the puck down low and he made that first cut and got by the defenseman, I knew I just had to find a spot open in the slot. He hit me with a perfect pass and I was just fortunate for it to go in."
Kennedy and Abdelkader also teamed up for the Spartans' first goal, which tied the game midway through the third period.
Abdelkader didn't win a power-play faceoff in the neutral zone cleanly, but he tied up the puck long enough for Eagles defenseman Brian Boyle to step up just before Kennedy zoomed past, grabbed the puck and went in on a breakaway.
When it came to award the most outstanding player as the Spartans were celebrating on the Scottrade Center ice, Abdelkader was surprised to get called forward.
He said he thought goaltender Jeff Lerg, who made 29 saves Saturday and allowed only three goals in two games at the tournament, was going to win.
"He's kind of been the MVP for us all season," Abdelkader said. "I got that goal, obviously, but he deserves it just as much as me. He's been awesome all year. He's been the backbone. He's been one of the hardest workers and people would doubt him just because of his size, but he showed on the national stage that he's one of the best goalies — if not the best goalie — in the nation."
In the end Saturday, it was Abdelkader in the spotlight. He, however, was ready to share things with those who went through the MSU program before him.
"It's just giving back to everyone that's been a part of the Michigan State program," he said. "All the guys, the alumni, it's just kind of giving back."