Michigan State goaltender Jeff Lerg is probably sick of seeing the word "diminutive" next to his name. "National Champion" has a much better ring.
The sophomore netminder outplayed four of college hockey's best goaltenders in this tournament, including two Hobey Baker finalists. Squaring off against Boston University (John Curry), Notre Dame (Dave Brown), Maine (Ben Bishop) and Boston College (Cory Schneider), Lerg allowed just five goals in four NCAA tournament games.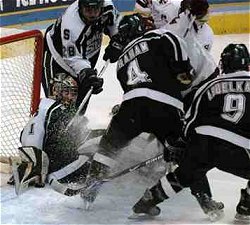 "Along the way, we've played some top goalies," Lerg said. "In every game, I wanted to send a message and try to outplay them to the best of my ability."
"We're not going to win this without him," said Michigan State coach Rick Comley. "You cannot imagine what an inspiration this kid is."
Lerg's battle with asthma has been well documented, but can't be underestimated.
"He can only do drills for so long because he can't breathe anymore," said Comley. "He has to stop and collect himself, he uses the breathing machine, he respects being able to just breathe every day."
Lerg acknowledges he has had a lot to overcome.
"This is what I've waited for my whole life," Lerg said. "I've been too small for every level of hockey, I've been turned down by schools along the way, all of a sudden, they didn't want to talk to me anymore. I'm really fortunate that Coach Comley gave me this opportunity."
"He's the heart and soul of this team," said Spartan captain Chris Lawrence. "I can't say enough about what he means to us."
"There's not enough good things you can say about him," said Comley. "He's a 4.0 student. In our locker room, we're down 1-0 and he's laughing. (Hockey) is a game to him and he loves the game."
Lerg believed his team would win, and made the saves, some of them spectacular, to make it happen.
"It's indescribable," he said. "I've been dreaming about winning a championship ever since my dad laced on my first pair of skates. I've grown up watching the Michigan State team with players like Ryan Miller who never had this opportunity to win a national championship. It's pretty special."