Alabama-Huntsville on Monday named Danton Cole as the third head coach in the history of the Chargers hockey program. Cole replaces Doug Ross, who retired after 25 years following the 2006-07 season.
"We look forward to Danton's experience, his integrity, his desire and his enthusiasm and excitement to take the Chargers to the next level and to win as many championships as absolutely possible," said athletics director Jim Harris. "I can't thank the committee enough for their diligence and time searching through the wonderful group of candidates. They did a great job helping us narrow down the group to pick the very best candidate for our needs. On behalf of the UAH Athletics Department I thank them for everything they did."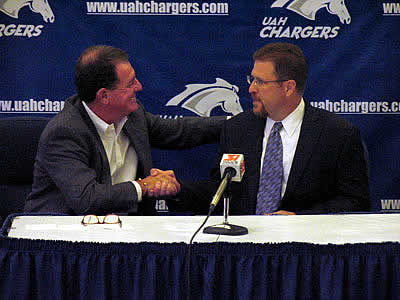 Spending the last season as assistant coach at Bowling Green, Cole was responsible for the Falcons' defensemen.
"First and foremost, I'd like to thank Dr. Franz and Mr. Harris for giving me the opportunity to come in here to what I think is a great situation and with the chance to do some great things," said Cole. "A special thanks to Coach Ross for his 25 years and the great things he has done here with this program and college hockey. I was in pro hockey for 17 years as a player and coach and a lot of the reason I wanted to come back (to college hockey) was the culture and the people that are involved. Certainly Doug has done great things for college hockey and we wish him the best."
A Pontiac, Mich., native, he suited up for Michigan State for four seasons where he still holds the career record of 180 games played during his span. Advancing to the Frozen Four three out of four years including winning a national title as a Spartan, Cole notched 163 points (69G, 94A) and was honored with the Big Ten Medal of Honor in 1989 as MSU's top male student-athlete in both scholarship and achievement.
"Two things on his resume impressed the Dickens out of me," said Harris. "He was a three-time All-CCHA Academic Team member and that rings well with what we do here at UAH. He was also a Big Ten Medal of Honor winner while at Michigan State. That certainly leads toward our UAH philosophy of the true student-athlete concept of student first and to continue the integrity of bringing the student here for the highest possible degree of education as well as winning championships for UAH."
A Stanley Cup winner with the New Jersey Devils in 1995 during his six years in the NHL, Cole joins the UAH family with a wealth of head coaching experience in professional hockey. With a career record of 222-126-27, Cole spent three seasons (2002-04) with the Grand Rapids Griffins (AHL), the top farm team of the Detroit Red Wings, where he became the all-time winningest coach in team history with a record of 116-72-17. Following his stint with the Griffins, he spent two seasons with the Motor City Mechanics (UHL), where he coached former Charger standout Jared Ross. Cole led the Mechanics to a 58-32-6 mark during his tenure.
"I want to thank Coach (Scott) Paluch and Greg Christopher the A.D. at Bowling Green for giving me the opportunity to get back into college hockey," said Cole. "I certainly thank them as they've been wonderful supporters. It was tough leaving there but I did want to get back to being a head coach and this is a great spot and some good things are going to happen."
Cole got his first shot as a head coach with the Muskegon Fury where he led the team to a 48-22 mark and a league championship.
Married to the former Debbie Fox of Lansing, Mich., he and his wife have three daughters (Ashton, 13; Madeleine, 12; and Payton, 8).