Jonathan Toews will forgo his final two years of eligibility, leaving North Dakota to sign with the Chicago Blackhawks. General Manager Dale Tallon announced that the team agreed Wednesday to terms with the Fighting Sioux center on a three-year entry level contract.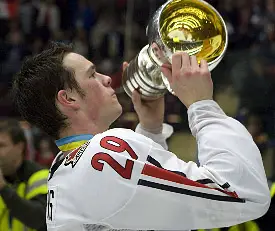 "Now that it's finally official, I can tell you that I'm really excited to be a part of the Blackhawks organization," said Toews. "Chicago is a city with a great history and it's a great hockey city. The Blackhawks are an Original Six team with a great hockey tradition. I'm looking forward to playing for the Chicago Blackhawks fans."
"Jonathan Toews is an exciting player that Blackhawk fans are going to enjoy watching," said Tallon. "He has been an outstanding player at the collegiate level for two years, he's won two Gold Medals playing for Team Canada in the World Junior Championships the past two years, and was a member of Gold Medal winning Team Canada in the recently completed World Championships in Moscow. He has shown leadership and the ability to compete at all levels. We're excited to welcome him to the Blackhawk family."
"I was very impressed by the way he played in the World Championships," said Blackhawks coach Denis Savard. "Jonathan is a heart and soul kid. He looks like he's been very well coached. He is a solid two-way player with lots of skill."
Toews, 19, was the Blackhawks' 1st round pick (3rd overall) in the 2006 NHL Entry Draft. He was one of the two youngest players that played for Team Canada in the World Championships in Moscow in which the Canadians captured the Gold Medal (Jordan Staal is also 19-years-old). In 9 games in the tournament, Toews scored two goals and added five assists for seven points.
A native of Winnipeg, Manitoba, Toews was also a member of the Gold Medal winning Team Canada in the U-20 World Junior Championships played in Sweden this past year. In that tournament, Toews appeared in 6 games scoring 4 goals to go along with 3 assists for 7 points and was named to the tournament's All-Star Team. He is the first Canadian born player to ever win a Gold Medal in both the World Junior Championship and the World Championship in the same year.
In the semi-final game of the World Junior Tournament, Toews scored three times in the shootout in Team Canada's 2-1 win over the United States and then added a goal in Canada's 4-2 win over Russia in the tournament's Gold Medal Game. He was also a member of the 2006 Canadian World Junior team that also captured the Gold Medal.
Toews also played at the North Dakota in the WCHA this season. In his second season with the Fighting Sioux, Toews appeared in 34 games scoring 18 goals while adding 28 assists for 46 points and a +18 rating. The Fighting Sioux advanced to the semifinal game of the Frozen Four in the NCAA Tournament before losing to Boston College.
Toews joined the North Dakota in the 2005-06 season. That year as a freshman he played in 42 games scoring 22 goals and adding 17 assists for 39 points which ranked 4th in team scoring. He was also named the Most Outstanding Player in the WCHA Regional Championship.
Prior to joining North Dakota, Toews played Midget AAA for Shattuck St. Mary's. In 2003-04, he led his team in scoring with 118 points in 70 games. He played for Shattuck in the 2004-05 season and his team won the U.S. National Under-18 Championship. He also led his team in scoring that season with 110 points in 63 games.
Toews is bilingual speaking both fluent English and French. He lists his favorite NHL player as Joe Sakic.