Minnesota's Kyle Okposo announced Wednesday that he will return to the Golden Gophers for his sophomore season. Okposo, a center, was the No. 7 overall draft pick of the New York Islanders at the 2006 NHL Entry Draft.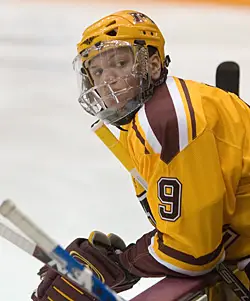 "After meeting with the Islanders to discuss my future, I felt it was in my best interest to return for my sophomore year," Okposo said. "This is where I want to be to develop into a better player. I'm enjoying my time as a Gopher and am looking forward to helping us defend our WCHA Championships."
Okposo earned All-WCHA Second Team and WCHA All-Rookie Team honors last season with totals of 19-21–40 to rank second on the team in scoring. Okposo was second on the team in goals and finished tied for third in the WCHA in freshman scoring. The native of St. Paul had eight multi-point games and a team-best three multi-goal games on the season. Okposo had a point in 29 of 40 games last season, a goal in 15 contests and an assist in 16 games.
"We're obviously very happy that Kyle elected to return," coach Don Lucia said. "We're looking forward to having him be a key player for us next season. I believe Kyle made the right decision and that he is best served coming back to develop, both as a person and an athlete."