Offense: The Crimson found themselves in the opposite situation from that suffered by Union last season: Harvard scored over three goals a game in league contests, but the production fell off significantly to only 2.67 GPG overall. The team's 67 ECACHL goals were good for sixth, same as their final spot in the standings. Worked out nicely, really.
Kevin Du, Ryan Maki and Dylan Reese were all top-six scorers in their senior seasons, but only Maki was among the top three goal-scorers. The other two were Alex Meintel (14, led the team) and Mike Taylor (10, behind Maki's 12). Meintel was a genius at catching net-bound pucks off his skates, his stick, his lower back … wherever, so long as the goalie couldn't catch up with the deflection. His hard work in front of the net will make him a strategic centerpiece in his senior season, only his second campaign as a regular in Ted Donato's lineup.
Du's 25 points led the team, but he will be missed not for his shot, but for his vision and awareness from the pivot position. His 20 assists came on the heels of a 23-assist junior year and an 11-assist sophomore season. He was quick, agile, and smart, and those attributes will have to be accounted for this year for Harvard to match or improve on last season's results.
Offensive defenseman Alex Biega will be joined by his brother Michael this season, as the Salisbury Prep product laces 'em up for a shot at a starting winger position. He's joined by fellow prep-prepared forwards Matt McCollem of Belmont Hill and Joe Smith of Phillips Andover, both of whom are over six feet and 185 pounds. McCollem was a mid- to late-round pick in the 2006 draft, at number 154 overall.
Defense: Biega and Brian McCafferty will jostle for the title of top scoring defenseman on this team, and the blue line looks solid as the leaves start to turn in Cambridge. Six skaters return to patrol the Crimson zone, each of whom saw more than two dozen games' worth of action last year.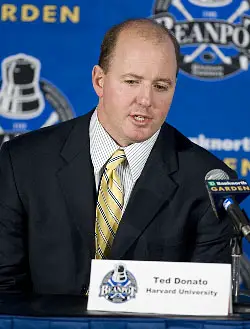 That said, no job is safe with the addition of blue-chip recruit Chris Huxley. The six-foot, 190-pound 20-year-old played for Sioux Falls of the USHL last year, and caused quite a stir when he rescinded his verbal commitment to Rensselaer in favor of skating for Harvard. He didn't light up the scoreboard in the U', but he didn't burn out any refs' whistles, either … he just did his job, and did it well. He'll be in the mix for a regular shift, for sure.
Goaltending: Justin Tobe and Kyle Richter faced the rubber in 18 games apiece, sporting comparable save percentages, though Tobe held the edge in goals-against (2.26 to 2.84 overall). Richter looked sharp as often as not, and there is no reason to doubt that he'll be a perfectly competent netminder in this league.
Just to make life interesting, however, along comes Ryan Carroll out of Tabor Academy. Of a similar tallish, average build as Richter, Carroll is prepared to be more than an emergency backup. Richter will not have as long a leash as some of the more seasoned, more proven goalies in the ECACHL.
Outlook: The foundation is laid for a strong season out of the Cantabs. There are question marks up front and in net, but they are more along the lines of skepticisms than true doubts.
Last year, Harvard played a handful of matches in which it looked like it could've beaten anybody. The Crimson have that kind of talent. They probably won't ascend to the top of the heap this year, but the opportunities will be there for the once-again-rising program.