Offense: In what seems to be a bit of a league-wide pattern, the Saints graduated three of their top six scorers from last season in Kyle Rank, Max Taylor and Drew Bagnall. As a team, SLU was third in the league with 73 goals scored, nearly three and a third per game. The drop in non-conference games was minimal, to about 3.12 GPG — more than enough to go around.
As though the Saints need any consolation, the other half of the top-six list is composed of two juniors and a sophomore. Kevin DeVergilio had 23 assists and nine goals as a soph, classmate Brock McBride had 16 helpers with nine goals, and frosh (now sophomore) Mike McKenzie finished nicely balanced with a dozen goals and a bakers' dozen assists.
Behind those top producers was a bit of a dropoff. While not a precipitous one, only current senior Charlie Giffin and sophomore Sean Flanagan averaged better than a point every two games. (I doubt anyone else around the league will shed any tears over SLU's hardships.)
In a freshman class of only three, there is not a defender or goalie among them. The aged 21-year-old Jared Keller is an average-sized center with reliable vision and hockey sense, and Cedar Rapids veteran Aaron Bogosian will be looked upon to play some hard minutes down in the corners.
Defense: It's tough to replace a Hobey Baker candidate like Bagnall, and it doesn't appear likely to happen this year. Which is to say, good luck finding a blueliner with that blend of defensive ability and offensive acumen.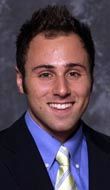 Last year, the Saints were fortunate enough to skate six regulars consistently, with only a half-dozen appearances in the back from players not among those top six. Bagnall is the only departure, and the remaining skaters have a championship-caliber year of experience in their back pockets. This is a solid, solid group of players who will only improve on a 2.5 team goals-against average.
There are four players vying for what is likely the final spot on the blue line, including two freshmen who deferred admission to this year: Bobby Torney from the Taft School, and Matt Raley from the Foxboro Stars of the junior ranks.
Goaltending: Alex Petizian's freshman year was excellent. A steel-plated defense in front of him and a full year under his belt will only make him that much better. Can he beat his .916 save percentage and 2.30 GAA, which — all things considered — were perhaps less than they could have been?
Outlook: The Saints lost some true leaders to graduation, which is what happens in college sports. The only question mark appears to be merely that — a solitary niggling punctuation in the middle of an extensive ironclad thesis: can the Saints replicate the outstanding work ethic, character and chemistry that won them the league title last season? Are the offense and Petizian potent enough to surpass previous high-water marks? It's the niggling nature of the thing that puts them where they are in these projections.