Jim: Well Brownie, three big series played this weekend out in your part of the world with North Dakota and Colorado College, Denver and Minnesota, and Wisconsin and Michigan Tech all going head-to-head. I thought all had a chance for splitsville, and two of the three actually headed that way. I was surprised, though, at the series that turned out to be the sweep with Denver taking two against Minnesota (in Minneapolis, no less). Was this a surprise to you, someone who sees the Gophers on a regular basis? And was Denver really as dominant as the scoreboard suggested?
Scott: JimCo, the Pioneers played very well, that no one can deny, but it started from the goalmouth out. The Gophers outshot Denver both nights, but Peter Mannino simply refused to let Minnesota back in the game once DU had taken leads each game. Right now, Minnesota is suffering from an old-fashioned inability to put the puck in the net. The Gophers are one of those teams that is expected to excel year in and year out no matter what losses they suffer, but the offseason departures are having a big impact this time around. I expect Minnesota to improve substantially as the season goes along, but it might take a little while before we see that progress on the scoreboard. Speaking of making progress, how about Princeton being ranked this week after beating Colgate and Cornell (a team we talked about last week)? Has Guy Gadowsky turned the corner with the Tigers?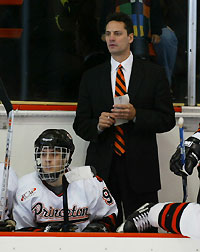 Jim: You know, I was looking through the standings just to confirm that Miami, at 8-0-0, was the only unbeaten and untied team. And then, lo and behold, there's Princeton perfect through its first three. I think it's early to say that things have turned around at Princeton, but a 3-0-0 start is certainly worthy of notice. What's important, though, was that the Tigers pulled out wins in tight games against Cornell and Colgate. Those are the types of games that maybe in the past few years, when things weren't going swimmingly well, that Princeton might not have won. It will be interesting to watch how this team progresses this season. Another team that seems to be playing well in the ECACHL is Clarkson. Two wins over the weekend against Harvard and Dartmouth pushed the Golden Knights back to the top 10 in the poll. But by your estimation, is Clarkson really a top-10 team?
Scott: Clarkson has regained a lot of its nameplate recognition under George Roll's leadership, but looking at the Golden Knights' record thus far, it's hard to know how much of their No. 8 ranking is due to respect carried over from last season. Clarkson is 6-2-0, but only one of those wins has come against a team currently in the top 20 (that being No. 20 Massachusetts, though Clarkson is also 1-1 against St. Lawrence, which was ranked until this week). I say we give the Golden Knights the benefit of the doubt; this weekend we'll know more after they play Quinnipiac and none other than Princeton. Continuing the East theme, I've heard rumblings that Atlantic Hockey might look at raising its 11-scholarship cap to something closer to the NCAA max of 18. Your take?
Jim: I believe that the 11 vs. 18 scholarship limit in Atlantic Hockey is something that is always on the table for debate. The challenge that the league and its membership faces is that not every school in the league can afford to move to 18 scholarships at this time. Remember that what is now Atlantic Hockey began as a cost-containment league (called the Metro Atlantic Athletic Conference, or the MAAC) for schools that didn't have the budgets to compete in one of the "Big Four" conferences. The institutions that comprise Atlantic Hockey are far different from the original teams from the MAAC. But it's difficult to force your membership to change their overall philosophy on how they finance the sport. While there are certainly schools in Atlantic Hockey that can easily afford to increase scholarships to 18, there are also schools who struggle right now to get near the 11 scholarship level. I've long been a proponent of increasing scholarship limits to a middle-range number such as 15. Then, based on reaction from the member schools, consider 18 scholarships three to five years down the line.
Scott: That would be a welcome change from my perspective, especially given the CHA's troubles. College hockey has a long tradition of excellence by schools that a lot of people outside our sport have never heard of — I remember long ago hearing a fan mention how cool it was that Michigan Tech was a former NCAA ice hockey champion. That's part of the appeal of the game, as opposed to football, where the dominant powers are factories with enrollments of 40,000. Back to the games, though, we'd be remiss in not mentioning Miami once again. Shall we just reserve the RedHawks a block of rooms at the Frozen Four right now?
Jim: Well said, Brownie, regarding what makes college hockey special. To answer your question about Miami, though, I think we should wait before booking their flights to Denver. I think Miami is a good, if not great team, but it's still very early in the season. If we're talking about Miami two weeks from now and the RedHawks are sporting a perfect 12-0-0 record (after facing Notre Dame and Michigan State for two games each) then I'll concede this is a Frozen Four team. But not a second earlier!
Scott: Fair enough. Until next week!