In the media and as fans, we pay a lot of attention to streaks and records. They are the fodder for endless debates about who is the best and what new things have been accomplished, no matter the sport.
At the start of the 2007-2008 season, the two-time defending national champion Wisconsin Badgers women's hockey team hadn't lost since Minnesota-Duluth beat them 2-0 on November 24, 2006. Coach Mark Johnson and his players, including senior captain Emily Morris and senior assistant captain Jinelle Zaugg, have set out to give themselves another opportunity to win the national title.
In the process, the Badgers set a new standard for women's college hockey excellence when they beat Ohio State on October 13, 4-0, winning their 31st consecutive game and breaking the old record of 30 held by New Hampshire. The Badgers extended the streak to 32 before St. Cloud finally defeated them 2-1 on October 19.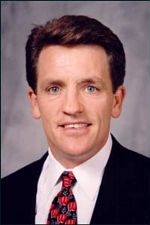 Despite the talk in the media as the Badgers got closer to breaking the record, Johnson claims it wasn't something the team discussed at the start of the year.
"I didn't know it existed," Johnson quipped. "It wasn't a priority on our list of things to do this year. Those things just happen. In none of our meetings, our individual meetings, our team meetings, did we really talk about it. I'm guessing that some of them (the players) were aware of it, but it wasn't because the coaching staff was talking about it. Those things obviously are a credit to what the players have been able to do over a long period of time."
His players also say that the record was never something they knew about. Said Zaugg, "We don't really keep track as far as records or stats go; we try not to think about it. I think all that kind of stuff just gets into people's heads, so whether we're beating shutout streaks or point streaks or whatever, that's all such a small part of our game, and the big picture is the team going for another national championship."
Since taking over the program in 2002-2003, Johnson has helped turn Wisconsin into one of the best teams in the country. Last year, when they defended their national championship, beating Minnesota-Duluth 4-1, the team tied a record for most wins in a season with 36.
Of course, Johnson has a history with records and championships. Playing for his father, "Badger" Bob Johnson, at Wisconsin in the late '70s, Johnson helped Wisconsin win the national title in 1977, his freshman year. Johnson, who played three years at Wisconsin, holds school records for both goals scored in a season (48) and career (125).
Johnson finished his career at Wisconsin with the highest points-per-game average of any player in Badger history (2.05) and second all-time in scoring with 257 points, trailing only Mike Eaves, with whom he played on the 1977 team. Eaves currently coaches the men's team, and beat Johnson out for that job despite Johnson serving as the assistant coach of the men's program under Jeff Sauer.
"Our friendship still exists," says Johnson of Eaves. "It's probably stronger than it has been because we're in the same city and we're working at the same university. My wife and Mike's wife get together usually once a week and walk our dogs and now I've got one of my sons playing for Mike; he's a freshman, and so our friendship is probably as strong as it's been since we played together at Madison in the late 1970s."
Johnson departed Wisconsin after his junior year to play for Herb Brooks on the 1980 U.S. Olympic team. Brooks told Johnson the team would go as far he could take it, and Johnson led the team in scoring over the course of the Olympic tournament, finishing with 11 points.
When the movie Miracle came out in 2004, Johnson says his players asked him about it.
"Obviously they want to know about the accuracy of the movie and if certain things that happened were true. When your coach is out in the public like that they're going to want to know some inside stories or scoops or what we did with that team or how that team was picked or what happened in Lake Placid, so it becomes a conversation piece between our players and certainly myself."
Winning the title last year was special for Johnson and his players, since it took place in Lake Placid, N.Y., site of the 1980 U.S. triumph.
"I think the second one being in Lake Placid, you know, makes that one special, so it's going to be with us for a long time just because of where it was and how it happened."
For Morris, who grew up near Lake Placid in Massena, winning that game meant playing in front of her family. "My family could be there and specifically my grandfather. He was able to drive up from Massena and he was the first person I saw when I was walking up the stairs of the 1980 rink. That was a pretty special moment for me because he's been such a crucial character in my success, and being in Wisconsin he doesn't get to see me play too much."
Despite Johnson's fame from the 1980 Olympic team, the players feel it is Johnson's unique understanding of the game that has proven most useful in molding the Badgers into a powerhouse.
"I didn't watch a lot of hockey growing up, as far as big-time hockey," says Zaugg. "I had always kind of heard of the 1980 team, but nothing particularly stood out for me; I didn't know him so I didn't follow him. When I came here, I got to know him more as a person than anything he had done in history, and really respected and admired his approach to everything and his humility. I think of that more than what he's done in the past."
Sophomore Meghan Duggan has had great success under Johnson. She finished her freshman year second on the team in scoring to Sara Bauer, and feels Johnson taught her a lot during her first year.
"He kind of breaks down everything and his knowledge of the game is unbelievable; he can teach the smallest thing to you and enhance your game 10 times as much as it was," Duggan says. "Just little things like where to place the puck when you're shooting and how you're supposed to think when the puck drops and stuff, and just the knowledge of the game he brings to our team is a huge advantage over any other team in the conference or the country."
Morris feels that Johnson's greatest attribute as a coach is his ability to keep things on an even keel.
"I think he's an unbelievable coach and a human being. He doesn't harp on anybody for making a mistake. He lets us be ourselves and lets the team take on its own identity as the year goes on. I think that's been really successful and allows us to really jell and I think that's been a big factor in our success."
For Johnson, coaching the women has proved to be an adjustment, but one that proves to be continually rewarding.
"Well, there are differences. I mean, the biggest difference is that we're made different," said Johnson. "When you have differences, your approach is going to be a little different; the communication skills that a woman requires the men may not require. When you get to the gist of trying to improve as a hockey player, the ability for both genders to be competitive and passionate about what they do, there are a lot of similarities in regards to it but emotionally there's certainly a difference and as a coach you have to be aware of that.
"There are a lot more positive things in regards to me having an opportunity to work with the women than people might anticipate. Like I say, they're very passionate, about what they do. They're committed, they listen very well, they want to become better, and if you like to teach the game, or are a teacher of the sport, obviously dealing with that type of pupil is going to be very rewarding."
Johnson and his players are excited about trying to win a third consecutive national title, but expect a serious challenge. In addition to the loss to St. Cloud, Minnesota defeated them 3-2 on November 3, and the players feel teams are coming after them.
"We just have to stay focused and play our game," says Duggan. "We can't control any of that. We can only control what we can control and just play and not let targets on our backs prevent us from accomplishing what we want to."
Echoes Zaugg, "I think every team's gunning for who is No. 1, and I think whether we're ranked No. 1 or not, they're going to be gunning for us just because we're Wisconsin and we've been able to win two national championships. No matter what, I think we have to be aware of that and come out ready to play whoever we're playing, whether we're playing the best team in our league or the lowest team in our league."
Johnson himself feels the competition in the women's game is getting stronger every year, but hopes to be able to get his team an opportunity every year to win.
"The goal, I think, at the beginning of every season is the same, to make sure you give yourself an opportunity at the end to win a championship. Every year is going to be different; the one thing we've seen in the women's game the last several years here is the competition and the parity throughout the country has gotten better, and so it just makes the task of whoever is going to win the national championship that much more difficult.
"Certainly we've been fortunate the last couple of years, but this year is going to be no different than it was last year. It's going to be tough to put yourself in that position, but hopefully the process is going to be similar and we'll have a chance at the end of the year to hopefully do something special, and that's what you try to work for when you start in September. So, the goal is the same."