The annual cost of operating the Wayne State men's hockey team is in the neighborhood of a half-million dollars.
That chunk of money will apparently be better served elsewhere on campus as the school announced in late September that this season would be the ninth and final year for men's Division I hockey in Detroit.
"From all the people we talked to, it was all financial," said WSU head coach Bill Wilkinson, the only head coach WSU had since it started a team in 1999 after coming over from Western Michigan. "But I guess there are several bright spots. One, it's good we got kicked in the teeth early so that these kids can look for schools to transfer to. Every game we play, these kids will essentially be playing for contracts and they'll be in the limelight. The bombshell is quite a setback, but we still want to go out and have a good season — this is our last shot at it."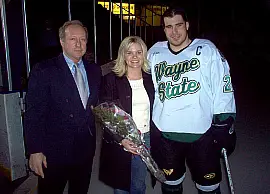 The WSU women's team, the only such D-I team in the state, will continue to operate. Many speculated that was simply a Title IX issue, but Wayne State athletic director Rob Fournier said it was not.
"I'd like to think we thought this over very carefully and reflected on all of our options," Fournier said. "The men are simply more expensive and are the most expensive team we have here at Wayne State. This was a dollars and cents issue. Would we eliminate the women just for the sake of eliminating a program? We want to maintain programs here. I see the value of athletic teams and the effect they can have on the value of a person's life."
The Warriors sold out their first-ever home game, an 8-4 exhibition loss to Western Ontario on Nov. 5, 1999, at the Michigan State Fairgrounds Coliseum. Their last home game will be March 8 against Niagara University.
Wayne State joined College Hockey America in 2000 and proceeded to rattle off three straight CHA tournament championships, culminating with an NCAA tournament bid in 2003 in which it barely lost to Colorado College in the regionals at Yost Ice Arena in Ann Arbor.
But since that 2003 campaign that saw its first senior class graduate, WSU never had a winning record, going 41-85-15 in that time. The Warriors were 72-58-11 from 1999-2003.
The team is off to a 2-7-1 start this year after getting its first win two Saturdays ago against Lake Superior State.
"Of course, it's easier to market a winning team," said Fournier. "Look at the [Detroit] Tigers. Was it easier to sell tickets last year when they went to the World Series or back in 2003 when they lost 119 games? I'd be willing to say it was last year."
Wayne State also never had a rink built on campus, something that may have hindered player recruitment, and was forced to play all over the suburban Detroit area at five different "home" rinks over the years, including Joe Louis Arena where the Warriors hosted Notre Dame and Bowling Green in 2002-2003. In January, WSU and Niagara will play a game at the Palace of Auburn Hills.
Wayne State's first (and again current) home rink at the Fairgrounds hosted the CHA tournament in 2006, but the event was sparsely attended with an announced attendance of just 750 for the title game that saw Bemidji State top Niagara on national TV. The Coliseum seats 5,600.
"In 2000 when I came here, the facilities were just deplorable and I was shocked that there was a Division I hockey team here with no rink on campus," said Fournier. "I inherited the hockey program and I don't know what the people before me were thinking. Since we've had hockey here, we've been nomads and at those arenas, we aren't the first priority — we're renters.
"I know there are lights out at the Fairgrounds and there is no heat and the scoreboard doesn't work. It costs $5,000 to heat the Fairgrounds. I've had to cajole people to cooperate and get work done. I mean, I pay the cheerleaders to clean the toilets and I paid to have a platform built for TV cameras for the [2006 CHA] tournament. We've had special event nights the past couple years where we've served cold cuts, but by the end of the game, they were frozen cuts."
Fournier added that it would cost $17 million to build a rink on campus. The issue has been on the agenda for many years, but again, Fournier said support has been limited.
"When this program was started, people promised the president that things would happen," said Fournier. "Where are those people now? We've had talks with those people the past seven years and even in the past month. All the people complaining now that the program is being discontinued haven't contributed one cent. No one is willing to open their wallet."
One item that was bandied about involved the WSU men playing at City Sports Arena on Detroit's far east side on the Grosse Pointe border. That rink is the women's home ice, but evidently, was not sufficient for the men with a capacity of just 500.
"Bill didn't want to play at City," noted Fournier. "He said it wouldn't be conducive to his team and if that's what he thought, he knows the limitations."
Fournier also cited the poor Michigan economy as a reason for hockey's shortcomings.
"This whole situation upsets and bothers me," Fournier said. "Companies are shutting down and there are no dollars for higher education. Money just isn't there. The [automotive] Big Three is hurting and the economy isn't humming like it was eight or nine years ago. Michigan and Detroit are suffering."
All WSU players on scholarships will have those scholarships honored should they choose to stay at Wayne State. Per NCAA rules, however, if a player transfers to another school to play hockey, he will be eligible immediately. Goalie Will Hooper, a 2007 graduate, came to Wayne State after Findlay's program folded in 2004.
Over the years, Wayne State did send a few players to the minor pro ranks and assistant coach Chris Luongo played in the NHL, but the coaching carousel at WSU saw the speed turned up a tad in recent seasons. Wilkinson's longtime assistant Willie Mitchell bolted for Vermont before last season and Danny Brooks, another longtime Wilkinson assistant, left for Brown in 2002.
At the 2006 hockey banquet, Fournier hyped the men's program, saying Wayne State would soon be in a league with "schools in Ann Arbor, East Lansing and Kalamazoo" and those schools would come to Detroit as well. According to the CCHA, WSU never applied for membership to the league, despite reports to the contrary. All CCHA schools, except for Michigan, did play WSU over the years, but being a member of the Michigan-heavy league was never going to happen, according to Fournier.
"There was no interest in us from the CCHA," said Fournier. "I tried to get more big-name schools to come here, but the CCHA just wouldn't accommodate me in that regard. I figured if we could get some big-name schools to our place, more people would come out and see that we have a good product here. No one knows who Sacred Heart is or who St. Lawrence is, but everyone knows Michigan and Michigan State.
"Look at Major League Baseball. Even the Yankees go to Kansas City once a year and play in their building. Imagine if Kansas City played the whole year on the road, but only had the Florida Marlins at their place. They wouldn't get many fans either."
"I disagree that the CCHA had no interest in helping Wayne State," CCHA commissioner Tom Anastos said. "CCHA schools have played more than 50 games against WSU over the years. In fact, this year, Wayne State has 10 games on their schedule against CCHA schools, including three at home. Rob Fournier keeps mentioning Michigan and Michigan State. Well, everyone would like to play those schools at home, including our members [which don't every season because of our scheduling restrictions], but based on the limited number of nonconference games available, that's just not as easy as it sounds.
"I met with Rob a couple of weeks prior to their decision to drop their program to discuss a scheduling concept that would rotate games, both home and away, which I presented to our membership in late September. Our schools were open-minded to the concept, assuming that Wayne State would address some issues that were of concern to us. Shortly thereafter, the program was dropped."
Western Michigan, Bowling Green, Ferris State and Lake Superior State have visited in recent years, including LSSU for Wayne State's 2007 home opening weekend on Nov. 9-10, and WSU ventured to Michigan State and beat the then-No. 14 Spartans in overtime back on Nov. 20, 2003.
As for the future of the CHA? Air Force left for Atlantic Hockey prior to last season and now with four teams a year from now, the league's future looks bleak.
"Well, you can't do much with a four-team league," said Wilkinson, who also said he doesn't intend on retiring after the season. "You become a non-entity. I don't see the league continuing after this season. The teams left [Niagara, Alabama-Huntsville, Bemidji State and Robert Morris] will need to find a home and I hope they do."
"You know, what I think about most in times like this is the players and the coaches," Fournier said. "As an AD, I don't know that anyone ever wants programs eliminated. Track was the last program eliminated and that was back in the early 1980s. When you eliminate a program, I think it affects the general perception of the overall program. It takes part of our family away.
"But we're doing everything in our power to keep it positive. We will still play the season and go on as planned with our TV and radio deals. We'll do all we can do on a very limited budget."
That inaugural game in 1999 had mass Detroit media coverage and even Gordie Howe on hand to celebrate. Next March, there may be mass coverage, only this time Wayne State hockey will be listed in the obituaries section the next day.
Portions of this article originally appeared in the Oct. 15 issue of Michigan Hockey.