There are 59 Division I hockey programs in the country, and they are all trying to convince junior players to come play for them. Some schools, like Minnesota and Michigan, have advantages over smaller schools with their history and the possibility of playing for a national championship. Other schools, like Harvard, offer their academic reputations.
For one school, the pool of players from which to choose is demonstrably smaller, and the challenges in getting players to go there is even more difficult. Yet despite these obstacles, Air Force head coach Frank Serratore has managed to build a strong team that competes with the best schools in the country.
Last year, Air Force won the Atlantic Hockey tournament and played Minnesota in the first round of the West Regionals; in that game, the Falcons had a 3-1 lead in the third period before Minnesota rallied, winning 4-3.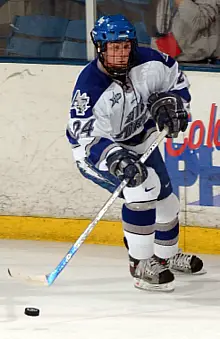 If it was just that one game, it might be written off as a fluke. Yet Air Force played Colorado College and Denver last year and lost both hard-fought games 2-1. In the CC game, the Falcons scored a tying goal with three seconds left, but the goal was disallowed.
What type of athletes does Serratore look for to build a competitive team?
"We get at the [service] academies what I call good second-level players. The good first-level players are going to the big schools, and with us, to win with the kids that we get, we felt that we needed to get experienced players, so we started to recruit older kids.
"The liaison here at the athletic department, Jim Bowman, had sons that played hockey and understood the culture of junior hockey, and he would bring all athlete candidates to the Academy boards. He helped us get junior hockey players in here, helped sell the concept to the Academy board."
Of course, those players face a demanding program at Air Force, as well as a minimum five-year stint in the service after they graduate. Those whom the Academy admits also must meet stringent requirements.
Says Serratore, "They have to have five things: they have to be a good student, they have to be a good person, they have to be a good athlete, they have to be healthy; they can't have something physically wrong with them, a condition like asthma, and they also have to be a U.S. citizen, or a dual citizen with the United States.
"So, they have to meet all five of those requirements, and if just one of those requirements doesn't fit, we can't take them. So, there's not a lot of kids out there that have all five of those requirements; the ones that do are the ones we approach and say, 'Hey, we have a pretty good deal for a guy like you.'"
One of those students that Serratore recruited is senior assistant captain Frank Schiavone, whom Serratore discovered playing junior hockey in the British Columbia Hockey League.
Schiavone was approached by several schools, including Mercyhurst, Bentley and Niagara. Schiavone ultimately chose Air Force, a decision with which he initially struggled.
"Mostly, it was Air Force vs. myself, I guess. Just the decision to come to a service academy, it's a hard decision for anyone that needs to make it. You have four of the most strenuous years you could imagine, followed by a five-year commitment, so it's a life-changing decision. The thing that swayed me was it sets you up for a great future. Not many people can come out of college and right away have a job, especially these days."
Another student Serratore recruited is freshman Brad Sellers, who grew up in nearby Centennial, Colo., and played for Serratore's junior team, the Thunderbirds.
"I talked to Mercyhurst and they had kind of put in an offer for me. I was talking a lot to DU at that time, and there were a lot of other schools that were kind of looking at me, but nothing was on the table. When it came down to it, I wanted to stay in Colorado, and I felt the most comfortable with Air Force. I felt like I knew where I was coming in and the coaches were real straightforward with me, so it felt like the best fit."
Serratore says the pool of players who meet Academy requirements means that he is competing with relatively few schools for them.
"We compete with Army, and we compete with the Ivies," he said. "We compete with Holy Cross, schools like that."
Though the Air Force does require a five-year stint after graduation — ten years for those who want pilot training — Serratore prefers to think of it as an opportunity for his players.
"To me, commitment is a terrible word; it should be opportunity, because that's what our kids get, they get an opportunity. They go to school for free, they're paid to go here, and at the end, if they're a civil engineer, they'll go to work for the Air Force as a civil engineer for five years, and they'll get paid well. They'll start at about $45,000 a year, all their benefits, they'll get a housing allowance, so it's not like they're doing missionary work. They go in as second lieutenants."
For the players, the initial transition is a great challenge, but Schiavone feels it makes the players and the team stronger.
"You go through this 40 days of basic training that's terrible, and you go through it with everybody else. You're not by yourself, and that's how you get through this place. You use other people and you get help from other people. It's a big piece of humble pie that you have to eat right away, but in the long run it's going to turn out to be the best thing you've ever done."
Schiavone also says that the upperclassmen help the freshman in their adjustment to both military discipline and the academic challenges of the Academy.
"I'm sure here, as well as at Army, we have a whole unique set of challenges that a lot of other schools don't have. We're up every day at 6:30 doing things, and we don't get back from practice until 7:00 p.m., so you have about three hours do to homework before you're either exhausted or have to shut it down for the night," he said.
"So, having the freshman come in from seasons in juniors where you get up at nine, 10 in the morning, practice, then go back to bed and hang out the rest of the day, it's a huge change, and I speak from personal experience. When they come in, you give them all the hints about how to get by and how to succeed in everything. I think this freshman class has really taken well to that. We have a lot of guys who have the potential to not only do good at hockey, but to do well academically, and the whole spectrum of things at this school."
Air Force's best-known player is Eric Ehn, who was a finalist for the Hobey Baker Memorial Award last year. Ehn is someone who Serratore feels could play pro hockey after Air Force, though he is not sure at what level. Air Force, like some of the other programs in Atlantic Hockey, sometimes has late bloomers, and it is one of the reasons that the Falcons can be competitive with the best programs in the country.
Says Serratore, "You know, last year, when we played Minnesota, I watched the replay on TV, and the announcer said 'How can this Air Force team be outplaying Minnesota, who has 15 NHL draft choices and they outweigh Air Force by 10-15 pounds per guy?' I don't think Atlantic Hockey is respected for the most part by the Big Four [conferences], but one thing they better respect is they better respect our best teams, because our best teams can play.
"We may not have the depth that the WCHA has. WCHA, Hockey East, CCHA, they have teams that are reload teams, the Big Ten teams — Minnesota, Wisconsin, Michigan, Michigan State — Notre Dame, Boston College, Boston University, New Hampshire, those are reload programs. We don't have a reload program in our league. In our league, it's a situation that's going to be more cyclical.
"You're going to get one team that's got good back-to-back classes, and when those classes get to be juniors and seniors, you're going to be pretty good. Now, you lose those guys, maybe you're going to have to rebuild again, so it's going to be cyclical. But the team that's on their high cycle, the team that wins our league, is a team you better take note of, and you better be careful when you play them, because you're playing a good team."
With Ehn a senior, Serratore himself faces that rebuilding year, and when asked how he plans to replace Ehn, he candidly admits he probably won't be able to.
"We're not going to be able to replace Eric Ehn. No way. We haven't been able to replace Andrew Ramsey. You know what I mean, some guys you just can't replace. Your team just becomes different, the strengths of your team and the way that you plan on succeeding becomes different. Instead of relying on this line, maybe you're relying on more of a committee deal.
"Our biggest thing is to be working on our recruiting so that our depth doesn't fall off. Eric Ehn was a third-line center in Green Bay and he came here and all of a sudden, he just blossomed. He was a late bloomer; if everybody else knew he was going to be a late bloomer, you don't think he'd be at Ann Arbor or East Lansing right now?"
Air Force hopes to be able to break through against a Big Four team this year, something it wasn't able to do last year, despite playing several very close games.
"I think it gets down to, in those games with DU, CC, Minnesota, Boston College, games we have this year, they've got to find a way to get it done," says Serratore. "There's no magic formula; if there was, we'd all be purchasing it."
"A lot of people don't give us that credit, but I feel we really can compete with those teams," says Sellers. "It comes more from within I think."
Adds Schiavone, "It's just one of those things where if we can get all cylinders firing at the same time, if we can get the power play, penalty kill and even strength to go at the same rate, we would win. In some of those games, our power play would go 0-5, or our penalty kill wouldn't kill a penalty at a serious time, so one thing has always been lacking, and I think that is what those big schools do so well. They beat you five-on-five, they beat you on the power play and penalty kill, and that's why it matters, and if you do all three you're probably going to win the game."
The team is focused on getting back to the NCAAs, and with the West Regional in Colorado Springs and the Frozen Four in Denver, Schiavone says the players are very motivated.
"We didn't even know where the NCAAs were last year. We never put them on our schedule or really talked about it, because it was never really a thought in our head. We got the bid to play in Denver, and as you saw the tide changed real quick from a lot of Minnesota fans to a lot of Air Force fans by the third period. I think, knowing the regionals are in Colorado Springs and the Frozen Four is in Denver, a lot of guys are wanting to get back there, especially when you get a taste and get so close and not get to move on."
Schiavone is candid when discussing life after Air Force. With the country at war, he acknowledges the topic of deployment to Iraq does sometimes come up.
"I think you know it in the back of your head, it's something that a 20-year-old junior player doesn't think about every day, and when you're here, you have constant reminders of that, and it is kind of a mind-over-matter type thing," he said. "Once you realize that, OK, I have to do this, it's something I have to do and I signed up to do it; you know, after sophomore year, you can leave the school with no commitment, and some do, but not very many.
"Those that choose to leave, that's probably their main reason. Like I said, the moral support you get from teammates and coaches, from people that have been deployed, is great. [Former assistant coach] Joe Doyle, he was deployed my sophomore year for half the year and he came back and nothing happened. It's just one of those things you have to see to believe, and not everyone that is deployed comes back like you see on the news."