First off, Happy Thanksgiving!
Everyone starts to reflect this time of year and begins to realize what they are most thankful for.
Maybe it's health, a new job or even additions to the family.
Heck, even the CHA has lots to give thanks for this time of year, even if the league may go kaput next March. But that's neither here nor there.
Each of the five CHA schools have something that reasons to be a thankful (or thankless) commodity:
Alabama-Huntsville — Danton Cole. It's never easy replacing a coaching legend, but when Cole came to UAH this past spring, many within the organization have said he's well on his way to establishing a legacy of his own. His organizational skills are second to none and he demands the best out of his players. While their on-ice record doesn't show it quite yet, the Chargers are always a dangerous team to face, especially during crunch time (see: 2007 CHA and NCAA tournaments).
Bemidji State — The state of Minnesota. With the CHA seemingly in a state of flux for several years now and the WCHA's denial to let the Beavers into the league that makes the most sense geographically for BSU, the fact Bemidji is located in a hockey hotbed should help. Cutting hockey at Bemidji State would be a sin, one that would rival saying "Barry Bonds is innocent" — neither one will happen.
Niagara — Juliano Pagliero and Matt Caruana. Where would the Purps be without their quiet leader in Caruana and their big man in net? Their record may still be .500, but take away their captain and their No. 1 goalie and not only would NU's confidence suffer, but so would the play on the ice. These two have seemingly made people ask if Ted Cook and Les Reaney are still on Monteagle Ridge.
Robert Morris — Stability for at least the next six years (see below). Also, thanks for a university that took the steps four years ago to start up a Division I program and get the proper people on board to make this program grow, and in this writer's estimation, be a top national program in the next several years, if not sooner.
Wayne State — Nine years of Division I hockey, three CHA titles, an NCAA tournament berth and a world-class coach in Bill Wilkinson. Be thankful for all that, but as Dan Aykroyd's character Harry Sultenfuss said in the 1991 movie My Girl, "I know you've suffered a terrible loss and there's really nothing anyone can do to comfort you, but I urge you to focus on the times you had … the trips you took, the sights you saw. Those days are gone now, but they'll live on forever in your heart."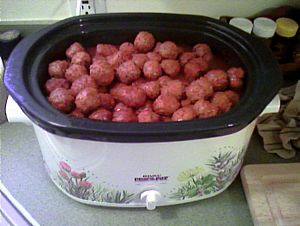 Myself, I am thankful for my family, including my beautiful wife of three years, Stephanie, and sons Ethan, who is now two, and our newest bundle of joy, Wyatt, who was born on Sept. 7. I suppose our tater-tots-for-brains dog "Eddie" should get a mention, too. And my wife's Thanksgiving meatballs.
And you know what? Kids really do say the darndest things. A few weeks back, I had an interview set-up with Niagara coach Dave Burkholder and defenseman Tyler Gotto. Ethan always wants to talk to whoever you are on the phone with. I told my wife I was expecting a call from "Burky," so for the next 10 minutes, Ethan whined that he wanted to "talk a Burky, talk a BURKY!"
So, once again, Happy Turkey Day, enjoy the mad dashes at the mall, find all the good sales and get the holiday music going full swing.
Schooley Signs Another Extension With Colonials
Robert Morris head coach Derek Schooley signed a contract extension through 2011 two summers ago, but last week the school extended Schooley two more years to May 2013.
"I would like to thank University president Dr. Greg Dell'Omo, (athletic director) Dr. Craig Coleman and the athletic administration for their support, dedication and commitment toward Robert Morris hockey," Schooley said. "Our program has made great strides the past four years and we look forward in helping Robert Morris build upon the success we've had in the infancy of the program."
Schooley was named the program's first head coach August 22, 2003.
Under Schooley's guidance, Robert Morris reached the CHA finals last March and has also knocked off a number of ranked opponents. In January 2007, the Colonials garnered a 4-2 win over then-No. 2 Notre Dame in South Bend, marking the biggest upset in school history in any sport. So far this season, RMU has defeated ranked opponents in Boston University and Niagara.
"We are very happy to extend Derek's contract and provide even more stability to our men's ice hockey program," Coleman said. "Derek has accomplished a great deal in just over three seasons as our head coach. We are committed to our hockey program competing at the highest level and Derek has proven that he is the right coach to get us there."
BSU Gets Early Signing Period Commitments
Bemidji State added a trio of forwards for the 2008-2009 season during the early signing period this past week and was the lone CHA school to announce new commitments.
Darcy Findlay and Aaron Lewadniuk are the newest Beaver recruits after Shea Walters, who committed last year during this time.
Findlay is in his first season with the Cornwall Colts of the Central Junior Hockey League, Lewadniuk is in his first season with the United States Hockey League's Omaha Lancers and Walters is in his first season playing for the North Iowa Outlaws of the North American Hockey League.
"This is a great start to the 2008 recruiting class." said Bemidji State assistant coach Ted Belisle, who spearheads the Beavers' recruiting efforts. "The group brings with them a good mix of offensive skill, speed and the competitive nature we like to see in players.
"Darcy is a prototypical power forward. He is a strong skater, likes to finish his checks and will fit well into the style of play the Beavers are known for. Lewadniuk is the youngest of this year's early signing class, but is just scratching the surface of potential. Shea is a talented playmaker who sees the game extremely well and is able to make the plays as a result."
Niagara's Streak Nation's Best Since '76
Niagara extended its home unbeaten streak to 22 games (20-0-2) Saturday with a 3-1 victory over Sacred Heart, tying the Purple Eagles for the fifth-longest home unbeaten streak all-time and continuing the nation's longest active home unbeaten streak.
Egor Mironov, Ted Cook and Vince Rocco scored for NU and freshman goaltender Adam Avramenko stopped 29 shots in the win.
"We had another great third period," said Burkholder. "We persevered and made a couple huge plays. I give the credit to our guys for keeping the streak alive."
Niagara matched the streak of Michigan Tech, which went unbeaten at home from Nov. 28, 1975 to Oct. 22, 1976.
Friday night, the Purple Eagles took a 4-2 decision from the Pioneers.
Chris Moran, Scott Langdon, Les Reaney and Kyle Rogers led the offense for NU. Niagara goaltender Juliano Pagliero kicked out 29 shots for his sixth win of the season.
NU continues its six-game homestand back at Dwyer Arena next weekend when it hosts Bemidji State.
RMU Takes Three Points From Buckeyes
Robert Morris took three points from Ohio State in a staggered home-and-home set over the weekend that started with a 5-5 tie Friday night and then a 4-3 win Sunday afternoon.
The Colonials used three second-period goals Sunday to take the win.
Jason Towsley, Tom Biondich, Brett Hopfe and Chris Margott scored for RMU, while Christian Boucher stopped 34 shots.
OSU outshot the Colonials, 37-26.
"I think you stress your nonconference games because you want to … get the respect in the nation," Schooley said. "You do well, and nobody really knows how hard we play or what we do, so when you're playing a nonconference opponent such as an Ohio State, a Notre Dame, a Boston University, teams like that, you want to do well because people notice you. They notice what Robert Morris is about."
RMU scored four in the second period Friday night to tie Ohio State at the Mellon Arena in the second half of the Pittsburgh College Hockey Showcase.
Ohio State jumped out to a 1-0 lead just 2:41 into the first period, but Nathan Longpre tied the game before OSU scored another to go up 2-1 after 20 minutes.
The two teams exploded in the second frame, scoring a combined seven goals making the score 5-5 at the intermission. Towsley, Denny Urban (first NCAA goal), Margott and Ryan Cruthers scored for the Colonials.
Boucher allowed five goals on 11 shots before Wes Russell came into the game in the second period and stopped all 13 shots that he faced.
"Pittsburgh fans loved it, though," said Schooley. "Our people that we had there were asking, 'Is this how you play all the time?' I'm going to be bald and gray by the time I'm 40 if we play like that all the time, 5-5. Tonight was how we play. You could see our hard work, our energy, our take the puck to the net. Our best-skilled guys, our grinders, contributed tremendously for us tonight. Chris Margott scored the fourth goal, but as far as the other goals went, just hard-working stuff around the net."
In the first game of the Showcase, Washington & Jefferson beat RMU's club team, 3-2.
Bemidji State, Wayne State Split In Motown
Wayne State and Bemidji State split their last-ever series in Detroit over the weekend as BSU won 3-1 on Friday night, but the Warriors took a 5-2 win for their second straight Saturday victory.
Tyler Ruel's first collegiate goal was the lone highlight for the Warriors Friday. Jordan Inglis assisted for his first collegiate point.
Matt Pope scored 87 seconds into the game and Cody Bostock and Matt Read (first NCAA goal) tacked on goals for the Beavers.
Matt Climie made 18 saves and Kyle Funkenhauser totaled 20 saves, respectively. The Beavers also held the Warriors scoreless in six power-play chances.
WSU then earned its first CHA win of the year Saturday as Jon Grabarek scored two goals and captain Mike Forgie and Tylor Michel added three assists apiece. WSU goaltender Brett Bothwell made 29 saves for his first win of the season.
Bemidji State struck just 3:44 into the contest on a power-play goal from Read.
Matt Krug scored the game-winning goal on a WSU power-play in the second period. The junior defenseman blasted a slap shot from just inside the blue line that found the top corner of the net. Forgie and Michel assisted on the tally that put the Warriors ahead by three.
Joey Moggach scored the other BSU goal, but Jared Katz countered.
Stavros Paskaris added two assists for the Warriors and Derek Punches scored an empty-netter.
"I thought it was a great game," Michel said in The South End, WSU's student newspaper. "The first period we came out strong, second period same thing, the third period they took it to us a little bit, but it's only our second win this year, so we're just getting a hang of that winning feeling."
Climie finished with 16 saves.
The Warriors closed the gap in the all-time series to 22-8-5 with just their third victory over the Beavers in nearly four years (Dec. 5, 2003).
Beavers Get Exhibition Win Tuesday
BSU defeated Canadian university Manitoba, 5-1, Tuesday night at home.
Freshmen Ian Lowe, Ryan Cramer and Read scored first-period goals for the Beavers and Blaine Jarvis and freshman Emil Billberg tallied in the middle period.
Yet another freshman, Matt Dalton, made 19 saves in net for the win.
CHA Still Mum On Future
No new news on the future of the CHA, but Schooley gave his take over the weekend.
"I have great faith in the leaders of college hockey," he said. "We've got four stable teams. We're very stable and the other three remaining teams are very stable. I have great faith that something is going to happen to either help the CHA or take the other teams. We've just got too many good programs.
"The history of Bemidji, the history of what Niagara is doing at home, and where we're going as a program and what Alabama-Huntsville has done — I have great faith that something will happen to these four teams. It would be a shame if it didn't. You saw what we did this weekend. You've seen what we've done, you've seen what Niagara's done, and you've seen what Bemidji's done. Those are exciting things.
"I don't think anybody wants to be an independent. Something's got to happen, and it's got to happen quickly. I've got 85 solutions that I've got to it. We can sit here, we can go grab a six-pack and let's reorganize all of college hockey. But those aren't our decisions. Those are made at the department levels, at the president's levels, at the commissioner's level and the higher-ups at the NCAA. The only thing I'm focused on right now is doing the best we can for Robert Morris hockey and winning hockey games."
Pretty sure Schooley's thoughts are echoed throughout the entire league, if not most of college hockey.
---
CCHA correspondent Paula C. Weston contributed to this report.