T.J. Oshie began and will likely end his college hockey career at North Dakota as a Fighting Sioux.
But because of the settlement of a lawsuit in which the state of North Dakota sued the NCAA over its policy against American Indian nicknames, mascots and imagery, some current and future members of UND's athletic teams might find themselves competing under a different banner.
Oshie, who is part Ojibwe (Chippewa), believes that few people understand what the nickname means to the student-athletes who play hockey at UND.
"The Fighting Sioux name is part of our team," he explained. "You hear us say that we're going to play 'Fighting Sioux hockey'. Not only is that working hard and scoring goals, it's also playing with pride. It's part of our tradition here. It would really be sad to see it go away."
Under terms of the agreement, if the tribal governments of the Spirit Lake and Standing Rock Sioux reservations don't give UND formal approval to use the Fighting Sioux nickname in the next three years, then the University must begin the transition to a different nickname. Bill Goetz, North Dakota's chancellor of higher education, said he prefers that the issue be resolved as quickly as possible.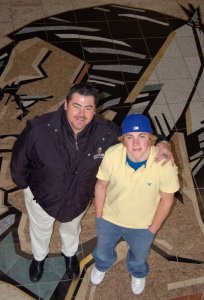 For Oshie and his father Tim, who is half Ojibwe, the potential loss of the Fighting Sioux tradition has special significance. Part of it comes from the historical connection of UND's hockey program to Northwest Minnesota, the home of the Oshies and their Native American ancestors.
The former Sioux players Tim has met during T.J.'s time at the University have made a lasting impression on him.
"When you think of people who have donned that jersey, you always hear them say that they'd do anything for that name, for that logo, for that sweater," Tim said. "The people that the name means the most to are in that fraternity of alumni athletes. If you talk to them about it, every single person will get emotional."
Tim is also impressed with how UND — which doesn't have a mascot — uses the Fighting Sioux nickname and logo.
"I think the University of North Dakota takes every measure to make sure that they honor Native America," he noted. "From the first time I came here and watched a game at Engelstad Arena in 2003, I was overwhelmed. To think that people oppose this is just mind-boggling to me."
T.J.'s hockey fortunes blossomed in 2002 when he and his father moved from the Seattle area to Warroad, Minn., where Tim's parents grew up and he lived for two years after he was born. Previous generations of Oshies and their relatives contributed to making the town a perennial hockey power in the state.
T.J. not only played on Warroad Warrior teams that won two Minnesota high school championships, but he also learned about his Native American roots and culture.
"When I was back in Washington, I didn't get to learn too much about the tribes," he related. "So when I came back, my cousin Henry Boucha educated me on that a little more. It's nice to get back to knowing where you came from."
As a result of his outstanding high school career at Warroad, T.J. committed to play hockey at UND, became a first-round draft pick of the NHL's St. Louis Blues and was named the Minnesota Indian Education Association's male athlete of 2005.
"Once I won that, it was special because I was never really recognized as a Native American," T.J. said. "It's nice to have people know that."
Ironically, the same Native American organization that bestowed the honor on T.J. also passed a resolution in 2001 against UND's use of the Fighting Sioux nickname.
"When T.J. received that award, it was huge because it made a lot of people realize that he's part of this," Tim said. "The resolution is intact, and yet, I think a lot of people on the reservations around North Dakota and South Dakota, most of them don't care and a lot of them do approve of UND's nickname."
Tim believes that rather than seeing his son as a hockey player wearing what the NCAA and some others consider a "hostile and abusive" logo, Native Americans should embrace him and the Fighting Sioux nickname with a sense of pride and view him as a source of inspiration.
"This is a kid who's not Sioux Indian, he's Ojibwe Indian, but he's still Native American," Tim said. "He's the guy they should be using as their model, as a human being, as an ambassador to the sport of hockey and to the University of North Dakota."
Those who've watched T.J. the past two seasons know that he plays the game much bigger than his size, with a never-give-in attitude and boundless enthusiasm. Tim references the 2007 Frozen Four semi-final game between UND and Boston College. He focused on his son after the Eagles scored an empty net goal with 50 seconds left to take a 5-3 lead.
"When both teams went to their benches, T.J. lined up at center ice by himself waiting for the puck to be dropped," he recalled. "That personifies T.J. There's no quit in him, and that's why he is who he is.
"People need to look at him and say, 'You know what? This is a Native American and he will never quit'," Tim said. "I think too many of our people quit long before they die."
T.J. wishes that UND student-athletes who compete under the Fighting Sioux banner could talk to the Sioux tribes in North Dakota who will ultimately decide the fate of the nickname and logo.
"I would like to see us be a little more involved," he said. "I think it would be nice for the Sioux Native Americans to be able to hear what we have to say in person and realize how loyal we are to the logo and to the name. We're the ones out there wearing it."
His father wishes that members of the Sioux tribes could understand that how his son plays hockey symbolizes what it means to be part of the Fighting Sioux tradition.
"I hope in my prayers and dreams that he will motivate and inspire Native American children and adults," Tim said. "That's my mission as his father. What I'm trying to do is mold him to utilize what he's created for himself and to give it away to the people of Native America."
Tim has worked on the reservations and has firsthand knowledge of the many problems facing Native Americans today. He sees the battle to do away with the Fighting Sioux nickname as an unwillingness to put history in the past and deal with more pressing issues.
"We're so worried about what happened in the past that it takes all of our emotions," he explained. "We need to learn from what happened and move forward to make a bright future for our children. Our priorities should be on making Native America stronger because the current approach is failing."
Drawing on a lesson he learned long ago from his late father Richard Oshie, Tim concludes, "We have to do our very best to get rid of the hatred because there's a lot of hatred and heavy hearts in Native America. We have to learn how to coexist."