Minnesota sophomore Kyle Okposo has chosen to forgo the remainder of the 2007-08 season and his college hockey eligibility to sign a contract with the New York Islanders of the National Hockey League.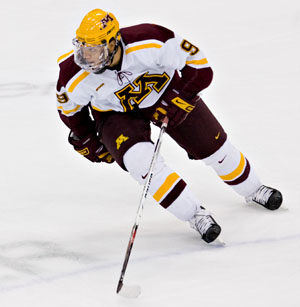 Okposo was the Islanders' first-round draft choice and the seventh player taken overall in the 2006 entry draft. He is the eighth Minnesota player to leave college early for the professional ranks since the end of the 2005-06 season. Okposo is departing today for the Czech Republic as a member of the United States' under-20 national team that is competing at the International Ice Hockey Federation world championships and will join the Islanders following the tournament.
"While I'm disappointed Kyle is leaving at this point of the season, his dream has been to play pro hockey," Minnesota coach Don Lucia said. "It is unfortunate that the Islanders put him in a very difficult position. I think our team has made strides the last few weeks and I'm looking forward to the second half of the season."
A St. Paul, Minn., native who attended Shattuck St. Mary's in Faribault, Minn., Okposo burst onto the collegiate scene last season with 19 goals and 21 assists in 40 games as a freshman. He earned second-team All-WCHA honors and was named to the league's All-Rookie Team. Amid speculation that he would leave for the NHL after his freshman season, Okposo announced on June 6 that he would return to the Gophers.
Okposo had a slow start to the 2007-08 season with an eight-game scoreless streak after a three-point game in the season opener against Rensselaer. He scored points in six of the last nine games, totaling seven goals and four assists over the team's first 18 games as Minnesota currently owns a 9-8-1 record.