Clarkson University made it back to the NCAA tournament for the first time in eight years last season, and this fall looked to have picked up where it left off as the Golden Knights raced out to a 9-3 record and first place in ECAC Hockey.
Senior center and assistant captain Steve Zalewski also picked up where he left off in 2006-07, as he posted a team-high 10 points in his first 10 games this fall to help Clarkson as high as a No. 7 national ranking. He led Clarkson with 12 goals and 18 points through his first 21 outings this season.
"We've been playing well and taking steps," said Zalewski, a native of New Hartford, N.Y., of Clarkson's current campaign. "We're getting better each weekend, and we'll try to keep that going all season."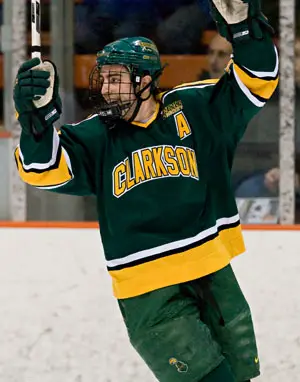 Zalewski proved to be a balanced scorer in his first three seasons in Potsdam, tallying 37 goals and 38 assists for 75 points in 113 games, including 18 power-play goals. He posted career highs of 16 goals and 18 assists last year, recorded nine multiple-point games and three two-goal outings, and was also named ECAC Player of the Week on three occasions.
"It's kind of a lot of different things," said Zalewski of his success. "I've improved my whole game since I got here."
The Golden Knights have also improved as a team during Zalewski's tenure, something he said he's proud to have been a part of. Clarkson went from 13 wins during his freshman term to 18 victories his sophomore season and 25 triumphs last year.
"Steve has been a major factor in our program's turnaround," said Clarkson head coach George Roll. "He is an extremely committed young man on the ice, in the weight room and in the classroom. He, along with his fellow classmates, has been instrumental in returning Clarkson to national prominence."
Zalewski led Clarkson with four game-winning goals last season, none bigger than the one he notched with just 41 seconds remaining in regulation in a 5-4 ECAC tournament semifinal victory over Dartmouth in March. He then had one assist as Clarkson came from behind against Quinnipiac, 4-2, in the title game and advanced to the national tournament for the first time since 1999.
"Both games were just so exciting, especially how we came back in the finals," said Zalewski. Clarkson rebounded from a two-goal deficit with 20 minutes left against Quinnipiac to claim its first league championship in eight years, with Zalewski himself setting up the tying goal.
He humbly prides himself on his two-way play, though, not just his scoring prowess.
"Not one aspect of my game really stands out," he said. "I'm kind of an all-around player."
The 5-foot-10, 192-pound forward starred at Northwood Prep in Lake Placid prior to attending Clarkson, tallying 32 goals and 34 points in 38 games in 2003-04. He was also recruited by Northeastern, St. Lawrence and Yale, but wanted to become a Golden Knight following a campus visit to Clarkson.
"Northwood is right down the road," said Zalewski, who was also sold on the facilities and coaching staff in Potsdam. "It's pretty close to home, so my parents and family can come to the games here."
The Golden Knights ultimately came up on the short end of a 1-0 score in overtime against national newcomer Massachusetts in the NCAA tournament's opening round last spring, but the stage had been set for bigger and better things for the Green and Gold in Zalewski's senior season.
It started with an assist on Oct. 12, as Clarkson avenged its NCAA loss with a 2-1 sudden-death decision over visiting Massachusetts at Cheel Arena. Ironically, Zalewski had scored his first career collegiate goal in a 6-4 loss at UMass as a freshman back in 2004.
Zalewski followed up with a shorthanded goal on Oct. 13 in a 2-0 win over Providence, had one goal in a 5-4 overtime win over local rival St. Lawrence on Oct. 26, and completed a three-game goal-scoring stretch with the game-winner the day after versus Lake Superior State.
He was just getting started. Following a 3-2 loss at Quinnipiac, Clarkson's No. 15 fired home four goals in a 6-2 win at No. 18 Princeton on Nov. 10, his first collegiate hat trick, as the Golden Knights avenged a 7-1 drubbing from last season at Hobey Baker Rink. He had earlier set up the game-winning goal in a 2-1 victory over Harvard on Nov. 2.
"It felt good, and it was a nice relief," said Zalewski after recording the first four-goal game by a Golden Knight in over a decade. "I've been a little snake-bitten lately, and it was nice to see the pucks go in."
Zalewski also earned both ECAC Hockey Player of the Week and Future Considerations' NCAA Player of the Week nods following his initial hat trick. Prior to his quadruple explosion, he had recorded just one goal in eight career outings against Princeton. He tailed off in his next four games, going scoreless, but got going again with an assist at St. Lawrence on Dec. 1. He picked up eight points in all during a five-game point streak that was highlighted by a three-goal, one-assist effort in a 4-2 win at Harvard on Jan. 12.
"Steve is a complete player who excels in every aspect of the game," said Roll. "He has a great release, wins key faceoffs, and plays on our top power play and penalty kill units. He is a big reason for the team's solid start to the season."
Zalewski's playing days in the Empire State will likely come to an end after he completes his college career. One of five NHL draft choices on this year's Clarkson roster, he was selected by the San Jose Sharks in the fifth round back in 2004.
"Right now I'm not thinking about that," he said. "I'm focused on the rest of the season, and I'll worry about that when the time comes."