After waking up at stupid o'clock on Friday morning and hearing "Despair in the Departure Lounge" by the Arctic Monkeys come up as the first song on my iPod's shuffle feature, I ignored any and all possible irony that I could have been made to face while waiting for my early flight out of Omaha.
It was just a coincidence, surely, and not a bad omen for my journey. On-a-budget hedonism was still only a few hours away.
Then again, even the best-laid plans …
Four of my best friends and I had expected to fly out of Eppley Airfield at 6:10 a.m. to Chicago Midway, followed by a three-hour drive into East Lansing, Mich., the site of the weekend's CCHA series between Nebraska-Omaha and Michigan State. However, winter storm warnings in Chicago caused our flight to be canceled, and the next available flight into Midway was not set to take off for another six hours or so.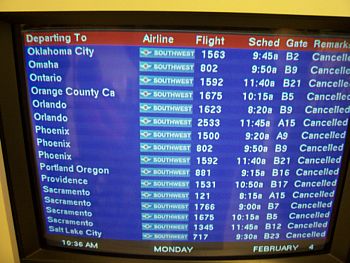 On the back of that evidence, it quickly became clear to the five of us that we probably weren't going to be able to hit a rich vein of luck that morning, try as we might. With the opening faceoff of Friday night's tilt still some 12 hours away, though, we were able to experience the thorough lack of pomp and circumstance of waiting around in an airport — albeit a familiar one — for hours at a time.
Patience is a virtue, though, and if Tom Hanks could find a way to retain his sanity while hanging around in an airport for dogs' years, then so could we.
We did eventually grab an opportunity to get on our way around lunchtime, though, as the skies over Chicago cleared long enough for us to take off around 12:30 p.m. A six-hour delay that felt more like a geological age at times was not going to keep us from our long-awaited college hockey voyage to the Great Lakes State.
East Lansing
Put in the simplest of terms, Munn Arena is nice. It doesn't necessarily overwhelm in the architectural sense and it was never loud enough inside at any point of the weekend that I couldn't hear myself think, but I still found it to be a barn worthy of housing the defending national champions, and a very enjoyable place to watch a hockey game.
What's more, it's the kind of arena that some Maverick fans believe UNO would do well to use as a model should they ever decide to build their own on-campus rink. With a capacity of 6,470, Munn is not even half the size of the cavernous Qwest Center Omaha, the Mavericks' current home, and many fans have been clamoring for a more intimate setting in which to watch their beloved team.
Jon Brooks is one of those fans. Brooks, the administrator of the Mavpuck.com fan website and message board, has seen many UNO games in East Lansing in recent years, and would like to see his alma mater build an on-campus arena using rinks like Munn as a reference point.
"I think (Munn) is very nice," he said. "I don't know if UNO would want to have the bleachers, but this is nice with the concourse up above where you can walk around while the play is going on. It's a good size for what UNO would need.
"The ideal rink for us would probably be around 7,500 seats, all in a single-bowl configuration where you could walk around the top and look down. Just like the lower bowl of the Qwest Center Omaha; if we could get an arena with that and a lower ceiling, it would be perfect."
As for the weekend's games themselves, our expected itinerary for Friday should have allowed us all the time in the world to make it to East Lansing for the 7:00 p.m. EST drop, even after picking up our rental car at Midway and driving into East Lansing from there. Instead, such as it was, we were forced to miss the first period and much of the second and were probably the last spectators to enter the otherwise jam-packed arena.
It all turned out all right, though, as we were treated to an exciting third frame and an extra one to boot. What's more, the large band of travelling UNO fans were rewarded for their long day's journey at 2:53 of the overtime period when Maverick forward Dan Charleston, fresh from serving a hooking penalty 38 seconds into the extra frame, made a beeline from the penalty box to the Spartan net and backhanded past Jeff Lerg to give the visitors a 5-4 upset win over fifth-ranked MSU.
Normal service for the home crowd was resumed on Saturday afternoon, though, when the Spartans recorded a 4-2 victory over UNO, snapping the Mavericks' six-game road winning streak with the help of three unanswered goals in the first 4:56 of the second period. The game wasn't without its memorable incidents, though, including the first penalty shot awarded to UNO in nine years, although Lerg stuffed Bill Bagron on the play to ensure a split in the series.
The Maverick fans who made the trip may have felt unlucky to have only come away with two points on the weekend, but it was the least of my concerns; I had other fish to fry. The Michigan Wolverines were hosting Northern Michigan an hour's drive away in Ann Arbor, and I had managed to score a guaranteed spot deep in the heart of the brick beast they call Yost.
Ann Arbor
To the newcomer, Ann Arbor is a lot like many other mid-sized college towns, exuding levels of contemporariness and cosmopolitanism far exceeding expectations. If it is a link between Ann Arbor's past and present you're looking for, though, you don't need to look much further on the University of Michigan campus than Yost Ice Arena.
It becomes clear from the moment you enter the building that the venue is fairly no-frills in comparison to larger league rinks such as the Qwest Center Omaha and Value City Arena in Columbus or even Munn, but the sense of 35 years' worth of glorious hockey history that flows through every square inch of the building more than makes up for the lack of state-of-the-art amenities. There is another intangible element, however, that should be credited above all for Yost's deserved reputation as one of the greatest college hockey venues in the country.
From the moment referee Craig Lisko started Saturday night's game between U-M and Northern Michigan, the atmosphere in the arena carried with it enough electricity to light up several small towns. The raucous student section and the equally energized pep band, serving as a sort of human metronome for many of the loud and organized cheers that echoed throughout the arena, were into the game from the outset, cheering on their Wolverines and laying waste to their visitors from Marquette — not to mention their allegedly ugly parents, according to the students — at most every opportunity.
Those two things alone must make opposing fans dread coming to Yost, but the overall atmosphere inside the old barn makes for one hell of a place to watch a game if you are a neutral observer.
The game itself did little to dampen the mood in the building, even with NMU fighting back from a 3-1 deficit halfway through the game to earn its second 3-3 tie with Michigan in as many nights. Northern had earned a share of the spoils, doing all it could to keep both the Wolverines and the boisterous home crowd at bay in the third period and in overtime despite surviving several close calls in the defensive zone.
Mission accomplished, but it was always going to take much more than a draw, deserved though it was, to silence the Yost crowd.
As the clock hit zero and fans began filing out of the arena, we bade farewell to the Michigan fans in our section in the north end who had befriended us and helped to provide us with a wonderful night out. It may have been different if UNO had been in town that night, but while it is well-documented that many UNO hockey fans have little love for their U-M counterparts, I will not soon forget all of the extremely friendly people I met at Yost that night.
Planes, Trains and Automobiles
After conducting our own little tours of the campuses of Western Michigan and Notre Dame on the way back into Chicago on Sunday afternoon, we returned to Midway Airport exhausted but buoyed by the success of our trip. All that was left to do was to return our rental car, pass through airport security and head home.
Again, this turned out to be much easier said than done.
Just as we were pulling into the airport, we began to experience near-blizzard conditions that ended up dumping about half a foot of snow on the ground over the course of an hour. Westbound flights, even to presumably sunnier locales like San Diego and Las Vegas, were getting canceled left and right, and it was only a matter of time until what we had expected to be an already-late flight back into Omaha was also grounded for the night.
After trying again on Monday morning with the same results, we simply decided to take the train home. One was set to leave Union Station at around 2:30 p.m. for Omaha on its way to San Francisco, which ended up putting us in Omaha around 1:30 a.m. on Tuesday morning. Taking into consideration our concerns about work and school, we decided that an 11-hour train ride back into Omaha made more sense than remaining stranded in Chicago with no guarantee as to when we would be able to go home.
At this stage, our road trip officially crossed over into the realm of planes, trains and automobiles. John Candy would have been so proud.
In the end, the weekend was all time well spent, if only because of the experience that the trip had allowed us. It gave the five of us an opportunity to get a taste of the rest of the CCHA, one that many UNO hockey fans don't take due to Omaha's geographical distance from the rest of the league, and perhaps also because of the subsequent lack of an established league rivalry akin to the more deeply-rooted ones found in points further east on the CCHA map.
League politics aside, though, I am reminded in closing of a young Frenchman in his late 20s named Thibault whom I met on the train back into Omaha, who quite profoundly put into one sentence the entire reason why I had made my own journey over the weekend.
Upon striking up a conversation with him just outside of Des Moines, I found out that he had made it a goal to travel across the United States by rail, something he said he had designs to do throughout the world and relay his tales back to schoolchildren in his hometown in the southeast of France, between Lyon and Marseille. After I asked what made him want to do this, he said he wanted to see and learn about other cultures, and that the more cultured one becomes, the better off they will be.
He couldn't have been more right.