Just because Caitlin Cahow's mother, Dr. Barbara Kinder, was a talented figure skater when she was growing up in Ohio didn't mean that her daughter would follow in her foot steps.
But Dr. Kinder introduced Harvard's captain to figure skating plus other sports. (Cahow: "She probably can still beat me at tennis. Often there have been times when we've argued over who's the better athlete. Grudgingly, as the dutiful daughter I am, it's my mom.")
"I was okay at figure skating but I was more interested in doing jumps than the edges," said Cahow, who played on the 2006 U.S. Olympic team that earned a bronze medal in Torino. "I was a rough-and-tumble kid and loved all sports." At the Hotchkiss School in Lakeville, Conn., Cahow played ice hockey, field hockey, lacrosse and soccer.
"I watched figure skating in the Olympics and loved it but felt it just wasn't me. Besides, I really wasn't into the idea of wearing a tutu."
Oh.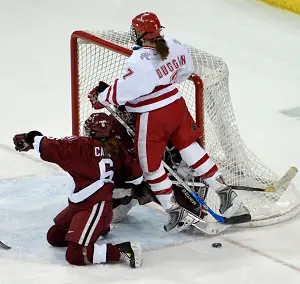 But when her mother began her medical practice in New Haven she continued to figure skate at Yale's Ingalls Rink — dragging young Caitlin along in the process.
"One day when mom was figure skating, I was irritated because I had to wait in the stands," recalled Cahow. "I couldn't sit still for two seconds as a kid. But that day the Yale women's hockey team had a game against Dartmouth. I was a big fan of Yale men's hockey but I was like 'What are they doing?'
"I made my mom stay and watch the whole game. I only was six or seven and that was the first time I saw a women's hockey game. I knew then that's what I wanted to do. But who knows if I would have played if a game had not been scheduled there that day?"
Fortunately it was and Dr. Kinder acquiesced to her daughter's wishes. The rest, as they say, is history.
Besides playing on the 2006 Olympic team, Cahow:
• Helped the U.S. earn a silver medal at the 2006 Four Nations Cup in Kitchener, Ontario.
• Captained the U.S. Under-22 Select Team at the 2006 USA Hockey National Women's Festival in Lake Placid.
• Led the U.S. to a silver medal at the 2006 IIHF World Championships in Winnipeg, Man.
• Earned another silver medal with the U.S. Select Team at the 2007 Women's Four Nations Cup in Sweden.
• Has developed into one of the country's very best defenders at Harvard.
"The genesis of my hockey career happened in New Haven," said Cahow. "(Ingalls Rink) has a huge importance in my life."
So have the Olympics. But playing in the actual games resembled a skate in the park compared with the run-up to Torino.
"All of us will say the Olympics were the most incredible experience of our lives," said Cahow. "But nobody understands what it's like, especially the six-month tryout experience. It was very stressful. That was especially true for me because I was new to the program and didn't have the experience of knowing what it was like.
"But because I was the newest of the new guys, it allowed me to be on the fringe and realize I had this opportunity and got to do something few people get to do in their lives."
Cahow, like many collegians, took a year off to train and try out for the Olympics. But she relished her return to Harvard.
"For me I always loved being a student-athlete and I missed the academic part and my teammates," said Cahow. "It was like a homecoming because I got all of those elements back in place.
"It felt like I was moving from one disciplined, regimented schedule to another. It didn't feel like I was going from total freedom to a regimented system."
Despite the experience she gained from playing in the Olympics, that didn't cut an ounce of slack with veteran Harvard coach Katey Stone.
"I didn't get off the hook," Cahow said of her return for the 2006-07 season. "She said, 'This is what you have to do to get better.' Like any freshman coming back, I needed to try out again and go through the same process.
"I didn't get a dispensation. It was tough coming back and trying to hit the ground running."
But that's exactly what she did. Cahow was voted First Team All-ECAC Hockey and First Team All-Ivy League and was an ECAC All-Academic selection.
"I've always thought of myself as a pretty level-headed person," said Cahow. "I'm very introspective and rationalize all the time. For me, going into that process (at Harvard) I knew I could maintain who I was."
As far as Cahow is concerned, who she is on the ice is irrelevant in terms of what position she may be called on to play — for example, Stone moved her from forward to defense midway through her freshman year — whether it's at the Olympics or in college.
"Because I've always wanted to be the best player I could be, I had no option but to be the most malleable," she said. "I've played at forward, on the power play and the penalty kill. You make yourself the person who will give whatever you have for the team.
"You want to be easy to deal with. That was probably my greatest gift, to be able to reinvent myself and constantly try to improve. I would play in net if Katey asked me to do that."
Who knows? Stranger things have happened.