Scott: Well, Jim, last weekend was a big one around the nation, what with Northern Michigan battling Michigan to a standstill, Union continuing to earn points and Maine continuing to struggle, and plenty of fireworks in the WCHA including Minnesota State's sweep of Denver, physical battles between North Dakota and Minnesota and Colorado College's sweep of visiting Clarkson. But let's start with the most recent news — the history-defying results at Monday's Beanpot. You were there; what did you see?
Jim: I believe, as our own Dave Hendrickson said in his feature, I saw the apocalypse. Somehow, Boston University couldn't muster enough to get past Boston College. They were plenty close, though. The fact that BU hung with the Eagles all night was impressive. There were definitely times early and through much of the second period that BU controlled the flow of the game. But the final 20 minutes of regulation and all of the overtime belonged to the Eagles. Still, I have to admit sitting in that press box thinking to myself, "There's going to be some freak play and BU is going to win this thing." When Nathan Gerbe final scored the game-winner I was shocked. Add to that the fact that Harvard upset a nationally-ranked Northeastern team in the opening game, and it was certainly an interesting night of hockey. In all, though, I think it merits mention the streak that came to an end for BU. The Terriers played in 13 straight title games and 23 of the last 24. Jack Parker said after the game you can flip a coin a bunch of times and it can come up one side or another for a long streak. But c'mon. No one will get heads on 23 of 24 flips!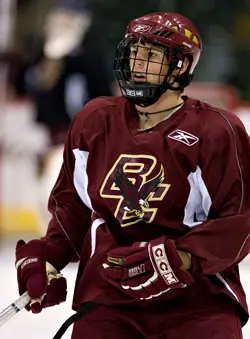 Scott: Jim, as you know I'm a statistician in my other life, so it's my pleasure to be able to calculate the probability of flipping 23 heads out of 24 coin tosses. The answer turns out to be a little over one in a million, which pretty much sums up the magnitude of the accomplishment that was BU's Beanpot run. The question that arises now is, can Harvard pull the upset over BC in the final next week? The Crimson looked pretty rough for weeks leading into Monday's game, and although it hasn't exactly been clear sailing for BC this season, the Eagles are the obvious favorites. Your thoughts?
Jim: If Harvard is going to shut down BC, first and foremost the Crimson need to shut down Gerbe. Even before Gerbe proved to be the hero Monday night, he dismantled the Crimson earlier this season with a four-goal outburst in a 7-2 BC victory. The nature of the Beanpot, particularly in recent years, would dictate that the title game won't be that lopsided, but you have to think that the Eagles will enter the game as a healthy favorite. I'll make a joke at my own expense and say that Sunday proved that even the heaviest of favorites don't always win. Still I like BC's chances in this one. Shifting gears from the Beanpot, your neck of the woods was the scene of plenty of fireworks this weekend. The North Dakota-Minnesota series will be remembered for many things: an incredible overtime game-winning goal, a penalty-filled brawl and now, thanks to the fine camerawork at Fox Sports Net, NoDak coach Dave Hakstol flipping referee Don Adam the bird. Seems to me that series had everything a die-hard hockey fan could want.
Scott: The UND-Minnesota series was something else. Friday's OT game-winner by Evan Trupp was as cool a goal as you'll ever see scored by someone not named Mike Legg (the "lacrosse goal," and for anyone who hasn't seen it, go run a Google search — heck, go find both Legg's and Trupp's goals while you're at it). But Saturday took the cake, then proceeded to crosscheck the cake and stomp it to tiny bits. Ryan Duncan getting ejected seven seconds into the game for hitting Jay Barriball from behind was a real "what the…" moment, but the postgame brawl was the defining memory of the evening. It says a lot about the bad blood between two teams when they can't even get through the postgame handshake line without incident (Blake Wheeler and Joe Finley going after each other, causing the handshake to be called off). In the aftermath, there were the obligatory hand-wringing and recriminations about who's dirtier than whom, but minutes afterward, both teams were ready to chuckle a bit and chalk it up to good old-fashioned rivalry hatred. To my great shame, I missed the Hakstol incident live, though it was impossible to miss on the Internet afterward. Hakstol apologized quickly, but UND's administration did what it had to in terms of the suspension it handed him. But now, we'd be remiss if we didn't do a little chatter about this weekend's marquee series — Miami vs. Michigan for the national No. 1 ranking — don't you think?
Jim: Yep, this is the series we've all had circled on our calendars since the Christmas break. It's great that the teams have held their respective positions in the national polls, setting up the rare No. 1 vs. No. 2 showdown. What's interesting is that Michigan enters the series winless in its last four games, having posted a loss and three straight ties. This past weekend, the Wolverines allowed three goals in both games after having not allowed a three spot since September (as I say this, I realize there are a lot of teams who would love to hold opponents to three goals). Miami, on the other hand, will have sat idle for 13 days by the time Friday night arrives, which will translate to either a rested RedHawks team or a club that could get out to a slow start. If I had to pick a winner, I have to say that I think this is going to be a split. Michigan will get retribution for its recent performances by winning Friday and, but the RedHawks will respond on the back half of the series. How do you see it?
Scott: Given that these games are at Miami, I think the RedHawks would be furious with themselves to get anything less than a split. But I think this series comes down to goaltending. We've talked before about Billy Sauer at Michigan and his impressive leap forward, but Miami's netminding is just as impressive if not more so. Let's put it this way: Jeff Zatkoff (who has seen the lion's share of time this year for Miami) and Sauer are one-two nationally in both goals against average and save percentage. Both defenses have something to do with that, naturally, but this could easily be a pair of 2-1 games with a single mistake turning the tide either night. I'm going to take the split as well, but I wouldn't be surprised to see Miami do better than that in its own barn. Finally, I'd like to take a look at the PairWise Rankings, with a focus on the ECAC. With the CCHA enjoying an up year in terms of national attention and the WCHA and Hockey East getting their usual plaudits, where does that leave the fourth of the "Big Four" traditional conferences? Clarkson got its hat handed to it by Colorado College last weekend, and right now the only other ECAC team that looks like a potential NCAA tournament entrant is Quinnipiac, which is currently tied for 16th in the PWR. Can the ECAC get more than one at-large team into nationals — or might it be just one, period, if the Golden Knights stay strong in conference and win the league tournament?
Jim: You bring up a very good point about the ECAC, one that has been looming but never came to fruition over the past couple of seasons. It's quite possible that Clarkson runs away with this league, wins the tournament and then becomes the only ECAC team playing in late March. If that's the case, there's no doubt in my mind that some coaches in the league will closely examine formulas around their non-league schedules to find ways to better position the league membership in the PairWise. Right now, I don't know what that is. The fact of the matter is that, regardless of what non-league schedules look like, your league has to win the games. The ECAC has fallen victim to more than a handful of non-league losses, particularly against AHA and CHA teams. Though I don't have the mathematical brain that you do, I know that can have massive negative impact on the PairWise. Anyway, enough babble, let's look forward to a great week of big games across college hockey.