OK welcome to the insanity that is the league standings at this time of the year in both the ECAC East and NESCAC. Don't like your team's position in the standings? Just hope they have a good weekend and almost anything can happen.
With just four games left in the regular season, it's really getting interesting now and if you weren't scoreboard watching before this week (don't deny it) you almost have to now, just to figure out who is where.
Coming off an impressive 3-0 win at Middlebury last Saturday, Norwich has a six point lead over second place Babson and unless they completely fall apart, they could clinch the top spot in the East this weekend.
And now the fun begins with second through fourth separated by just three points and second through sixth separated by just five points in the standings. Home ice and playoff seeding are all on the line in these final two weekends. So, in essence, the playoffs have already begun as teams look to grab points and earn the all important tiebreakers with conference rivals.
Oh, so the ECAC East isn't close enough for you? Let's take a look at the standings on the NESCAC side of the fence where things are just a bit tighter across the board.
Two points separate first place Middlebury from fourth place Amherst with Bowdoin and Colby sandwiched in the middle. Amazingly, it's even tighter in the lower half of the potential playoff bracket as just five points out of a home-ice position we find fifth place Wesleyan holding a one point advantage over eighth place Trinity with Williams and Conn. College smack in the middle trying to improve their position and play their very best hockey leading into March.
We are coming down the home stretch and with just two weekends of hockey to be played in the regular season. It's all on the line for just about everybody — now's the time to kick it up a notch!
Pilgrims Peaking
Last Saturday's 4-0 win over the second place Babson Beavers has Tom Carroll's New England College team starting their patented late season run into the playoffs. This year's squad has all of the ingredients for success into the post-season with a potent offense, stingy defense, solid goaltending and efficient special teams.
"We are pretty healthy right now," stated Carroll. "Or at least we are getting there. This really is the time of year when we want to get on a run and carry a high level of play right into the conference playoffs. We have been playing pretty well and know we will have to play at our best hockey each night out there and really concentrate on the things we can control — our play and the game we are playing in."
Leading the way for the Pilgrims are a couple of seniors who bring big game talent to the rink every night and cause anxiety from opposing coaches with what they can create for themselves and their teammates.
Brian Pouliot (12 goals, 17 assists, 29 points) and Mike Carmody (8-15-23) are as good a tandem as there is in the conference in leading their respective lines to great production at even strength and even more productivity on the power play.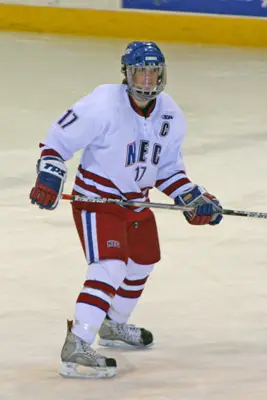 "They are probably are consistently our best players each and every game," said Carroll. "Both Brian and Mike are special quality kids that you look for all of the time but realize how special they really are as they are finishing the final season in their senior year. Of course it's a little different with Brian who came in as a transfer but he has fit right in with this team and both of these guys are very important in making us competitive every time we step on the ice."
The Pilgrims are on the road this weekend against Hamilton and Amherst and finish with key games against conference opponents Salem State and Southern Maine at home. All of these contests will go a long way in deciding home ice for the playoffs.
Babson Building on Success
"You look at the success that guys like jerry York and Jack parker have had in winning over 700 games and it's truly amazing how consistent their program shave been year in and year out," Babson head coach Jamie Rice observed.
"Even in our league with what Mike [McShane] and Bill [Beaney] have done at Norwich and Middlebury it makes the rest of us strive to have a program like them where you can compete every season with quality student athletes in your school who are looking to establish or build on a successful reputation and quality program. We are working towards those goals and want to build on the success like we enjoyed last season and consistently compete at the highest levels each season."
Coach Rice certainly has the Beavers in the hunt again this year. Given their second place standing is tenuous with four games left, you probably shouldn't be looking to see them run to the title from a probable sixth place regular season finish. But their coach would like to see them play solid down the stretch run starting this Friday night at home against NESCAC leading Middlebury.
One of the keys for Babson this season has been their balance, evidenced by their point distribution.
Three players have registered over 20 points and another three are just one to two points away from that mark. This makes it very difficult to match-up on a specific line when playing the Beavers. Sophomore Jason Schneider (10-10-20) and junior Pat McLaughlin (10-9-19) are the only two players in double figures for goals but have a lot of support up front from teammates Mike Venit, Shane Farrell, Brad Baldelli and captain John Geverd.
"John is really a great leader as a two-year captain," noted coach Rice. "Much like Tom Sullivan before him he brings a maturity and quiet calm and commitment to the game and the team that just keeps the guys loose and focused on the task at hand. John could certainly be a bigger scorer but we don't necessarily ask him to do those things when he is out on the penalty kill or matched up with shutting down an opposing team's scoring line.
"He really goes out and does anything he is asked to do for the team even when he is maybe not at 100% physically. He's played over 100 games here at Babson during his career so far and that is pretty special considering we only play on average about twenty-five per year plus the playoffs — it really speaks to John's dedication and durability."
Babson's last four are against NESCAC opponents who are all bunched together in the playoff battle so they know they are going to get everyone's best efforts over these next couple of weekends.
"This is what we are playing for," stated Rice. "You want to put yourself in a position to compete at the end for something meaningful so it's all about playing your best hockey at the right time of the year — we capitalized on that last season and hope we can re-create that magic this year."
Polar Bears on the Prowl
"This is fun," noted Bowdoin head coach Terry Meagher. "It's really what you play for all season is to be in a position to compete with the best in the league at the end of the season for the title. This team has been such a fun group to coach this year — they are always loose and ready to go so I think we will have some fun these last two weekends and see where everything ends up.
"It's always crazy right up until the last games on the last Saturday and I don't expect it to be much different this year so we just have to focus on what we do and try to get points in every game we play."
Senior Mike Westerman (12-16-28) is leading the team in scoring this season and has received support offensively from freshman Ryan Leary (16-5-21) who is scoring at almost a goal per game clip.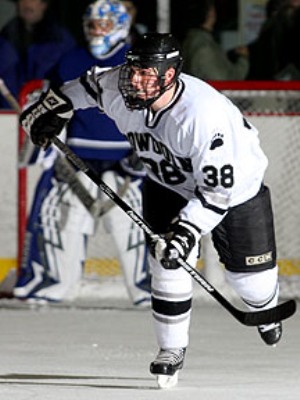 "This time of the season the goals are definitely harder to find," noted Meagher. "It's the time you are looking for the big save form your goalie and consistent and opportunistic play from the guys up front that can make the difference."
Senior Paul DeCoster and sophomore Chris Rossi have almost split time in the net this season with DeCoster holding the edge in goals against average and overall record for Bowdoin. Both netminders will be looking to improve their save percentages in the season's final weeks and tune their game up for the playoff run that will surely be a battle based on the topsy-turvy performances seen amongst the NESCAC teams this season to date.
"We have Wesleyan and Trinity who are fighting for their points and position on the road this week and then we finish at home with St. Mike's and Norwich so there can't be any letdowns," advised Meagher.
"It really is what we have played for all season and in just a blink of an eye the season will be over so you want to take measure of the opportunities left here and take advantage of them if you can keep playing into March."
Coaches are looking for the Pepto and even the players are highly attuned to the ramifications of what winning or losing two points means at this time of year. It seems like it can never get better than the prior season and then it does. Amazing.
Drop the puck!