Red Berenson was the first player to go straight from college to the NHL when he finished four years at Michigan and joined the Montreal Canadiens. He played 987 games in the NHL, just shy of 1,000. He was a Jack Adams winner as NHL coach of the year in 1981 with St. Louis. He was an NHL assistant in Buffalo and had players like Dave Andreychuk, Tom Barrasso, and Phil Housley.
Yet, he was bored.
Then Michigan came calling. The once-proud program had hit a rough patch and needed help. Berenson felt he wanted to give back to the school that had given so much to him. Scotty Bowman, then coach of the Sabres, thought he should take it. That was 999 Wolverine NCAA games ago.
Berenson, perhaps the crown jewel of coaches in the NCAA hockey world, if not the coaching fraternity, will coach No. 1,000 on Friday night against archrival Michigan State. It is quite an achievement for someone who never really considered coaching as a career. In that respect, he is similar to Jerry York and some of the other college hockey mainstays who turned to coaching as an afterthought.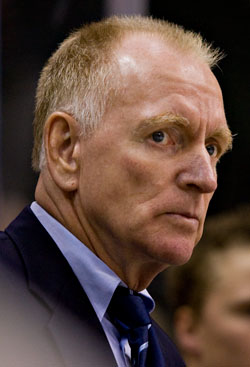 "I played for Al Renfrew here and he made such an impact on my life here as a student-athlete," said Berenson. "However, I don't ever remember saying I wanted to coach, but it became my life's work."
Berenson finished his NCAA career in the consolation game of the Final Four, and joined assistant GM Kenny Reardon of Montreal for a drive to Boston.
He returned to Ann Arbor for the 1984-1985 season. When he had retired as an NHL player he joined the Blues' coaching staff so he could keep his family in St. Louis. That's where it began, this incredible run of success behind the bench for Berenson, whose first three coaches in pro hockey were Toe Blake, Scotty Bowman, and Emile Francis (all Hall of Famers).
As he says, he played for some great coaches and then played for some inexperienced ones late in his career, but all make an impact in one way or another. His early impact almost came at the expense of another former Blue in Al Arbour. Red almost became the coach who ended the Islanders' dynasty in 1981 with an upstart Blues team that challenged the defending champs for first overall.
"I can't tell you we were close but I can't say we weren't," said Berenson, whose young team leads the CCHA by five points with four games to play. "We were so young. Wayne Babych scored 56 goals that year, I think he was only 20 years old. Mike Liut was maybe 24 or 25 and he was co-MVP with Gretzky that year. We had a young Bernie Federko and a young Brian Sutter on our first line. We had a lot of youth and I think that caught up to us in the playoffs. "
Berenson has become a symbol of stability in college hockey. Like Jack Parker at Boston University, Berenson has stayed at the same school for so long that you don't think Michigan without thinking Red, which is unique for a school known as Big Blue. Commonwealth Ave. has Jack Parker Rink at Agganis Arena. Might we eventually see Red Berenson Arena?
To put it in perspective, he took over Michigan during the Reagan era, about 10 years after Parker took the reins at BU. Upon reflecting on this milestone, Berenson joked that he doesn't dwell on it, but is just amazed how long it took.
He is well-respected by his peers, and also by the officials. Coaches marvel that at the coaches' annual convention in Florida every April he spends time with the legends and the up-and-comers. Referees comment that they rarely if ever hear a word from him. One CCHA official said that if you hear Red call your name during the game you know you made a mistake.
He talks about his beginning at Michigan being a challenge. He mentions the influence Bowman had on him in terms of his ability to construct teams that had players of high skill level and very good character. That first training camp, he had several players show up at camp on scholarship expecting to be on the team. Berenson got rid of them all.
"I told them I'd honor the scholarship because that was the most important reason they were here," said Berenson. "If they weren't going to be hockey players it was time to get serious with their education."
Year one — game one, for that matter — was an eye-opener. Having not seen a college hockey game in 20 years, Berenson took his team to the old Goggin Ice Arena at Miami University and couldn't believe what he was watching. The game was awful, the play was awful, the stickwork was alarming and Berenson was disgusted.
What might have scared him more was when Miami coach Steve Cady told him this was how it was every night. Berenson called the commissioner of the league between periods to express his horror with what he was watching. When the game was over and Michigan had won, the players celebrated "like they had just won the Stanley Cup" (something Berenson can speak about from experience). He remembers feeling that this was going to be rough.
It was rough. Berenson thinks back and knows that if he knew then what he knows now about how hard it was, he might not have done this.
I don't believe that.
Berenson is one of the most disciplined people ever to grace college hockey. Watch him in practice with his players. While they are cranking shots off the glass, he is still doing what he did as a player. He works the puck off the boards and back onto his stick, takes a few backhand shots reminiscent of his playing days, when he had one of the most feared backhanders in the game, and does some up-tempo skating when the team does its warmup laps. He respects the game and the way it's played and you can see that when he is on the ice.
"It was very hard when I started. Of course, I didn't have the networking for recruiting. I had one assistant coach who was terrific, he really helped me: Mark Keller. I had so much to learn about the level of hockey, recruiting, networking, and the coaching at the college level was different because the skill level was different," said Berenson.
"Michigan needed more than a coach when I got here, we needed to upgrade our talent level and our character level, and our commitment, and certainly the expectations of the program. People asked me what I had envisioned for Michigan and I wanted to be like the old Montreal Canadiens of the '60s and '70's, or the Islanders and Oilers of the 80's.
"I wanted to try to become a college hockey dynasty. I wanted a team that could really play the game, not one that played not to lose. We wanted a team that played the game and that's what we tried to do over the years and that's what we've tried to do in my years. That's been my underlying vision for this program."
"He is so good for our game, college hockey. His passion and his love for the game is so obvious," said Michigan State head coach Rick Comley, who squares off against Berenson in game 1,000. "Red doesn't want to be anywhere but Michigan and in college hockey. He doesn't want to be on a beach somewhere, he wants to be where he is doing what he loves."
Which makes Friday unique. Here is a man coaching his 1,000th game who never really had set his sights on coaching.
"I never saw myself as a career coach to start with. I was a player, but once I stopped and got into coaching you start to learn, 'Jeez, I wish I had done this as a player.' You learn more about the game and how your team is supposed to play. I was really fortunate to be a player in the NHL and fortunate to have some great coaching experience there, even as an assistant with Barclay Plager for Scotty Bowman," said Berenson.
"Then to come to Michigan and continue to learn, that is really what coaching is about. Its learning about coaching, learning about the game, learning about handling people, learning about winning and losing, and at this level recruiting is a big part of the game also."
It's not all about hockey, though, for Berenson. Education is important and when he talks about his decision to return, that factored in as much as hockey. Additionally, it was giving back that also led Berenson home to the Maize and Blue.
"I always had in the back of my mind that I really liked what Michigan did for me. It helped me live my dream as a hockey player and it gave me something to fall back on after hockey. I went through the business school here and then I came back and got my MBA here in the summers. I was always preparing for life after hockey, and as it turns out I was probably a good fit for other players to come here and do the same thing."
Countless have. Hopefully, countless more will with Red behind the Big Blue bench.