Some players earn an "A" or a "C" on their sweater because their teammates voted them that honor.
Some, like Denver's Chris Butler, have it fall into their lap by chance and circumstance.
"When [Geoff] Paukovich left, he was given the 'A,' said DU head coach George Gwozdecky. "There's only so many guys that can wear A's, but it's worked out great for him. It's great for the team."
In many respects, the junior defenseman from St. Louis, Mo., was a natural choice for the letter, given his attitude in every aspect of the game.
"He plays as hard and as aggressive at times in practice as he does in games — that's tough," said Gwozdecky. "There can be some pretty challenging drills we have in practice and when you're going against Chris Butler, you know you've got to be at your best or he'll knock you on your can and make you look bad. So, I think that makes everyone gear things up even higher."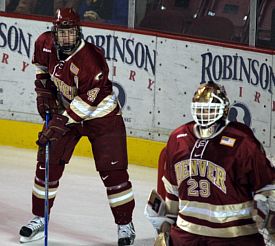 "I was never blessed with a lot of size when I was younger, so I think [when I was] about 13, 14, I started developing a pretty strong work ethic," explained Butler about his intensity in practices. "I started working out and I realized that practice time was just as important as it was during a game. I mean, you get better in practice so that you can perform in a game and I've just always taken it serious.
"I mean, you're here for two hours a day at the most. You want to make the most out of it, you want to work on something, get better at something every day, but I don't know. I've always kind of had that mindset that every day's a chance to get better."
That mindset was furthered during his freshman year at DU, the year he considers his biggest in terms of his development to the player he is today.
"When Brett Skinner left, I realized I probably was going to get a chance to come in and play right away and play alongside a guy like Matt Carle. I just sat next to him in the locker room, just watching the way he prepares and just how focused he is on the ice, off the ice in the weight room," Butler said. "He does everything for a reason."
Though one might not see the similarities between Carle and Butler, Gwozdecky will assure you that they're there, lurking around.
"Because he plays in every situation that we have, I think that's the one thing that's intriguing to me because I think in a lot of ways, Matt Carle was like that as well," he explained.
"Matt Carle came to us as a very solid defensive player with good skills, but really someone who didn't have a lot of confidence in his skills. He evolved slowly as we pushed him and as we asked him to play in those situations more, and I see Chris Butler evolving in that similar way.
"I'm not saying they're identical players, but I'm just saying the development process of where they started and where they're at is very similar."
One thing that helped out that development process was Butler getting to play every game but four his freshman year, getting thrown into the proverbial fire that is WCHA competition.
"[I got a] chance, getting thrown right in there, playing at North Dakota, playing at Wisconsin," he said. "Getting a chance to go to World Juniors, I think, was a big confidence-booster for me, knowing that I could play against the top players in the country and around the world, too."
After Carle left the Pioneers, Butler became the team's highest-scoring defenseman, garnering 10 goals and 27 points. This year, he has technically led the team's defenseman in scoring (3-14-17) if you don't count teammate Patrick Mullen, who has played both forward and defense this season.
For those who wonder why his scoring went down this season, look no further than that letter on the front of his sweater.
"In the past, he was taking that shot and now, as a leader, he wants to be able to share the load, perhaps taking a step back and putting others in front of him," said Gwozdecky. "I've asked him to do a little bit more of the other, to use his shot, to use his playmaking abilities.
"But I think that tells you a little bit about Chris and how he looks at his role. Everyone knows he's a great talent, great skater, but I'm just so impressed and pleased with how he's developed as a leader on our team and as a guy who holds himself accountable, who holds his teammates accountable. He just continues to get better and better."
Butler wouldn't mind scoring a few more points, but he prefers to take care of business defensively first.
"It's tough because obviously I want to make sure that I'm responsible in my own end," he said. "I don't want to be a liability out there, just jumping up in the play trying to get points and stuff like that."
"It's interesting, because I think people always recognize Chris as an offensive defenseman," said Gwozdecky. "Chris, right from day one, he has always taken great pride in his defensive work and his defensive game and it has only been over the last few years that his coaches have asked him to develop further his offensive game."
The pride Butler takes in his defensive work is obvious, watching him break up 2-on-1 rushes, tie up opponents along the board and, seemingly most often, block shots. Butler led the team in blocked shots last year with 110 and does so again this year by a vast margin with 83 (next is Thomas with 55).
"As a goalie, when you have somebody in front of you like that, it builds your confidence and also makes the game easier when clearing rebounds and stuff like blocking key shots," said Pioneer goaltender Peter Mannino. "We're going to see shots here and there, but any time you get help, you get blocked shots, it makes the game much easier and prevents the scoring chance for us.
"Blocking shots is very key to maintaining those little things we need to win championships — blocking shots, creating momentum for our team, getting our guys going and stuff like that. It's very important and he's great at it."
"I think my role is to do a little bit of everything," said Butler, explaining his offensive responsibilities before adding, "but also kill penalties, block shots, do the little things that really motivate the team.
"I mean, when you watch the reaction of guys on the bench when Andy Thomas blocks a shot or J.P. Testwuide blocks a shot, it's just — it's uplifting knowing that we've got guys that'll sacrifice their bodies for everyone on the team.
"I think that's the ultimate goal that I kind of wanted to achieve this year, is [to] be a team player."