You could see the decision brewing within Minnesota goaltender Alex Kangas from the nosebleed seats at the Xcel Energy Center Thursday night. Heck, you could have sensed it even with your eyes closed.
With Minnesota and St. Cloud State tied at 2 and just three minutes left in regulation, a loose puck skittered toward the Gopher net with SCSU's John Swanson in hot pursuit. A record-setting crowd looked on as Kangas sidled toward it, stopped, started again and finally dove forward stick-first, beating Swanson by a split-second and clearing the biscuit safely away.
Not long afterward, Mike Howe scored for Minnesota, and 12.7 seconds later the Gopher celebration was on. Kangas' play might not have been the game-winner, but it was a game-saver. That's exactly what the freshman has been doing this season: saving shots and saving games.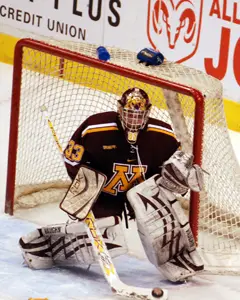 "I can't say I planned it, but it worked out," said Kangas of the Swanson play, in typically breezy fashion.
Excitable he's not, but dependable he is.
"He's coming up big for them," agreed SCSU's Hobey Baker finalist, Ryan Lasch. Barely removed from his junior hockey days, Kangas has given the Gophers the stability in net they have sometimes lacked, even in title-winning seasons.
Naturally, Lasch wasn't the only one who noticed.
"Our league is used to seeing great players, and he might be developing into that," said St. Cloud head coach Bob Motzko, whose Huskies got just two goals past Kangas on 27 shots Thursday night.
When informed of Motzko's sensibilities, Minnesota head coach Don Lucia's reaction was the natural one.
"Well, I hope so," he said.
"Hope" is a word springing up around the Gophers again these days. After a trying season of injuries (see: Stoa, Ryan) and defections to the pro ranks (see: Okposo, Kyle), Minnesota has gotten hot at the right time, and is now 6-2-2 in its last 10 games.
Two of those wins — both in overtime — came at Minnesota State last weekend in the first round of the playoffs in Mankato, Minn., where the Gophers may have saved their season. Now, Minnesota still has a shot at retaining the Broadmoor Trophy, not to mention an opportunity to reach the NCAA tournament for the eighth straight year.
All that from a team which was in ninth place in the WCHA not long ago, and which scored more than one goal just twice in an eight-game stretch during January and February.
Those days seem far behind the Gophers now. The feeling around the team is that the bounces — which more often than not went frustratingly awry earlier in the season — are going in a more favorable direction.
"We've been in every game all season long," said Lucia, "and it's turned the other way a little bit. We're winning close games."
Bounces or not, those close wins likely wouldn't have been possible without Kangas' steadying influence in net. "Solid" is how Lasch described his performance Thursday, and it's an appropriate adjective.
Not "flashy," not "spectacular." "Solid." Coaches will take that from a goalie game in and game out, especially one who started just seven games in the first half of his rookie season before establishing himself as the Gophers' number-one goaltender.
Since Jan. 18, Kangas has played every minute for Minnesota — and that for a coach who likes to keep his netminders fresh and in rotation. In those 18 games, Kangas has let in more than two goals just four times, and now sports a .930 save percentage (seventh nationally) and a 1.95 goals-against average (also seventh).
If not for Colorado College goalie Richard Bachman's eye-popping numbers, Kangas would have been a strong candidate for Rookie of the Year. Did we mention that the Gophers and the Tigers face off Friday night in the WCHA semifinals?