Wisconsin's Jessie Vetter still remembers why she first put on goalie equipment.
"I played (hockey) with my older brothers, Jake and Joey, and they forced me to put on goalie gear because nobody else wanted to," recalled Vetter. "We played a lot of street hockey and in our basement. I would put on old, plastic white pads and old gloves. And when we went outside, we played in our end of the street with kids from the neighborhood (in Cottage Grove, Wis.).
"They needed a target and that's where I fit in. They definitely were tough on me but that made me a better athlete and a better person."
Without question the lack of "preferential" treatment made Vetter not just a good goalie, but one of the very best in college hockey.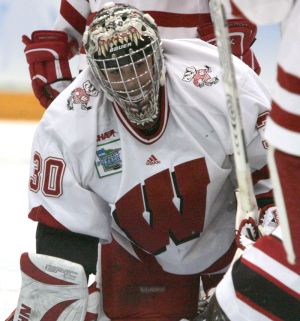 Last season, for example, when she was a mere sophomore, Vetter broke the NCAA single-season goals-against average record with a mark of 0.83. As a result that made her the first goalie in NCAA history to post a GAA below 1.00.
In the process, Vetter recorded a shutout streak that reached 448 minutes and 32 seconds — the longest not only in NCAA women's hockey history but also in men's history.
For good measure she's posted three career shutouts in the Frozen Four. And in 2006 she became the first goalie to record a Frozen Four shutout when she notched two.
Other than that …
"I think the main thing why I like playing goal is that I was a big fan of the equipment — like a catcher in baseball," said Vetter who entering the Frozen Four was 26-8-2 with a 1.46 GAA (which ranked fifth in the nation) and a .924 save percentage replete with 10 shutouts. "As I got older I just enjoyed the sport a lot more and how I was able to help my team win games intrigued me a lot."
Vetter certainly helped her soccer team at Monona Grove win games. In fact, with Vetter in goal, Monona Grove won three state championships.
Vetter, in turn, was a four-time all-conference selection and a three-time All-State pick.
That obviously presented her with a difficult decision regarding which sport to continue playing.
"It definitely was a difficult decision because hockey was my first love," said Vetter, who last season was voted a First Team All-American plus First Team All-WCHA and a Frozen Four All-Tournament Team pick. "I thought about playing hockey and soccer at UW but with academics and the overlap of seasons, it would have been too difficult.
"UW was a great opportunity for me to continue my hockey career and I was happy with my decision."
Even if Wisconsin's opponents weren't exactly thrilled with that decision.
Vetter feels she's a "position goalie" and attributes much of her success to her work with veteran Wisconsin men's goalie coach Bill Howard.
"I attended Bill Howard's camps when I was young," said Vetter. "He taught me to be in the right position at the right time. He's coached goalies like (Canadian Olympian) Curtis Joseph and (U.S. Olympian) Mike Richter.
"He preached 'keep it simple.'"
In retrospect, Wisconsin coach and former U.S. Olympian Mark Johnson (think Miracle on Ice) made a "simple" decision when Vetter walked onto the campus in the fall of 2004.
He decided to redshirt Vetter for her freshman year.
"I was going to see limited playing time because they already had Meg Horas and Christine Dufor," said Vetter. "It would have been difficult to equalize our playing time with two great goaltenders.
"It was a difficult situation for me to be in but it turned out to be the right decision."
That's something to which her stats would attest.
Entering this season, Vetter's two-year record was 31-2-3 with a miniscule 0.82 GAA and a .956 save percentage plus 15 shutouts.
Vetter also relishes Johnson's approach.
"He's a very intelligent coach and he keeps it simple," said Vetter. "Basically he says just go out and play hockey and if you do the right things, good things will happen.
"Plus, he won't over-react. If you do something wrong he says, 'we'll get it the next time.' People don't respond to the opposite approach much any more and that's why he goes the other route."
The route Vetter followed in high school might have deterred many an athlete given the fact her high school wasn't exactly a hockey power.
"I averaged 45 saves for a boys' hockey team," said Vetter. "In high school we were happy if we got close, like within two goals. At the most we only won two or three games a season.
"I definitely didn't think I would have the opportunity to play on the great teams I've played on (or to be a part of two NCAA championship teams). It definitely was a good change and an exciting change to be on the winning side of things."
How true.