Michigan State alternate captain Justin Abdelkader has signed an amateur tryout with the Detroit Red Wings, it was announced by Detroit General Manager Ken Holland Thursday morning.
Abdelkader, a second-round pick of the Red Wings in 2005 (42nd overall), just completed his junior season for the Spartans, and will forgo his final season of eligibility.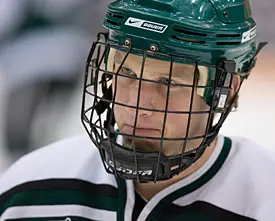 "It's an amazing feeling to realize my dream of being a Red Wing, and I would like to thank the Detroit organization," said Abdelkader. "On the flip side, its difficult to leave Michigan State. My three years there were the best of my life, and not only from a hockey standpoint.
"I'm proud that we were able to win a national championship, and was thrilled to have the opportunities that were given to me not only by the coaching staff, but also within the University. I want to thank everyone who has been incredibly supportive of me over the last three years."
"We're very happy for Justin," said Michigan State head coach Rick Comley. "Obviously, this is one of those situations where we're thrilled for a player who has meant so much to our program and helped us achieve a tremendous amount of success; on the other hand, we're disappointed that he won't be back for his senior year.
"But, we have nothing but good thoughts and we wish him the absolute best. He has meant a tremendous amount to our program, and we look forward to watching his success as a professional athlete."
Abdelkader was an Honorable Mention All-CCHA selection as a junior and won the CCHA's Ilitch Humanitarian Award at the conference's recent awards banquet. He finished his third collegiate season second on the MSU scoring chart with a career-best 19 goals and 40 points, while sharing the team lead in game-winning goals (five).
The Most Outstanding Player of the 2007 NCAA Frozen Four, Abdelkader scored one of the biggest goals in Michigan State history when he potted the game-winning tally with 18.9 seconds remaining in regulation in the NCAA title game against Boston College. In 124 career games, Abdelkader had 44 goals and 51 assists for 95 points, with 120 penalties for 281 PIM.
Michigan State's 2007-08 squad completed its season with a 25-12-5 overall record, and advanced to an NCAA regional final for the third straight season.