The standard punch line among college hockey fans is that North Dakotans don't win championships for the Fighting Sioux, Canadians and Minnesotans do.
However, as UND embarks on a quest to win an eighth national title at the NCAA Frozen Four in Denver this week, it will be with a roster prominently featuring four North Dakotans.
Senior goalie Jean-Philippe Lamoureux, senior defenseman Robbie Bina and freshman defenseman Jake Marto are all products of Grand Forks Central High School. Junior backup goalie Aaron Walski was born in Grand Forks and played hockey at Fargo North High School.
"They're not guys who are on the roster or in and out of the lineup or playing spares," says UND coach Dave Hakstol. "They're key guys for us in all areas. That speaks pretty well to the level of player that's here at home in Grand Forks."
UND has relied on local talent from within the state and surrounding area since 1946, the year the university officially began playing Division I hockey. Not every North Dakotan has starred or even had a solid-four year career at UND, but Sioux championship teams have always featured some local talent on their rosters.
That fact is not lost on Lamoureux, whose father Jean-Pierre played goalie for UND from 1979-82 on two Sioux championship teams.
"There are a lot of guys who grew up in the community and were impacted by Sioux hockey like I have and have been able to live the dream and wear the jersey," he says. "I've been a Sioux fan as long as I can remember, and when my time is done being a player, I'll continue to be a Sioux fan and to follow the program."
In a state with a total population of 636,000 — the size of the city of Winnipeg and a quarter the size of Minnesota's Twin Cities metro area — it might be more surprising that so many North Dakotans play for UND.
"The product that you see on the ice with us is a real feather in the cap for minor hockey in North Dakota," Hakstol says. "These guys have worked awfully hard to get where they are. They continue to work hard to be successful. The bottom line is that they are successful. They're very good players on a national level."
Given UND's location in northeastern North Dakota, the university's hockey program has traditionally found recruits in southern Manitoba and northwestern Minnesota. However, perusing a list of Sioux players from the past 62 years reveals that there are approximately 80 players from the North Dakota towns of Grand Forks, Fargo, Grafton, Minot, Jamestown, Devils Lake, Manvel, Wahpeton and Pisek — not to mention Grand Forks' sister city across the Red River, East Grand Forks, Minn.
Some have played key roles on the Sioux championship teams. For example, two members of UND's 2000 championship team were Grand Forks natives, forward Jeff Panzer and defenseman Tim O'Connell. East Grand Forks native Jeff Bowen, an assistant coach on the team, was also a member of UND's 1987 national championship team. Jay Panzer, Jeff's older brother, and O'Connell were members of UND's 1997 championship team.
Asked if he was influenced or inspired by Grand Forks players on the Sioux roster, Marto replies, "Jay and Jeff Panzer were definitely a big influence on me. So were Tim O'Connell and a lot of Grand Forks kids that you saw playing in high school and then moving up to that level.
"Just seeing them make that step encourages you to make that step, too," he says. "Coming from the same outdoor rinks and playing in the same leagues they did gives you that encouragement and that push to try to do what they did."
Lamoureux, one of the top goalies in college hockey and one of 10 Hobey Baker finalists this season, credits a former UND goalie who owns an NCAA championship ring from 2000 for helping him achieve success.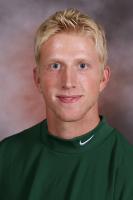 "One guy who had a huge impact on my playing career was Karl Goehring," he says. "He was a guy I was very fortunate to be able to train with and work out with. If it wasn't for him, I know for sure I would not be where I am right now. He really went out of his way to help me."
UND's first national championship team included two Grand Forks natives, goalie Bob Peabody and forward Stan Paschke, who scored a goal during the 4-3 win of the 1959 title game against Michigan State. The 1963 UND title team included winger Dan Storsteen from Devils Lake.
Forward Rick Myers of East Grand Forks made the 1980 Sioux championship team while the 1982 team included forwards Dean Barsness and Steve Palmiscno, both of Grand Forks.
Grand Forks native Steve Johnson played on the famed Hrkac Circus line of UND's 1987 championship team, which also included forward Scott Dub of Pisek, defenseman Michael LaMoine of Grand Forks, defenseman Gary Kaiser of Fargo and Bowen.
O'Connell played on both UND's 1997 and 2000 championship teams. The 1997 team also included Jay Panzer, forward Tom Philion of Minot and defenseman Mitch Vig of Bismarck. The 2000 champions included Jeff Panzer, defenseman Paul Murphy of Manvel, forward Tim Skarperud and goalie Jason Endres, both of Grand Forks.
"The development of players here in North Dakota is very important to the University of North Dakota," Hakstol says. "It's very important to the whole state.
"Not every young player's going to grow up and have a chance to play for the Sioux or have a chance to play on after college hockey and be a pro hockey player," he continues. "But every young kid in our state should have a chance to play and grow and enjoy this game. To me, that's the most important aspect."
Walski, who's spent the season backing up Lamoureux in goal, started just one game this season, a 1-0 shutout of Bemidji State. Nonetheless, donning the Sioux green and white for him represents the opportunity of a lifetime.
"When you grow up as a little kid in this town, you idolize pretty much every player," he says. "You play street hockey in the driveway and say which player you are. To finally come here, it's almost a dream come true, just to be a part of this program and contribute in whatever way you can.
"When you walk into that rink and sometimes when you put on that jersey, you realize all the hard work you've put in and what an honor it is to be part of this program," Walski adds.
Playing his first season at UND in front of crowds of more than 11,000 fans at Ralph Engelstad Arena, Marto has to remind himself that it's not just a dream.
"Sometimes when you're on the ice, you look around and think, 'Wow! This is incredible!'" he says. "It's a great feeling. It's great to be a part of it."
One advantage of playing close to home is that local fans tend to favor players with local roots.
"It's nice to be home where I know a lot of people in town who cheer for me," Bina says. "I mostly just come out and play and represent the school I wear the jersey for. It's definitely an honor, growing up here and watching UND hockey all my life."
But Marto says that being a familiar face around Grand Forks also has its disadvantages.
"You do something wrong in a game and they'll get on you, but that's good," Marto explains. "You don't want to get too full of yourself. It's nice to have friends and family who can put you back into place."
Although this is Lamoureux's last season at UND, the family tradition will continue next season when his younger brother Mario, a forward, joins the Sioux after serving as captain of the USHL's Tri-City Storm in Kearney, Neb.
"I couldn't be prouder of Mario for what he's accomplished," Lamoureux says. "He's going to be a sparkplug for the team coming in next year. I'm going to be happy to watch him mature as a player and as a person. My parents get four more years of Sioux hockey games."
When it's April and only four teams are left playing in the Frozen Four, college hockey fans and sports reporters might be the only ones who draw distinctions between a player's name and the hometown he lists on the roster. It's a trivial matter to Sioux players.
"Right now, we just have one goal and that's to win one game against Boston College," Walski says. "That's where we're focusing all our energy right now. When you get to this point of the season, it doesn't matter where you're from. We're all one big family and we're all trying to achieve the same goal."