Lately, it has seemed if the North Dakota Fighting Sioux want to get to the Frozen Four championship game, they'll want to avoid Boston College. Unless, of course, they see the Eagles in the NCAA regionals — then they've got a shot.
For the third time in as many years, Dave Hakstol's squad fell to the Eagles in the Thursday Frozen Four semifinal game and, oddly enough, have lost six-something every time (6-1, 6-4, 6-5).
Hakstol refuses to live in the past, not wanting to reflect on the past few years, but one can't help but wonder if there's a proverbial monkey on his team's back.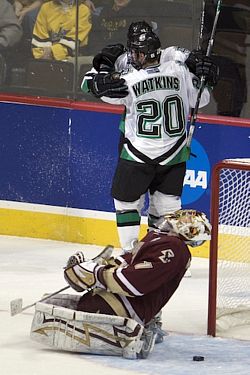 "I'm not looking back at the last couple games," said Hakstol. "Every game has been different. Last year, I think, it was a tie game with four minutes to go in the hockey game so [it was a] much different game."
However, the Eagles steamrolled the Sioux this year, never giving them a chance after they built a four-goal first-period lead.
"Tonight, they built the lead that we just couldn't come back on," he said. "They did a good job after they had built that lead of holding it, they had two high-impact, quick-strike plays tonight and that's what put them into that lead.
"Once they got that four-goal lead, we simply couldn't get ourselves back in the game."
For the Sioux players, it's almost a quiet resignation or a fact of life in April.
"That's just the way it is," said Fighting Sioux goaltender Jean-Philippe Lamoureux. "That's something that's really out of our control. Hopefully in years to come we can figure out how to beat those guys. I think it's a tribute to Coach [Jerry] York and the program that he runs. He always has his teams ready to play."
Tonight was no difference, as the Eagles shut down Sioux and shut them down early.
"There was kind of a feeling all game that if we just broke the goose egg, maybe get some momentum early," said forward Rylan Kaip, before trailing off, "but their goalie played a heck of a game and we just couldn't get to those loose pucks."
Even when the Sioux were down three-nothing, the team didn't panic.
"The turning point, if you want to call it that, was more so the third and fourth goals," said Hakstol. "And you know what, even after the third goal, the feeling on the bench was we were just fine, but we didn't get out of the period after that. The fourth goal, obviously, that was a pretty tough hill to climb. Certainly we came out in the second period believing that we could do it, but that was a little too steep a hill to climb tonight."
Boston College made sure that hill stayed steep, discussing between the first two frames the need to stay sharp.
"Before I walked into the locker room, I was listening to [the players] talk about, let's stay with that game, with the plan we have; let's not get carried away here," said York. "Everybody knows [T.J.] Oshie and [Ryan] Duncan and those guys can change games in a heartbeat so they did most of the talking."
Needless to say, the end result of the Eagles' plan was not what the Sioux had wanted for themselves coming into Denver.
"Tonight is not the way we would have liked or envisioned things ending this year," stated Hakstol.
Still, if Sioux fans need a glimmer of hope, they need only listen to the words of the coach of the team that seemingly has their number.
"I've seen Gino Gasparini's teams win national championships and Dean Blais of course against us win a national championship," said York. "It's just a matter of time before Dave brings that trophy back to Grand Forks."