One of the most difficult things to have in sports is regrets. When you're on the national stage such as Michigan was at the NCAA Tournament on Thursday night, that statement is magnified.
The Wolverines' regret came in the form of the opening 20 minutes of its national semifinal game against Notre Dame. Michigan started slowly, allowing the Irish to strike for three goals on nine shots.
Though things turned around for the Wolverines — they dominated the second and third periods enough so that they drew even at three and then again at four after Notre Dame had grabbed a 4-3 lead — but it was Calle Ridderwall's goal at 5:44 overtime sent Michigan packing and brought the regrets of the opening 20 minutes to the forefront.
"Obviously, it wasn't the start that we wanted but I liked the way our team regrouped in the second and third periods," said Michigan head coach Red Berenson. "Then it was anyone's game."
When talking to the players, you heard a consistent message. They were prepared and actually were confident that they came out of the gates well.
"I thought our first few shifts, we started out well," said Michigan forward Kevin Porter. "We got the puck in their end. But we just had a couple of bad turnovers and guys weren't coming back. They capitalized on their chances."
"We came out with the intensity that we thought they needed and they got that first goal on a nice play," said Michigan's Chad Kolarik, who buried two goals as part of the Wolverines' comeback. "Then they had a couple of lucky breaks and got a couple of bad goals."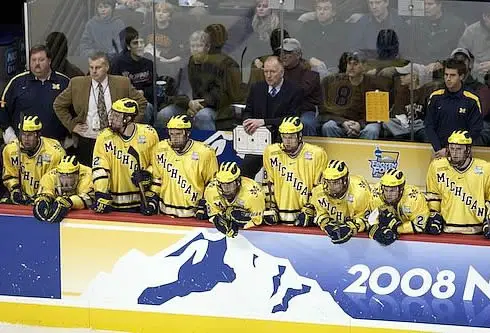 Those bad goals actually led to one of the biggest head-turning moments of the night. When the Wolverines returned to the ice for the second period, they did so without their rock, goaltender Billy Sauer between the pipes.
Berenson said that he hoped to change momentum, which he did. His team played incredibly well in front of rookie Bryan Hogan and we were a single goal away from seeing headlines across the country reading "Hogan's Heroes." But it was only the sixth time all season Hogan saw playing time, something that once Michigan came back and tied the game you had the uneasy feeling that this indeed was not Sauer in the net.
Truth be told, Hogan had nothing to do with the outcome. He simply did yeoman's work being placed in a difficult situation. That's something that wasn't lost on his teammates.
"[Hogan] came in, he's a freshman, and he did a heck of a job," said Kolarik, who consoled the rookie after the game-winning goal was scored. "I thanked him. [The game-winning] goal was a rebound, but we've got to pick up sticks. It wasn't his fault. It was a heck of a game."
In the end, though, it wasn't Hogan, it wasn't what happened in the final two periods or overtime that created the outcome. It was the opening 20 minutes. One period. And that period will leave the Wolverine's shaking their heads until October.
"I can't say we had our best game. We didn't," said Berenson. "But you have to play in the game; that's the way the game was going.
"This team had a terrific season right from game one. To get this far, it wasn't a fluke, it's disappointing to them. I can't tell you I haven't enjoyed a season anymore than this. The ending was just tough."
Tough enough that it certainly leaves some regrets for a very good hockey team.