Princeton's Landis Stankievech has won the 2008 Lowe's Senior CLASS Award in the men's ice hockey division. The award is chosen by a nationwide panel of coaches, media and fans and is presented annually to college hockey's outstanding NCAA Division I senior student athlete.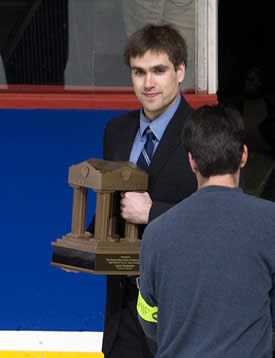 The announcement and trophy presentation was made Thursday during the NCAA Men's Frozen Four at the Pepsi Center in Denver.
"I'm extremely honored to be receiving the Lowe's Senior CLASS Award," said Stankievech. "I've been fortunate enough to be part of a team and a university that has encouraged me to be the best person that I can be. Hopefully I've come close to doing that over my time at Princeton."
Stankievech carries a 3.97 GPA and was awarded a Rhodes Scholarship in November 2007. He will study philosophy, politics and economics at Oxford.
Stankievech had seven goals and six assists for 13 points this season and has a career total of 30 points on 16 goals and 14 assists.
This is the second year the award has been given for men's hockey. David Brown of Notre Dame won the award in 2007.