Army senior defenseman Chase Podsiad is the winner of the second annual Derek Hines Unsung Hero Award. The announcement was made Friday in Denver at the Frozen Four.
The award was established by the The Hockey Commissioners' Association (HCA) in honor of former Army player Derek Hines, who was a "consummate team player and team builder." Hines played at Army from 1999-2003 and was a four-year letter winner as well as a co-captain his senior season. He was killed in the line of duty in Afghanistan in September 2006.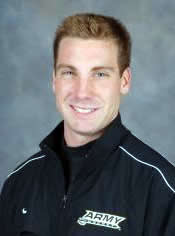 Podsiad, like Hines, was a co-captain of the Black Knights. "Chase wore a letter on his sweater for two seasons and would do whatever it took to help the team win," said Army head coach Brian Riley. "Chase is a lot like Derek. They both led by example, do all the little things right and cared much more about the team than they do personal recognition."
"It is a tremendous honor to receive an award with Derek Hines' name on it," Podsiad says. "I would love to be half the leader and man that Derek was. I want to thank the Hines family for this great honor, and Coach Riley for all his faith in me and support throughout my tenure. The award is just as much my Mom (Marsha) and Dad's (Ron) as it is mine. I am so lucky to have them and their support."
In the off-season, all of the cadets do training in their specific field, so Chase, despite all the rigors of a cadet during the academic calendar, has led his team to do different projects during the season. This past season Podsiad led his team in a friendly competition on the ice.
This was no ordinary competition and it was not on any ordinary day.
Podsiad and his teammates played two hockey games on Saturday, January 19, at West Point. The first was a regularly scheduled Atlantic Hockey contest versus Canisius, while the second one was against a team of sled hockey players. After some training, Chase and his teammates took on the Long Island RoughRiders in a 20-minute contest.
Podsiad also participates in the Big Brother-Big Sister program, Special Olympics, Student-Athlete Advisory Committee, Company Tutor, in the Fellowship of Christian Athletes and an Officer Christian Fellowship. In addition to participating in these programs, Chase was asked on a recent trip to Erie, Pa., to speak in front of a group of students at Erie Cathedral Preparatory High School.
"Chase is the type of person who always has time to reach out to fans and the local community. Whether it be speaking at a high school during one of our road trips or signing autographs and talking to kids after games, he always makes the time for people. He is a young man who has left a positive impression on everyone who has had the chance to meet him," said Riley.
Despite all the activities that Podsiad performs during the academic year, he is able to maintain a 3.04 grade point average at the Academy. In his previous three seasons as a Black Knight, Chase has been named to the Atlantic Hockey All-Academic Team. On the ice Podsiad finishes his career with 14 goals, 40 assists for 54 points.
"This award means a great deal to all of us who knew Derek. To have one of our players be presented with the award this year is both gratifying and humbling," Riley said. "Derek was a great person on and off the ice and a pleasure to coach. He was a tremendous teammate and left his mark on everyone he came in contact with. This year's recipient is cut out of the same cloth as Derek. Chase always puts the team first. He has been a great leader for our program the past two years and played a large role in taking our program to new heights."
"I believe that the legacy of Derek Hines is still strong in our locker room," said Podsaid. "Unfortunately, I never met him, but I heard a lot about him from the older guys. When I was a freshman, the older guys would tell me stories of Derek — including how he would always look out for the younger guys. A few of those older guys looked out for me, and I try to carry on that torch. So I believe Derek helped me get this award. "
Each of the six NCAA Division I hockey conferences submitted a nominee for the ward that goes to the student-athlete who personifies Hines' spirit and relentless commitment. The winner was chosen by sports information directors from the six conferences.