While Kevin Porter's Michigan Wolverines came up short in terms of the team's ultimate goal of a national championship, Porter did not walk away from Denver empty-handed, becoming the 29th winner of the Hobey Baker Memorial Award.
Though the Hobey is a very individual award, Porter, as he has all season, continued to deflect the praise.
"It feels good," he stated. "This is a great award, a great individual award, but I couldn't have done this without my teammates."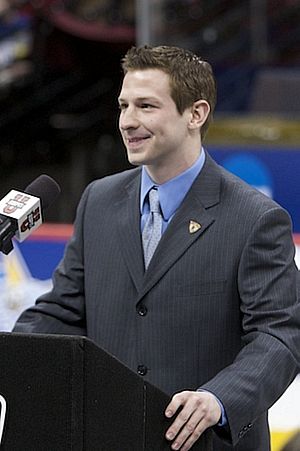 Either way, the Hobey is one more piece of hardware that Porter has added to his cabinet. He also was named the CCHA Player of the year, CCHA first-team all-conference and a first-team All-American. Porter led his league in scoring, finished second in the nation in that category and was nominated as the CCHA's top defensive player, as well.
For fellow Hobey Hat Trick nominee Nathan Gerbe, Porter's victory should come as no surprise.
"I've known Kevin since growing up and it's well-deserved," he said. "He's such a great player and also a dynamic player. Off the ice, he's one of the greatest kids I've ever played with. He's been so caring and I've played with him for a few seasons at USA there [the U.S. National Development Team Program], so I can't say enough nice things about him."
As a result, the humble forward from Northville, Mich., became the first Wolverine since Brendan Morrison in 1997 to win college hockey's greatest individual honor.
"You compare Brendan Morrison's humility a little bit to Kevin Porter's humility," said Michigan coach Red Berenson. "They're unassuming, they play hard, they play well, they show signs of greatness, they don't wear it and they don't talk about it."
"It's amazing to be put into a category as Brendan Morrison, who had such a great year, four great years at Michigan; he's had a great career in the NHL as well," said Porter. "To be in the same category as him is amazing."
What is also amazing in this era of college hockey is that Porter came back for his senior season — something that is seemingly becoming rarer and rarer, given the culture of early signers. In Porter's case, it paid off.
"I think what he's done is really, he came back for his senior year number one, and I think that's a great tribute to Kevin and what he's accomplished because that's why you come back your senior year," said Berenson. "You come back to graduate, you come back to finish what you started, you come back to improve on what you've already done or your teams have done.
"Ironically, Kevin came back with supposedly an empty cupboard of a team considering all the players we lost and graduated. He came back on a mission, and I've never seen a player take the whole team and in his own grasp and put the team on his back and make it happen on a regular basis — not just once in a while, but every day in practice, every game, every weekend and he's been a tremendous leader. He's grown up tremendously.
"There's no way this team would have been successful without his leadership."
Next, his leadership will be appreciated by the Phoenix Coyotes and his new boss, Wayne Gretzky, who sent in a congratulatory letter addressed to Porter.
"For one of the greatest hockey players to ever play to say that about me is — words can't describe it. It's pretty special," said Porter.