Three is Nice
When Boston College beat North Dakota to advance to their third consecutive national championship game, it set up an interesting symmetry with the second game.
The last team to advance to three consecutive national championships was Lake Superior, when Notre Dame coach Jeff Jackson was at the helm.
Shootouts
This is the second consecutive year that Michigan has ended their season at the Pepsi Center in an uncharacteristic offensive shootout. Last year, the Wolverines fell 8-5 to North Dakota.
Michigan goalie Billy Sauer, a Colorado Avalanche draft pick, has now given up 10 goals in four periods of hockey in the Pepsi Center, a .714 save percentage.
Overtime
Michigan tied the game at the 14:49 mark of the third period, and looked to have a lot of momentum going into the overtime. However, Notre Dame dominated the extra session, outshooting the Wolverines 8-4.
"We didn't look good in the overtime, don't ask me why," said Wolverines' coach Red Berenson. "We were on our heels. We didn't get the puck deep, we were passive defensively, and we gave a few odd-man rushes. We just had a sloppy overtime."
Michigan played in the last overtime game in the Frozen Four, against Minnesota, also on April 10, in 2003. Michigan lost that game 3-2.
"We just said we have one overtime to play for a national championship game," said Notre Dame captain Mark Van Guilder. "We realized that we had to put the second and third period behind us and just move on. The game was back and forth all along, so we knew that if we got some momentum right away and got some cycle shifts we'd be just fine."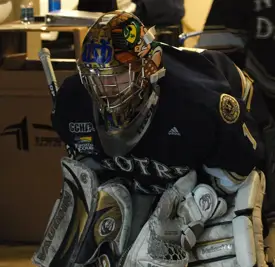 Hobey numbers
Kevin Porter, the favorite to win the Hobey Baker award tomorrow, assisted on Michigan's first goal, and finished his season with 33 goals and 30 assists.
Boston College's Nathan Gerbe, another Hobey candidate, had four points against North Dakota in the first game, and has the same number of goals as Porter and one more assist.
Numbers
Jeff Jackson is now 6-1 in the Frozen Four as a coach. Jackson has never lost a semifinal game at the Frozen Four.
"I'm just fortunate that we've had the opportunity," said Jackson. "You try to get your team prepared to peak at the right time. I can't say that happened this year, but we turned the corner and we're back on the rise again, and there's no easy way to bottle peaking. The biggest thing is getting your team to believe in something."
Red Berenson is now 4-8 in Frozen Four games and 2-8 in Frozen Four semifinal games.
This will be the first all-private school matchup in the championship since 1985, when RPI played Providence in Detroit. It will be the 10th all-private school matchup overall.
This will also be the first all-Catholic school matchup in the NCAA hockey final, and Notre Dame's first appearance in the national championship game.