Not Your Local Hero
Swedish native, freshman Calle Ridderwall, had two goals in Notre Dame's 5-4 win over Michigan in the semifinal, the opening goal for the Irish and the game-winner in overtime. In 37 previous games, Ridderall had netted just two and was playing on the fourth line in Thursday's game.
After the win, predictably someone from the press asked Ridderwall to describe his goal.
"We got the puck out to the point and Dan VeNard put it on net and I was fortunate enough to get to the rebound."
Ridderwall's short and modest answer elicited chuckles from the press, and ND captain Mark Van Guilder said, "Ahsk him in Svedish."
More chuckling, and Ridderwall was pressed to expand.
"It was a rebound, and I got it in the slot and took a quick shot and got lucky, so."
Laughing but frustrated, someone asked Van Guilder how the goal looked to him. "Looked like he picked a corner and he knew exactly where he was going," said the senior.
Laughter outright.
Today, someone asked head coach Jeff Jackson about Ridderwall's surprise success in the semifinal, and Jackson was frank in his answer — about Ridderwall's seeming lack of success throughout the entire season.
"Let's put it this way: This is where coaching can have a negative impact on a kid, and I'll take responsibility for it," said Jackson.
"We thought Calle was going to be able to come and be a really dynamic player for us, and what happened was that we brought him in and gave him too much too soon," Jackson said. "I had him on a top line. I had him on a power play. And it was maybe a little bit more than he could handle to start off his freshman year.
"Then I took it away from him and confidence became a factor. Then he struggled to get in and out of the lineup.
"He was an important recruit for us, tremendous kid. Had the good grades, speaks English better than I do … he's always got a smile on his face and works hard, he competes hard. We hurt him, set him back, by giving him too much early on and then taking it away.
"Then over the last three months, he's really started to show signs of coming on. I'm excited about his future right now because he's not a fourth-line player. He plays with a lot of energy and I think he can bring a lot more to the table."
Next year at Notre Dame, Ridderwall will be joined with a former teammate from the Chicago Chill (Midget AA), Billy Maday. "We're bringing in his cohort … and between the two of them they had 300 points."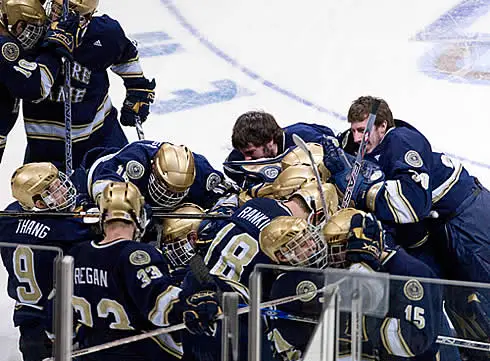 It's a Very Small World
ND sophomore defenseman Kyle Lawson and Boston College junior Nate Gerbe are good friends, having grown up 40 miles apart in Michigan — Lawson in New Hudson, Gerbe in Oxford — and played together on the Honeybaked AAA hockey club in Detroit.
"He's a great kid and he's probably got the biggest heart of anyone I've played with," said Lawson. "Very talented and very determined."
Lawson said that the key to containing Gerbe's speed is to "take away his time and space," and he confessed that he's "not sure I'll be a good match-up" for the Hobey Baker finalist.
Lawson said that Gerbe's always had a step up on him.
"I was a big boy when I was younger," said Lawson, who is 5'11" and just a shade over 200 pounds now. "I actually weighed more when I was in eighth grade than I do now, and I went over to his house one time and his dad actually woke us up at 8:00 a.m. and we went to a track. He made us run a mile. Nate was on his fourth lap and I was on my first."
Lawson joked that Gerbe had "a tough childhood" and further elaborated on the mile-run story to illustrate his point.
"The night before, Nate happened not to score that game. We pull out into this dirt road about two miles away from his house and all of a sudden Nate jumps out of the car and starts pushing the car home … and his dad and I sat in the car and listened to the Red Wings game."
Lawson's not the only one on the Notre Dame squad acquainted with Gerbe.
"During the [NHL] lockout year, I was down helping Ron Rolston with the Under-18 team and Nate was on that team," said Jackson, "so I got a firsthand look at him. He's a tremendous player.
"We saw him for a year and I've kind of followed him over the years. His brother played for my former OHL team, Guelph, so I know the Gerbes and the family history there a bit."
Thank You, Nanooks, Lakers, and Bulldogs
If it weren't for another CCHA team that few think of during the Frozen Four, the Notre Dame Fighting Irish wouldn't be here this year.
Yes, this trip to Denver is all about the Alaska Nanooks. Follow along.
"What I found my first year is now when our team runs into the Lake States that are older, physically more mature, and experienced more than our kids are coming right out of high school, it's about developing them physically and getting them mentally tougher. That's where our strength and condition and our strength coach have been a huge factor."
At the end of Jackson's first season (2005-06), the Irish hosted the Nanooks in a first-round CCHA playoff series, won the first game, and lost the following two.
"We found that out the first year in the playoffs against Alaska-Fairbanks when we got knocked out in the first round of the playoffs," said Jackson. "It was a matter of getting stronger physically because in that series, I believe we averaged two-and-a-half years younger than them as a team, and I think we averaged about 18 pounds less on average per player. And that's the difference in college hockey now."
This disparity, according to Jackson, is a good thing, giving teams without the cachet of Michigan or Notre Dame the ability to compete with their better-known brethren — and Jackson should know, having coached at Lake Superior State from 1986 to 1996, serving as head coach for the last six years. While there, Jackson took the Lakers to the Frozen Four three consecutive years, and won the national championship in 1992 and 1994.
"That's why the Lake States back in the '80s and '90s could compete with the Michigans and the Boston Colleges. That's why Ferris State can compete with Notre Dame, because they have more physically mature players because they're a little older. And that's a good thing because it allows programs like Lake State to be successful and be in these events at some point."
Taking Care of Business
In knocking off two straight CCHA opponents in the NCAA tournament to get to the title game against Boston College, the Irish have erased some bad regular-season memories.
Notre Dame struggled in the second half of the season, beginning with a heart-breaking loss to Michigan State — the team the Irish vanquished in the West Regional — Jan. 11. With less than two minutes to go and the scored tied 1-1 in that contest, Justin Abdelkader scored the game-winner for the Spartans before Nick Sucharski added an empty-netter in the 3-1 loss.
That began a four-game winless streak against MSU and Michigan, which included a 3-2 loss to the Wolverines at Yost Arena during with Notre Dame had led 2-0 after one, and a 5-1 loss the next night to UM at the Palace of Auburn Hills north of Detroit.
"I think it was a little bit of the unfinished business factor we had with them," Kevin Deeth, who scored the fourth goal in ND's win over UM Thursday night, said of the Wolverines. "Anytime you lose once or twice to a team you're always urgent to get back and play them. We had them at the back of our minds.
"Same thing with Michigan State at Colorado Springs. We were urgent to play those teams in our conference that we've lost to before."
Sleepless in South Bend
Notre Dame's players are quick to give credit to head coach Jeff Jackson for the team's remarkable turnaround in just three years.
"I've never played for a coach who's more dedicated to the game," said junior Christian Hanson. "You can tell that he truly loves hockey and that he truly cares about us. We'll play a weekend series, Friday-Saturday, and then right after the Saturday game he's already preparing for next weekend's opponents."
"You should ask Coach Pooley how much he sleeps," said Lawson. "He keeps Starbucks open."
Jackson said that "the whole coaching staff" was looking at tape "after having a bite to eat" last night.
"I'm fortunate to have a tremendous staff," said Jackson. "I knew that when we brought in Paul Pooley and keeping Andy Slaggert around. It's not a one-man show. It's the dedication and commitment … allowing our team to have success is throughout our entire staff."
He Also Likes Long Walks on the Beach
After admitting that he used tactics from motivational speaker Tony Robbins to help change the focus of the Irish team, Jackson said, "I'm not into self-help stuff.
"I went to a Tony Robbins seminar after my mother passed away," said Jackson. "My former assistant coach who's now the coach of the Under-18 Team, John Hynes, bought the tickets, made me go and I actually enjoyed it because Norman Schwartzkopf was one of the speakers, Colin Powell was one of the speakers, and I'm a huge military history buff."
"I enjoy reading," said Jackson, who says he has big stack of books waiting for him this summer. "I'm a huge fan of Bobby Knight's, and I'm very much not like him, but I've always respected him because he made his kids graduate, he made them toe the line.
"I worked for a great man in Frank Anzalone. Same thing. He made his kids go to school, he made them work. Frank and Bobby had some same similar flaws maybe behind the scenes but I admire those people."